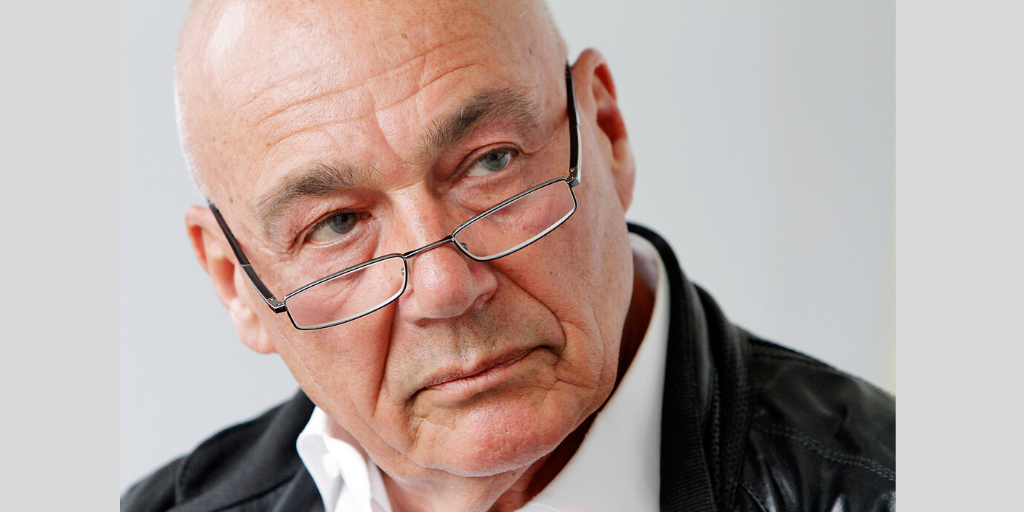 In the reality of COVID-19, more and more Russian journalists denounce disinformation. Now glasnost-era veteran Vladimir Pozner joins the critics.
This month's most spectacular media scandal in Russia has been Rossiya 24 TV's removal of a series of programmes authored by the Oscar-winning director Nikita Mikhalkov.
The conflict between the state-controlled network and the Russian cinema celebrity broke out after the latter used air time to attack, among others, Bill Gates, claiming that the Microsoft founder wants to implant microchips in billions of people in order to control them.
Now Vladimir Pozner (top photo), one of Russia's most prominent journalists since the time of Gorbachev's glasnost and perestroika, has published a letter to Nikita Mikhalkov expressing his disapproval of the film director's recent work.
The Oscar-winning film director Nikita Mikhalkov was criticised in both independent and state-controlled media for spreading conspiracy theories about COVID-19 and Bill Gates.
"I am glad you have experienced censorship"
Mr Pozner's letter to Mr Mikhalkov centres around the issue of censorship:
"First of all, I want to say that I am glad that you, and precisely you, a person who has never experienced censorship in your work – neither in the Soviet era nor in the post-Soviet era – have now encountered it. I, unlike you, had to deal with censorship in the Soviet era […] and I deal with it, unofficially, today."
However, Mr Pozner's assessment of Mr Mikhalkov's production is clear:
"As for the program that was taken off the air. It represents exactly what you object to and what you resent: it is pure manipulation of people".
The veteran journalist also describes the complex nature of this form of media manipulations:
"From my point of view, you are doing it very well, professionally and in a talented way, maybe better, skilfully. Because the elements of truth and falsehood are very finely mixed".
In the end of the letter, Vladimir Pozner returns to the topic of censorship, underlining his principled position:
"In conclusion, I would like to tell you that, despite my, let's say, unflattering assessment of your programme, I agree with you on one thing: you have been subject to censorship, to which I am categorically opposed."
The Rothschilds and the "Dulles Plan"
The disagreement between the two high-profile Russian personalities is symptomatic of the way Russia's media landscape has reacted to the COVID-19 reality.
As the coronavirus problem has reached tragic heights in Russia, many Kremlin-loyal media have tried to focus on accurate reporting; however, this picture has been mudded by sudden outbursts of disinformation, often in the form of conspiracy theories.
Both before and after the conflict between Mr Mikhalkov and Rossiya 24, allegations against Bill Gates have appeared on the state-controlled Channel One Russia (Pervy Kanal), both in reporting and in a recent talk show.
Earlier this week, Komsomolskaya Pravda (KP), one of Russia's largest newspapers, ran a piece alleging that the Rothschilds knew about the upcoming COVID-19 crisis as early as in 2014.
Dmitry Kolezev, chief editor of the independent Russian outlet Znak.com, writes on Twitter: "Komsomolskaya Pravda wants to compete with Nikita Mikhalkov for the status of the main conspiracy oracle. The Rothschilds predicted everything in 2014 and put it on the cover of their magazine The Economist. There is a drawing of a panda there, and that word looks like pandemic!"
In the meantime, Nikita Mikhalkov continues to broadcast, now in exile on YouTube. In the latest episode of his programme, the director invokes a well-known conspiracy theory, the so-called "Dulles Plan".