In October 2014, Russian and pro-Russian media disseminated misleading information claiming Ukraine and Sweden agreed to launch military co-production on the territory of Ukraine.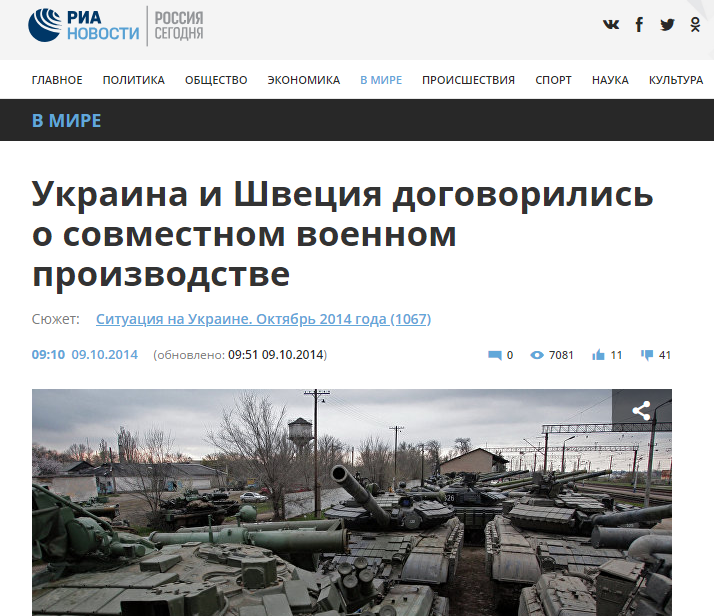 This information was published in pro-Kremlin media such as Segodnya, Komsomolskaja Pravda, RIA Novosti and others citing the press service of Ukraine's state-owned weapons enterprise Ukroboronprom as the source.
The articles claim that Ukrainian-Swedish military co-production will start on the territory of Ukraine in the near future. Some media confused Sweden with Switzerland.Komsomolskaja Pravda published an article with the headline «Ukraine will establish the Ukrainian-Swiss military production».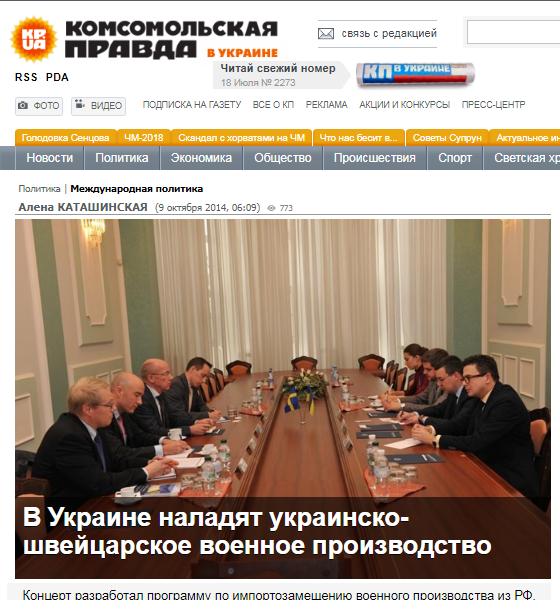 In early October 2014, a Swedish Defense Research Agency delegation arrived in Ukraine to meet with defense industry state owned conglomerate Ukroboronprom leadership to discuss the development of military-technical cooperation between Ukraine and Sweden.
News about this meeting can no longer be found on the Ukroboronprom site as the company has used a new website since 2016. We requested the original information released Ukroboronprom's press service released to the media after the Ukraine Sweden meeting.
Ukroboron's statement  says that during the meeting the parties «determined the direction of future cooperation with Sweden in the field of military-technical cooperation: the organization of co-production on the territory of Ukraine, the acquisition of new technologies and the sale of upgraded and new equipment». That is, no decision was made about actual military co-production, only possible future cooperation was outlined at the meeting.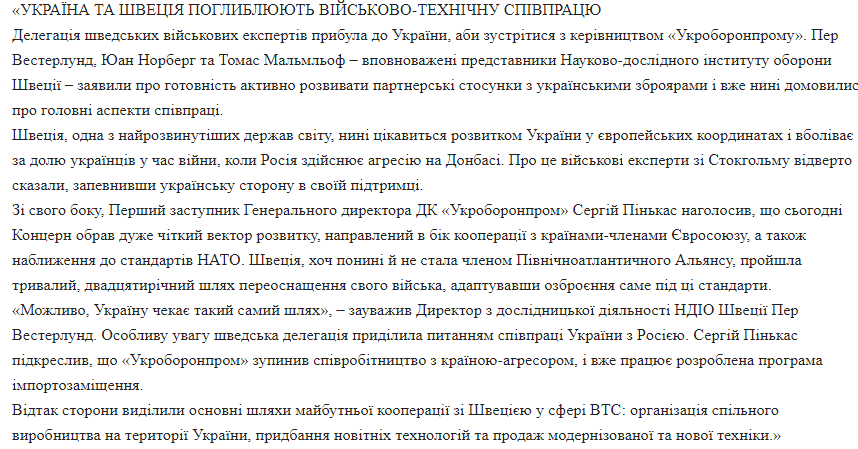 Ukroboronprom's press service informed us that the agreements reached during the negotiations are confidential information with a limited-access classification category. At the same time, military-technical cooperation between Ukraine and Sweden is episodic. In recent years single deliveries of communication equipment and small arms scopes have taken place, the agency informed us.
Currently Ukraine has no legislative basis for providing defense services between state and foreign companies. To address this issue, Ukroboronprom has sent proposals to Ukraine's Ministry of Economic Development to amend existing rules, to abolish restrictions on setting up joint ventures and providing favorable conditions for attracting foreign investment in the defense industry.  The proposals have not yet been accepted.In October 2014, when this misleading information was disseminated, Ukraine's military was engaged in fierce battles with Russian and pro-Russian forces in eastern Ukraine, in particular for the Donetsk airport.