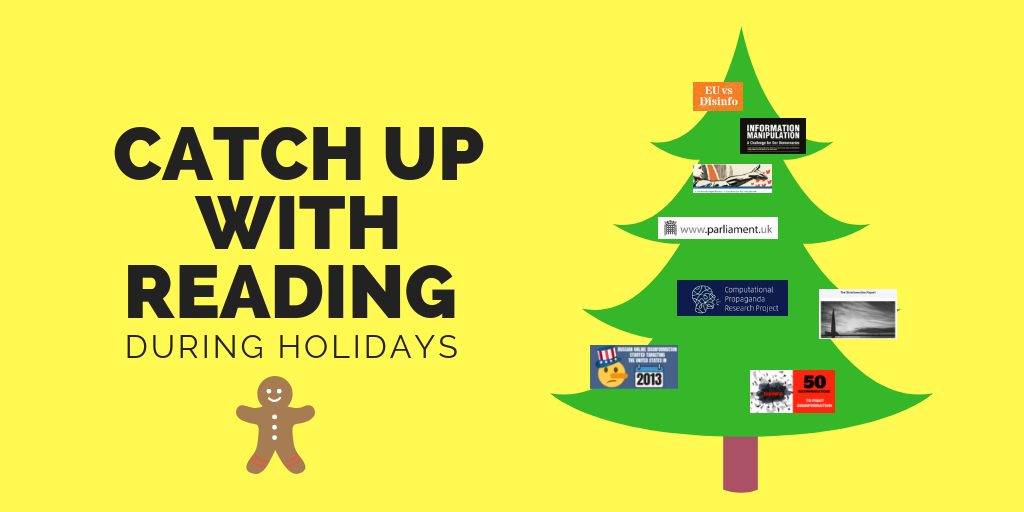 Izvor EU vs Disinfo
EUvsDisinfo je za vas pripremio "creme de la creme" štiva iz oblasti dezinformacije koji su objavljivani ove godine.
1. Information Manipulation A Challenge for Our Democracies je francuska studija zasnovana na oko 100 intervjua i fokusira se na manipulaciju informacijama koje su orkestrirale države sa ciljem da oslabe demokratsku debatu u drugim državama. Pored proučavanja ljudske prirode, izveštaj takođe naglašava društvene karakteristike sa kojima manipulatori rade – prisustvo manjina, unutrašnje podele i ranjivi mediji. Takođe se analiziraju narativi, curenja podataka i falsifikovanje dokumenata.
2. The IRA and Political Polarization in the United States od Oxford Computational Propaganda Research Project govori o zapanjujućoj priči o ruskoj agenciji za internet istraživanja IRA koja je bila uključena u dezinformisanju i polarizaciji birača u SAD-u posebno u 2016. godini. IRA je počela svoje aktivnosti 2013. godine na Tviteru i i od tada je preko 30 miliona korisnika podelilo njene postove na društvenim mrežama.
3. A View from the Digital Trenches – Lessons from Year One of Hamilton 68 je vredno čitanja. Bavi se dugotrajnim naporima i inicijativama u ovoj oblasti.
4. Disinformation and 'fake news': Interim Report iskazuje britanski pogled na dezinformaciju i predstavlja više od 50 ideja Vlade da joj se suprotstave.
5. Challenging Truth and Trust: A Global Inventory of Organized Social Media Manipulation takođe potiče iz Oksfordovog Computational Propaganda Research Project i daje opšti pregled upotrebe društvenih mreža u kampanjama manipulacije širom sveta. Takođe je zanimljivo čitati o novoj pojavi – dezinformaciji u aplikacijama za dopisivanje poput WhatsApp, Telegram i WeChat.
Authoritarian Interference Tracker pokazuje mešanje ruske Vlade u aktivnostima preko 40 zemalja od 2000. godine. Ovaj dokument pokriva širok spektar tema, od sajber napada do finansijskih i informatičkih operacija.