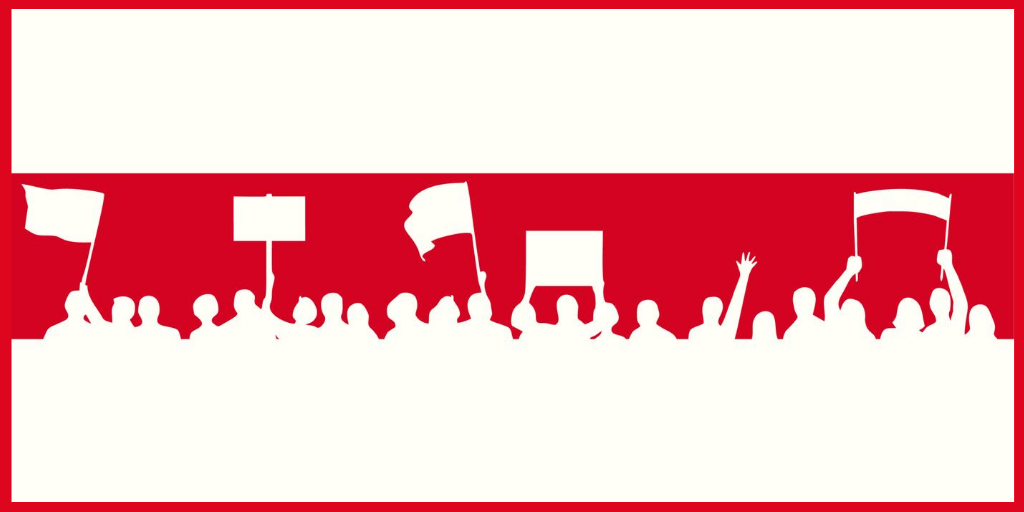 In recent days, thousands of people have been taking to the streets in Belarus to protest the results of presidential elections that gave President Alyaksandr Lukashenka a landslide victory amid allegations of widespread vote-rigging. Authorities have responded with police violence, internet blackouts, and mass detentions of journalists and protesters.
Meanwhile, Belarusian state-controlled TV channels reported mere "disorders" (беспорядки) in the streets orchestrated by "foreign organisers," along with reports about the start of the mushroom season.
The unprecedented unrest in Belarus is compounded by a complex disinformation landscape, with domestic and external sources active in the run-up and the aftermath the vote.
The Kremlin's headache
Belarusian media is heavily controlled by the state and roughly half of the prime-time content on Belarusian TV is produced in Russia. Pro-Kremlin disinformation has a strong foothold, relying on an extensive coordinated network of regional websites that exploits people's trust in local news.
This network has been hard at work ahead of the presidential election. It attacked Sviatlana Tsikhanouskaya, Maria Kalesnikava, and Veranika Tsepkala who dared to challenge Lukashenko, claiming that they were tools of European feminists seeking to destroy Belarusian values and implying that arresting their supporters means defending Belarus. The network accused various European countries of trying to crush Belarusian statehood and claimed that Polish Catholics were seeking to incite riots in Belarus.
However, even with this loyal network of websites and wide access to TV audiences, pro-Kremlin disinformers stumbled on Belarusian complexities. A few weeks ahead of the election, Belarusian state media announced that 33 Russian citizens, allegedly members of the Wagner group, were detained on suspicions of having traveled to Belarus to "destabilise the situation during the election campaign."
The move presented a conundrum for pro-Kremlin media, which has supported the regime for years. Commentators on Russian state-controlled TV carefully mused about a "misunderstanding" and spoke about "Belarusian radicals" allegedly trained in clandestine camps – ironically, only later to complain that this particular segment of disinformation was censored from Belarusian airwaves.
However, soon enough pro-Kremlin media found a way around this thorny issue by focusing on a more convenient culprit: Ukraine.
"Ukrainian provocation"
"The detention of Russians in Belarus was a Ukrainian provocation", multiple pro-Kremlin media outlets claimed, following questionable reporting by the Russian tabloid Komsomolskaya Pravda, which was swiftly debunked by independent Russian media. This did not deter pro-Kremlin sources, which continued to blame Ukrainians and claim that Ukrainian secret services were controlled by the West and/or the CIA and were planning terror attacks in Belarus.
Once the pro-Kremlin media settled on the delicate matter of the detention of Wagner mercenaries, the floodgates of pro-Kremlin disinformation opened wide: the protests in Belarus were a colour revolution and the evil West was behind it. Russian state-run news agency RIA Novosti chimed in, saying that the enemies of Lukashenka, namely Poland, wanted a bloody Maidan in Minsk (the article has since been viewed almost 100,000 times). The EU, which stated that the elections in Belarus were neither free nor fair and repeatedly called on Belarusian authorities to stop the unacceptable violence against protesters, was accused of double standards.
Pro-Kremlin commentators were also quick to "reassure" Belarusians that they, together with Ukrainians and Russians, were one nation, disturbed only by "duped" kids who grew up on the liberal ideology of Russophobia and claimed that only 10% of Belarusians were opposed to a Union State with Russia.
If most of this sounds familiar, it should. Pro-Kremlin media have been spreading these disinformation tropes about "colour revolutions" and "Western meddling" in relation to every popular protest for years: in Ukraine, Georgia, Armenia, and even in the US and Hong Kong. Democratic movements, free and fair elections in Russia's neighbourhood and beyond, remain the Kremlin's biggest fear. But this time, it seems, Belarusians are not afraid.