A significant percentage of information on high-profile events (the confrontational situation in Ukraine, in our case), does not correspond to reality. The root cause of this is the use of such information for governmental propaganda purposes: in this case the news stories are used not to inform the public, but to impose certain opinions on them, which is generally beneficial to one side or another. This document will attempt to highlight the main methods used for identification of lies in mass media.
Let us begin by agreeing that we'll attempt to work only with proven facts, and not with statements by either side. For example, if the Russian Ministry of Foreign Affairs makes a statement on some event in Ukraine, while the Ukrainian Ministry of Foreign Affairs or Ministry of Defence denies said statement, then we find ourselves in a classic scenario of "word against word"; two interested parties say that which benefits them. For this reason our [website] has so few refutations of verbal statements: they are possible only when someone contests information that is beneficial to them (for example, when Donetsk militants denied their seizure of "Grad" multi-rocket-launcher systems, which was reported by channel LifeNews, loyal to them). Therefore we shall try to speak of only facts.
Photo-fake
This is a more popular type of fake, but also it is easier to dispel. Using the Internet, it is usually possible to establish the credibility of any photo within a matter of seconds. As it turns out, however, most users are incapable of this; they instantly believe any "screaming" photo.
There are a number of ways to ID a photo-fake. If you use Google Chrome you simply need to right-click on an image and select the option of searching for the image in Google.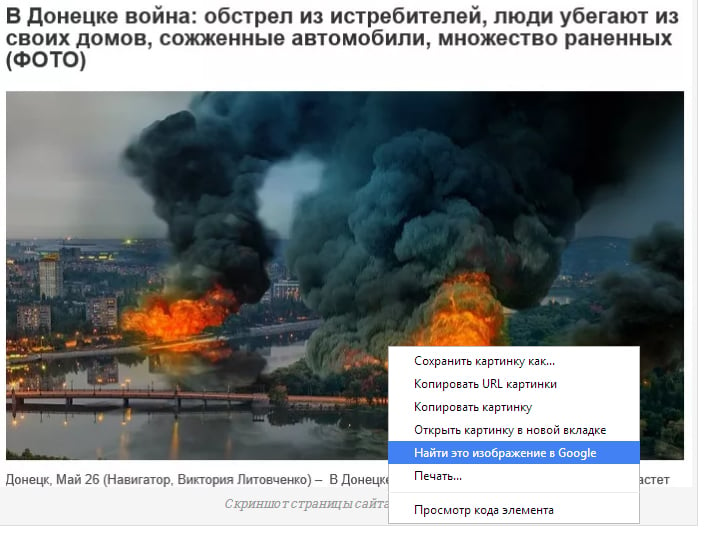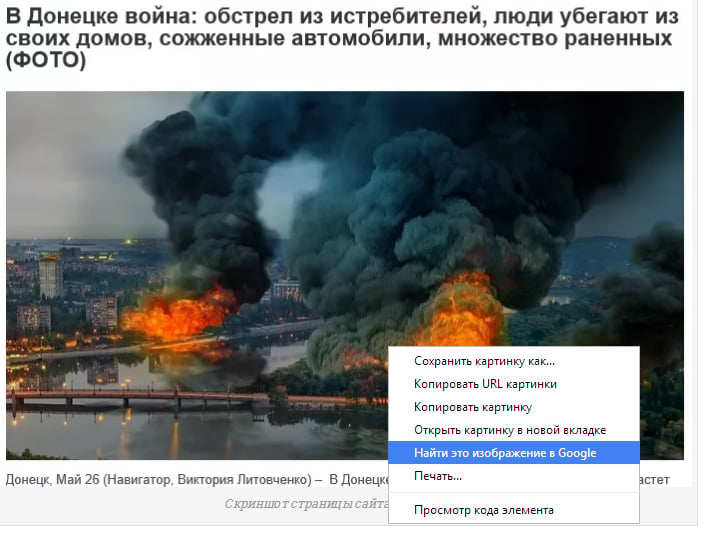 If you use a different browser (one without this default image-search option), you can install a special plug-in; there are many. For example, a very useful one is Who stole my pictures. The benefit of this plug-in is that it can search not only on Google, but also on Yandex, Tineye, or all three at once.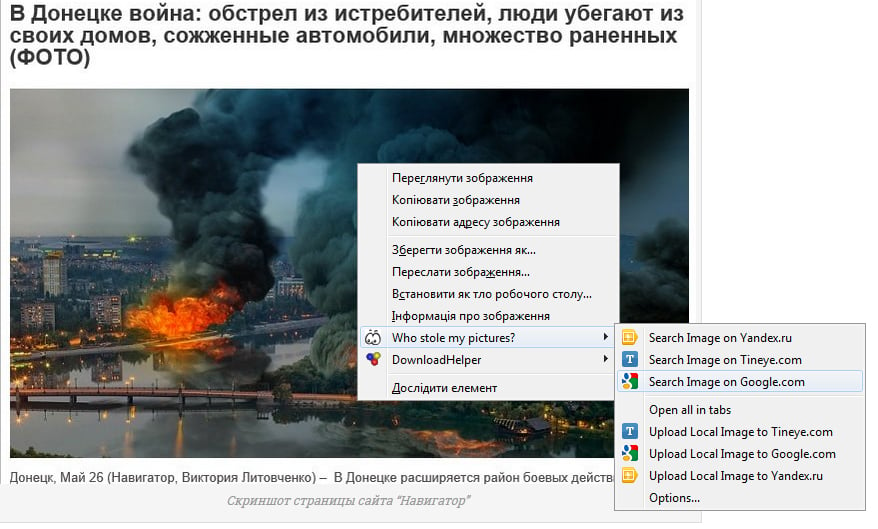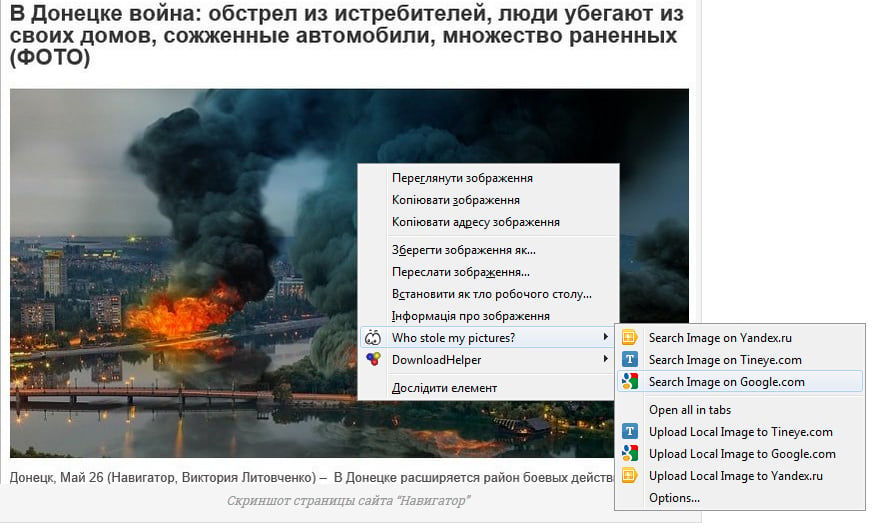 If you do not have Chrome and do not have the option of installing a plug-in, you can do without them. You simply need to have two tabs open in your browser: one tab contains the page with the subject image; the second tab contains the Google Images page. Go to the first tab, and use your mouse to grab the subject image, then drag it to the second tab, and finally drop it into the search bar of the Google Images page.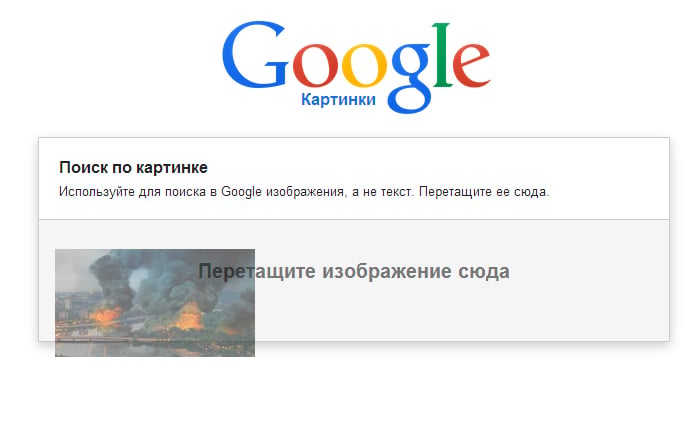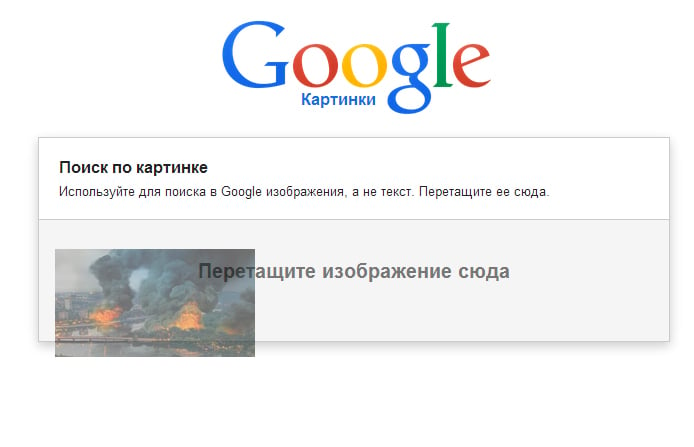 This way you can also search for images from your own hard drive: simply drag-and-drop the image file into the Google Images search bar.
As a result of this method you can examine two very important aspects. The first is whether the image is original, or if has been subject to photo-editing software. In our example it is evident that the image has been modified to include enlarged flames, so as to depict a post-bombardment City of Donetsk.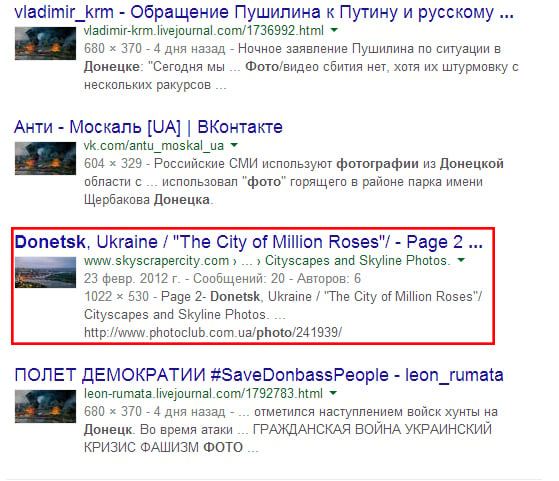 The second aspect is the image's date of publishing, and its true subject matter. For example, you can see whether someone is trying to portray the war events in Syria as those of Ukraine.
Video-fake
Working with such a fake is much more difficult than with images, considering there is no simplified search method. If you suspect that a video's authenticity is questionable you can try one of these methods.
First of all, if you are watching a YouTube window plug-in on some site, go to YouTube itself, in order to gather more information on the video (do this by clicking on the YouTube logo in the bottom right-hand corner).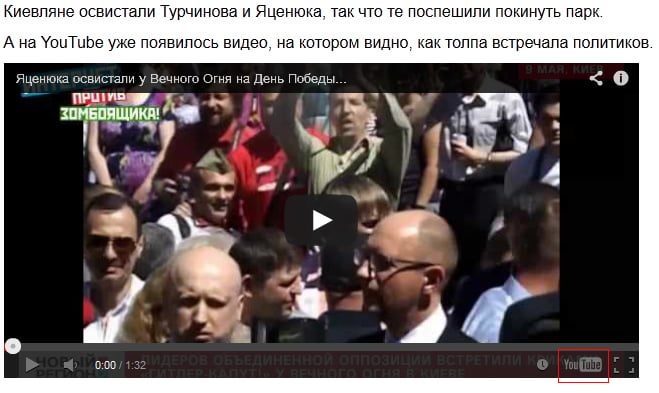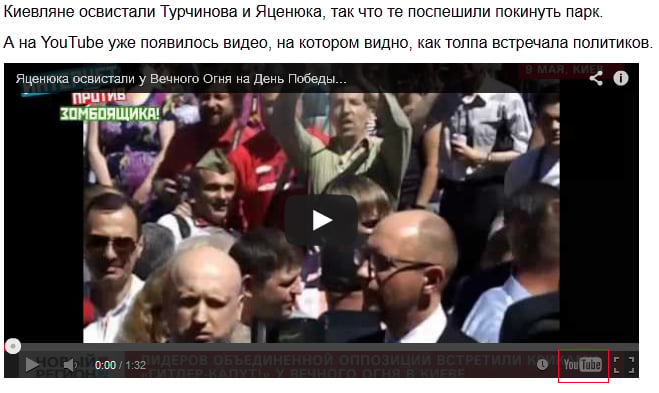 For example, using this method, we can discover that the news from Russian [mass media outlet] Komsomolskaya Pravda (Eng: Komsomol Truth), about Yatsenyuk & Turchynov getting booed on 2014 Victory Day, is actually falsified: this video was placed on YouTube a year ago; Yatsenyuk & Turchynov were still in the opposition, and were received unfavourably by members of the Communist Party.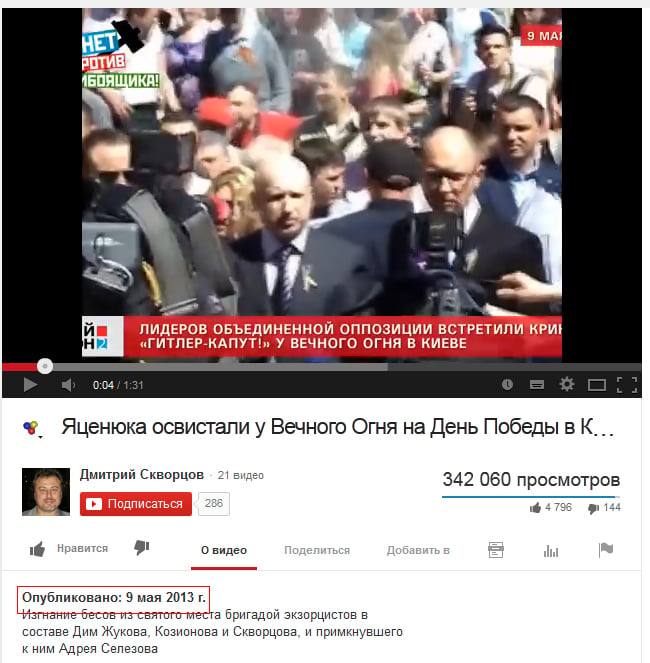 Of course, such basic lapses are few. If there are no obvious signs of a video-fake, we recommend that attention be drawn to the following. If there is a recent date in the very title of the video, and that particular video has been uploaded to YouTube multiple times over a short span of time, then there is high probability that the video is a fake. Select a version of the video with the highest amount of views, and read the comments by other viewers; there is a high probability that some of the viewers have seen the original, and may have even posted a link to it.
Furthermore, pay attention to the details in a video: names of objects; car license plates; street signs. Such factors can often be used to determine what is truly taking place. For example, we used this method to discover that the yacht "Video Azimut 46" (which, according to the Russian NTV channel's news story, was supposedly a gift from a local businessman to Odessa militants for the purpose of coastal defence), is actually a rental; it was rented by the news channel personnel to create the falsified story.
One more method: verbally describe what you see in the video, and search for the description on YouTube or Google. For example, there is a rapidly spreading video fragment, titled [trans. from Rus.] "message to the Kiev junta from a mother of a fallen soldier 14 05 2014". However, having searched for [trans. from Rus.] "message from a mother of a fallen soldier" you will easily find the complete video, from which it is clear that the mother is addressing Vladimir Putin; she asks him to cease military action in Ukraine.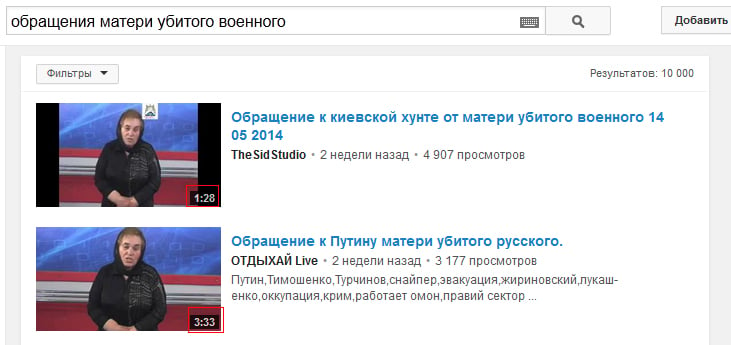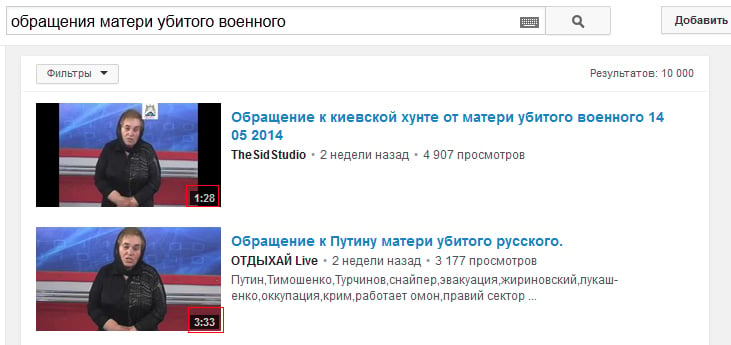 Another method: make a screenshot of a more prominent part of the video, and place it in Google Image search, using the method described earlier. There is a possibility that someone used the video in some news, or used such a prominent screenshot as an image somewhere. This way it is possible to uncover the original source.
Witness Statements
Often it is difficult or impossible to evaluate validity of witness statements, but there are exceptions.
Pay close attention to witness statements: are there actual confirmations to the journalistic claims made, or are they speaking on some general subject matter (which the mass media would later use in their own interests)? For example, in the above-mentioned story with the yacht, NTV channel personnel also tell of another businessman (a Donetsk flight instructor), who donated a plane to the militants. As it turns out, the instructor was actually answering questions on airplanes and skydiving, and had not donated anything to anyone. Later, he even recorded a video-address on the matter.
Another such example is a story by news channel Russia Today, which tells of Jewish people fleeing Kiev due to anti-Semitism of the new Ukrainian government. The channel's personnel even showed how Rabbi Mihail Kapustin is packing and saying that he's forced to escape the oncoming danger. However, if you listen to his words, you will discover that he somehow doesn't say which side he's afraid of, exactly. If you dig deeper, you will further discover that he's not a rabbi of a Kiev synagogue, but a Simferopol synagogue; he had earlier publicly come out asking for defence of both Ukraine and Crimea from Russia. Now, he is fleeing Crimea due to the new Russian government.
Furthermore, pay attention to the actual witness: have you seen him/her before? For example, the famous "travelling performer" Maria Tsipko regularly gives witness statements to mass media, acting as a resident of Odessa, Donbass, or any other hot spot.
Western Mass Media News
This move is often used to strengthen the truthfulness or authority of any given message. Nevertheless, among such news there is a huge amount of fictional claims from marginal websites, which ought to be examined. For example, Russian news outlet Vzglyad (Eng: View), which calls itself a "business newspaper", wrote that the USA refused to accept the bodies of 13 CIA agents, allegedly killed in Ukraine. With this, the publication references a western website by the pretty title of "The European Union Times". If we visit this site, we will discover that the link gets redirected to another site: WhatDoesItMean.com, a very famous and quite a marginal resource; it regularly publishes creations of a fictional character by the name of Sorcha Faal.
Having researched this writer, we discover that he regularly informs readers of "civil war" in USA; of the flight of major USA corporations to Russia due to fears of Obama; and so on. Furthermore, we can establish that The European Union Times is affiliated with WhatDoesItMean.com, and is accused of "insane propaganda of idiocy".
An alternative [tactic] is the twisting of actual news from reputable mass media. For example, a number of websites reported that 27 crew members of the American Navy Destroyer Donald Cook had become frightened, and submitted their resignations (after a Russian Air Force Su-24 interceptor did a fly-by 12 times during the destroyer's patrol of the Black Sea). A Pentagon representative was referenced: Colonel Steven Warren, who had supposedly given an interview to the Reuters agency. In reality, Warren did indeed speak to the agency, but there was no talk of fright; this can be ascertained by visiting the agency's website.
Therefore always try to find the source of the news, or the news' pretext.
But the main condition for identification of a fake is critically thinking about the information you're presented with. Informational warfare is a very important element of confrontation between countries, so try not to take information on faith, without having been fully convinced of its validity.
By Oleg Shankovskiy for Stopfake.org.