Poland has taken the position of leader of European union countries that call for the fight against disinformation about the 5G technology. All because of multiplication of cases of damaging the infrastructure and spread of conspiracy theories. Warsaw, along with fourteen other capitals, in the letter sent to the European Commission requires elaboration of the strategy to counteract disinformation.
The letter has been sent to the Executive Vice President of the European Commission Margrethe Vestager, to Vice President of the European Commission for Values and Transparency Věra Jourová, and to the European Commissioner for Internal Market Thierry Breton.
15 member-states signed the letter: Austria, Bulgaria, Croatia, Cyprus, Czech Republic, Estonia, Finland, Greece, Latvia, Lithuania, Poland, Portugal, Slovenia and Slovakia.
The authorities of aforementioned countries are deeply concerned by "the growing disinformation about the effects of the exposition at the magnetic field and the mobile networks using the fifth generation technology (5G)". In the recent past there were cases of destroying the 5G antennas and spread of disinformation about alleged bad influence on health and human life. It intensified with the coronavirus pandemic.
As we read on Euractive.pl: "Mobile networks in the first half of the year alone noted 140 cases of intentional damaging or destruction of communicational infrastructure in Europe. The highest number of cases has been reported in the United kingdom and Netherlands".
"The acts of vandalism against the communication infrastructure and spreading disinformation about the 5G consist not only a threat for economies of the affected countries, but also hinder the European Union's efforts to achieve the ambitious communication goals", we read in the letter.
At the same time the signatories demand conducting the further research on the 5G influence on human health.
The Internet, however, is full of conspiracy theories linking the 5G technology with the ongoing coronavirus pandemic. In Polish cyberspace graphics like the one below appear. Its authors "prove" that the 5G network is a part of a plan to build the "New World Order" by "activating the hidden features of coronavirus vaccines", when they are finally invented. It is a lie meant to elicit the reluctance towards the official authorities' communications, deepen the divisions in the society, but it can also, consequentially, lead to spread the virus and the COVID-19 illness itself.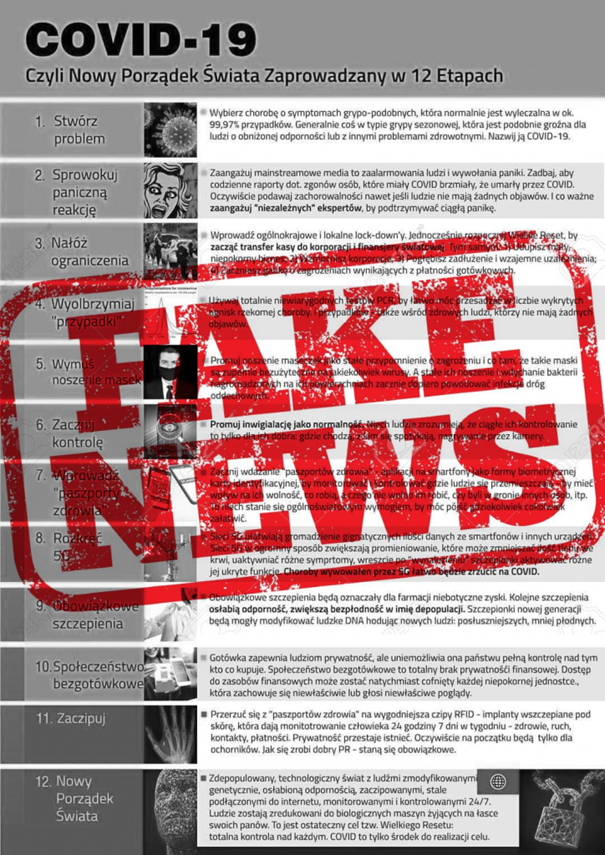 WM
Follow StopFake PL on Facebook, Twitter, Instagram and Telegram.