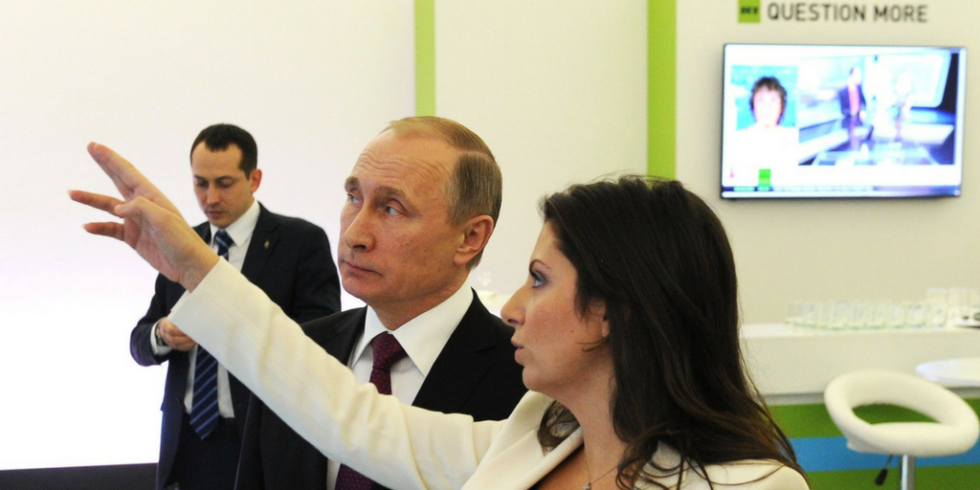 Russian political decision makers continue to prioritise running disinformation campaigns at home and abroad.
One of the implementers of this policy, the chief editor of RT, Margarita Simonyan (above), has compared the network she leads to "a ministry of defence". Obviously, such high ambitions need a sizable budget.
However, when the price tag of the propaganda is made public, the Russians themselves – citizens whose taxes will eventually pay the bill – do not automatically agree that their country should maintain this level of costly state propaganda.
1,3 billion euro
In September last year, Interfax calculated the total cost in the proposed state budget to 1,3 billion euro (92 billion rubles). Such an enormous figure can easily seem abstract – until someone translates it into concrete examples.
This happened last week when one of Russia's most popular bloggers, Ilya Varlamov, published an article comparing the price of the state propaganda to the budgets of some of Russia's largest cities.
Aren't you upset?
Ilya Varlamov showed that the price of running RT is equivalent to the budget of a Russian city of just above one million inhabitants.
"Dear residents of Kazan, Voronezh, Volgograd, Omsk and especially Samara! Aren't you upset that your money is spent on Simonyan, Keosayan, Skabeeva, Sheinin, Solovyov, Kiselyov, Malakhov, etc., and not on convenient modern streets, public spaces, trams and trolleybuses?"

Ilya Varlamov, Russian urbanist blogger
With Varlamov's criticism, it becomes clear that the Kremlin's global disinformation campaign comes at a cost; and not only the kind of cost that is measurable in the state budget, but also in the form of dissatisfaction among regular Russians.
In a country struggling with a poverty rate at 14.3%, (or 20.9 million people, January-March 2019 figures), not everyone can be expected to approve of RT, Sputnik and the domestic propaganda channels thriving the way they do.
"Distracting the audience from the real problems"
Ilya Varlamov is not alone in his criticism; also other Russian voices speak up against the disinformation.
One such example is journalist Maria Borzunova who in an interview with EUvsDisinfo has stated that the state propaganda "is mainly used for distracting the audience from the real problems that exist in the country".
Polling figures suggest that the propaganda is in fact gradually losing its effect: Only one in three Russians say they trust the news programmes on the state-controlled networks Channel One Russia (Pervyi Kanal) and Rossiya 1.