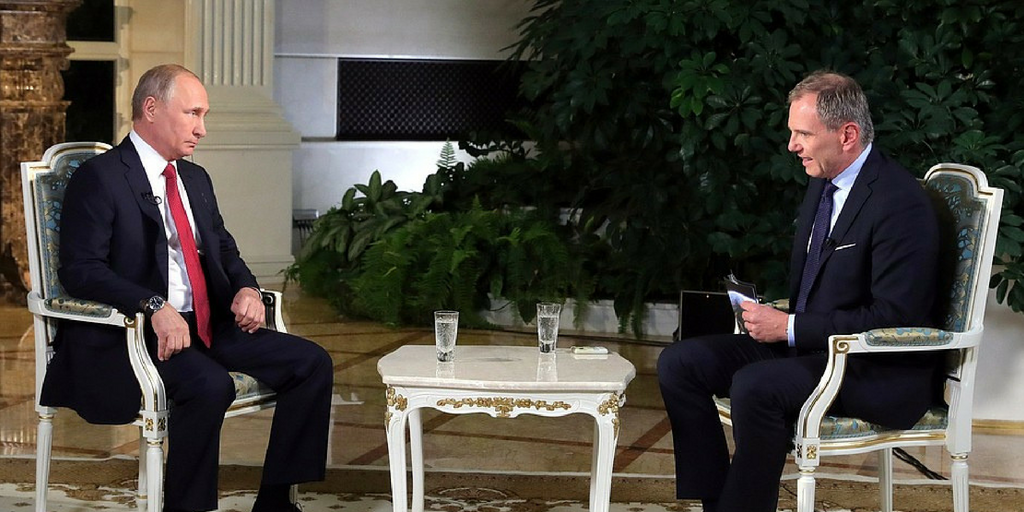 Ahead of Vladimir Putin's visit to Vienna on 5 June – his first trip to the EU after he was re-elected – Austria's national public service broadcaster, ORF, sent journalist Armin Wolf to Moscow to record an interview with the Russian president. A transcript has been made available in English on the official Kremlin website.
A unique opportunity 
A number of Armin Wolf's questions to Putin directly addressed the issue of disinformation. Given Russia's highly controlled media environment and low degree of press freedom, Putin is only rarely, if ever, confronted with questions that throw a critical light on Russian disinformation.
For this reason, the interview is a unique opportunity to understand the thinking with regards to disinformation on Russia's highest political level; to see if the Russian President is willing to engage in a discussion about the issue, and which defensive positions he chooses.
HERE IS HOW ARMIN WOLF CHALLENGED PUTIN ON RUSSIAN DISINFORMATIONAbout the St. Petersburg troll factory:
"The governments of Western countries, Europe and, first of all, the United States, are accusing Russia of using hackers to meddle in other countries' domestic politics. In all of your interviews you say that this is not so; however, there is no doubt that the so-called Internet Research Agency based in St Petersburg has been seeking for many years to influence public debate on Facebook". "Mr President, it may be good or bad, but it is not the truth. Mr Prigozhin does not only run restaurants, he has many businesses that have contracts with the Defence Ministry and receive a lot of government orders; he spends millions of dollars on the troll factory and people there write these posts. Why does a restaurant keeper need this?"
About MH17:
"There is a video; there are telephone conversations and dozens of eyewitnesses. You have been saying that this is not true for about a year but practically nobody believes your words. Are you not thereby putting the veracity of Russian statements at stake? Maybe it is time to acknowledge that the insurgents in eastern Ukraine used Russian military equipment to commit that horrendous crime?" "[The investigators] know what missile it was: a Buk system missile. It was a Russian army brigade in Kursk. This is known for a fact, yet you still deny it. Would it not be better to admit that the missile had indeed come from Russia?"
About the annexation of Crimea:
"Many people do not believe Russian arguments because a few years ago in Crimea you said that the famous "green men," the fighters in green uniforms without identifying insignia, were all local self-defence forces. But a little later it was revealed that they were indeed Russian soldiers. After that, you admitted many times that those were Russian army personnel even though you denied that earlier. Why should we believe you now?"
Whataboutism and counterquestions
As Armin Wolf says in a comment about the interview on his blog, Putin's tactics include "whataboutism", counterquestions instead of answers. Also, as the Austrian journalist puts it, "if [Putin] wants to deny something, he denies it, no matter how much proof is available to support the case".
Russian media rebut, accusing the West of "Lügenpresse"
Pro-Kremlin media and commentators saw the Russian president as a victim of a reporter who "violated journalistic ethics". Vladimir Solovyov, who hosts a disinformation-oriented show on Russian state television, complained on his Twitter about Putin having been interrupted 11 times during the interview. And state-owned Russian TV Rossiya 1 covered the interview under the headline "The Lying Press: Putin Absolutely Destroys Dishonest Austrian Journalist During State TV Interview".
For a detailed analysis, see this article about the interview published by The Insider (in Russian).