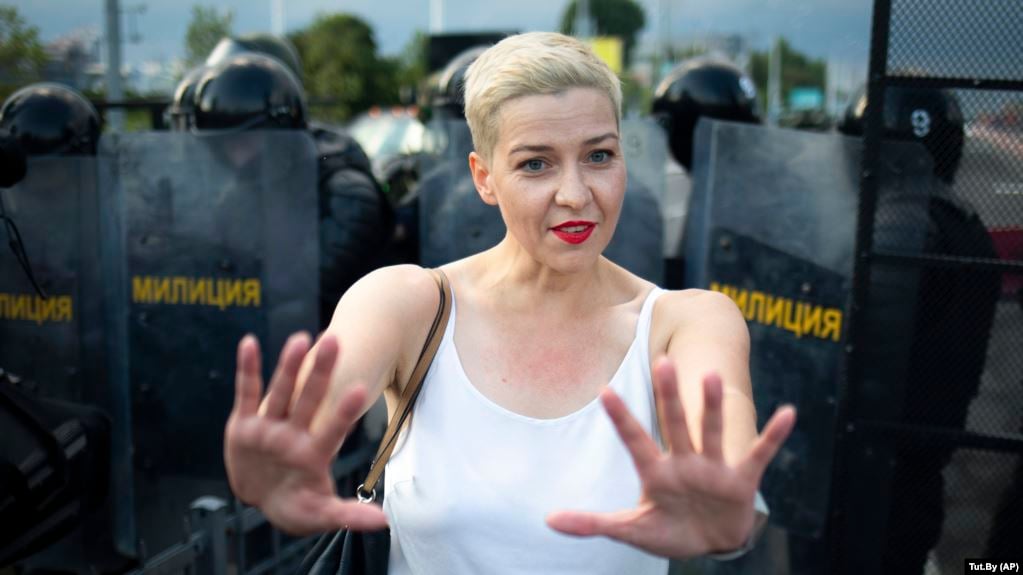 By Polygraph
Belta
Belarusian state news agency
"The members of the so-called coordination council, Anton Rodnenkov, Ivan Kravtsov and Maria Kolesnikova, tried to leave the territory of Belarus."
Source: Belta, Sept. 8, 2020
FALSE
On Sept. 7, Maria Kolesnikova, a member of the Belarus opposition's coordination council, was abducted on the streets of the capital Minsk. Witnesses reported that Kolesnikova was pulled into a minibus by masked men in civilian clothes. Kolesnikova's family filed a missing-person report.
The next day, the state-run Belta news agency reported that Kolesnikova was detained on the Belarus-Ukraine border. Ukrainian sources, including Deputy Interior Minister Anton Herashchenko, reported that Kolesnikova had not crossed and claimed she destroyed her passport to prevent her Belarusian captors from forcibly deporting her to Ukraine.
Two other members of the coordination council, Anton Rodnenkov and Ivan Kravtsov, say they were forcibly deported to Ukraine and are in Kyiv, the capital. They said they witnessed Kolesnikova tearing up her passport. Afterward, Rodnenkov said that Kolesnikova escaped the car she had been forced into by climbing out the window.
Belarusian authorities, however, told a different story. According to the Belta news agency, the three opposition figures were spotted near the border in a BMW.
"The members of the so-called coordination council, Anton Rodnenkov, Ivan Kravtsov and Maria Kolesnikova, tried to leave the territory of Belarus," the Belta article stated.
The article quoted a Belarusian border patrol official who claimed the three passed through the customs checkpoint on the Belarusian side, then sped up to reach Ukraine. He said that Kolesnikova "ended up outside the vehicle," but did not explain how that happened.
Given the witness accounts of Kolesnikova's actions on the border, and considering that she had been kidnapped off the street, the Belarusian narrative is likely false.
Kolesnikova is currently being detained in Belarus and has been designated a primary suspect in a case involving charges of calling for a coup d'etat against the government. According to AFP, Belarusian major crimes investigators said that Kolesnikova and opposition leader Maxim Znak had been detained in a national security probe into "calls urging action aimed at harming national security."
Kolesnikova's lawyer, Lyudmila Kazak, told AFP: "She confirms she tore up her passport on purpose to remain in Belarus."
Several European diplomats went to the residence of Belarusian Nobel Laureate Svetlana Alexievich, who is also a member of the opposition's coordination council, to help prevent Alexievich from being detained, AFP reported.
Kolesnikova's abduction and attempt to resist deportation by destroying her own passport resonated with demonstrators across Belarus, who continue to protest against President Aleksander Lukashenko's rule, now in its 27th year.
An image shared on social media depicted a reworking of a famous Soviet World War II-era poster, only with Kolesnikova holding her torn passport.
Demonstrations erupted in Belarus following the Aug. 9 presidential election, which Lukashenko claimed he won with 80 percent of the vote. Opposition candidates and their supporters say the results were fraudulent, and, along with the street protests, trade unions have gone out on strike. The European Union condemned the election, and the U.S. and other countries have refused to recognize the results.
Svetlana Tikhanovskaya, the leading opposition candidate many believe was the election's real winner, fled to Lithuania, citing threats against her family.
By Polygraph