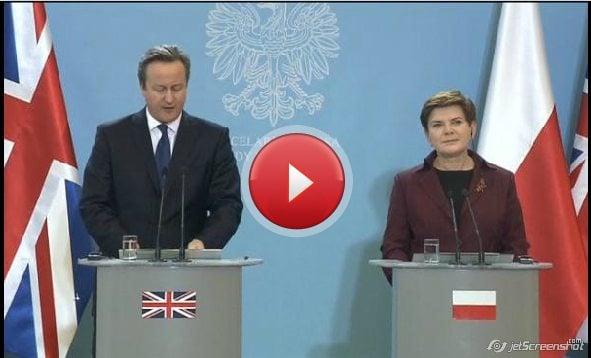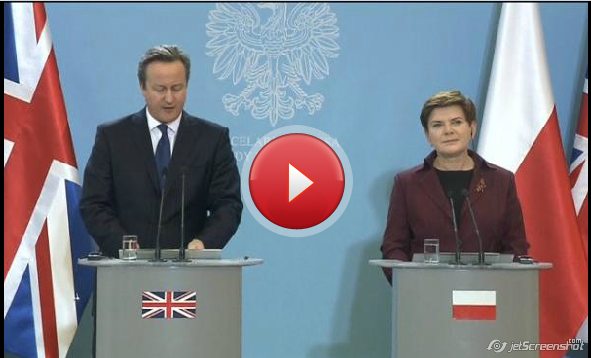 Britain's Prime Minister David Cameron has used a trip to Poland to re-affirm the two countries' commitment to "fighting Russian propaganda." That came as the British leader fielded questions alongside his Polish counterpart during a press conference. Both Britain and Poland have heavily criticised Russia in the past 18 months for its military aggression in Ukraine.
David Cameron, Britain's Prime Minister: "We also want to reinvigorate our bilateral security relationship, so today we have agreed to hold the next meeting of our foreign and defence ministers in the UK in the next year. And we've agreed to work together on the situation in Ukraine and in countering Russian propaganda."
Cameron also held talks with Polish president Andrzej Duda. Aside from Ukraine, top of the agenda for the British leader is limiting welfare benefits to the hundreds of thousands of Eastern Europeans living in Britain.
Poland, an EU member since 2005, had over 2,3 million citizens living and working abroad in 2014. According to data released by the Polish Central Statistical Office almost 700,000 of those are in the UK. Poland's Prime Minister struck a diplomatic tone.
Beata Szydlo, Polish Prime Minister: "Of course there are discussions and issues where we do not have a full agreement today, but I would like to put it this way, I think that these are issues which we will discuss further, and try to resolve with a consensus. Among those issues are welfare and benefits."
Cameron's visit to Poland comes as part of the UK's wider efforts to re-negotiate the terms of its membership of the European Union. Polish PM Szydlo hs said that she believes Britain's proposed welfare cuts are "not acceptable" but has expressed a desire to keep the UK in the EU.