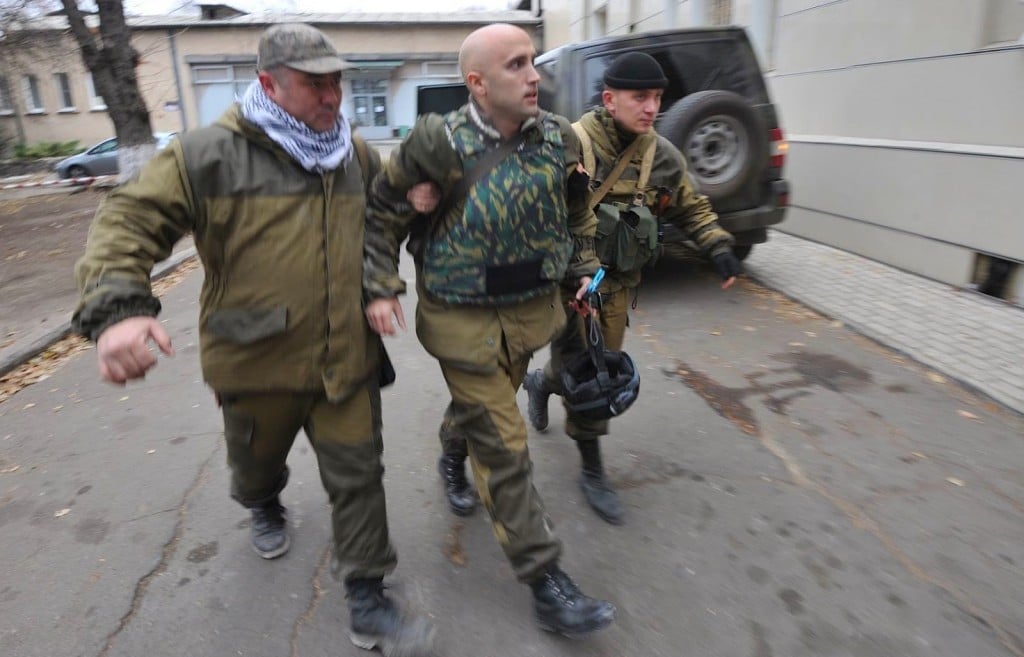 Infamous British blogger Graham Phillips, who has concocted numerous pro-Kremlin reports for Russian propaganda media outlets — particularly for RT and Russia's military outlet Zvezda  — in eastern Ukraine, has been awarded a medal in the city of Chekhov near Moscow by Russia's Border Guard, a branch of the FSB (Federal Security Service of the Russian Federation, main successor to the KGB)
The award was presented by a former KGB Border Guard soldier and Afghan veteran Pavel Hlyupin, who has various business interests in pro-Kremlin media, and is a publicly elected official of Chekhov. He has also been accused of making illegal border crossings from Russia into East Ukraine and assisting Russian-backed forces fighting the Ukrainian government.
Phillips being rewarded for producing Pro-Kremlin propaganda by a branch of Russia's FSB, much of which has lately been for a media arm of Russia's military, Zvezda — is clearly significant, especially since Russia's MoD has publicly announced recently that Russian media are regarded as military assets, and its reporters are 'weaponized'.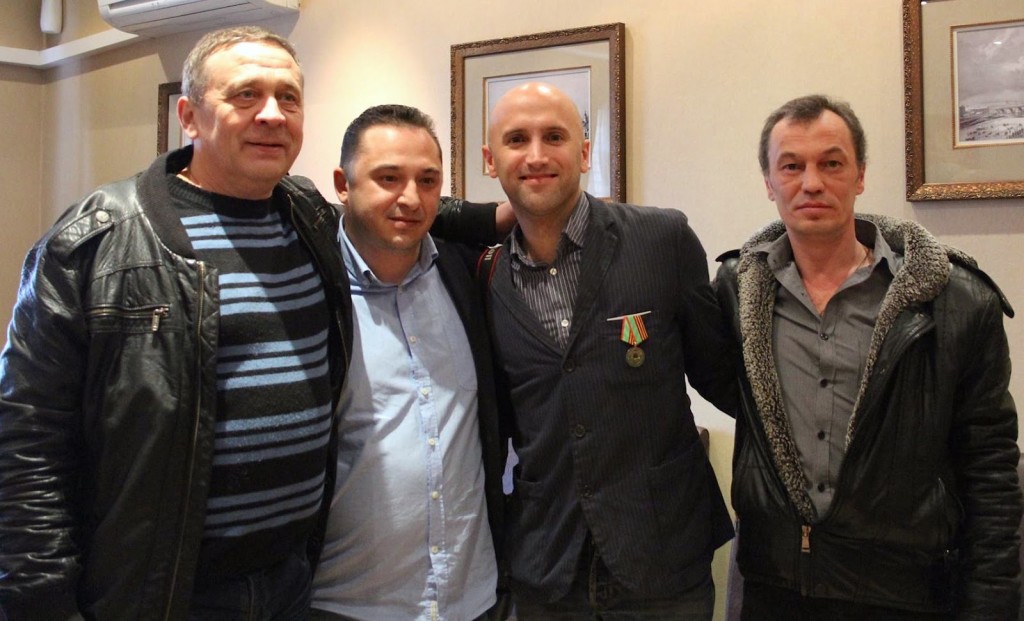 Circumstances leading up to Phillips' public award and his affiliations raise serious questions about his increasingly disturbing activities in the Donbas region of Ukraine, strongly suggesting that he has direct ties to Russian intelligence.
Phillips demonstrated close relationships to a number of people — including Russian citizens with former and current connections to Russia's military and security services, who have been openly managing and operating logistical support operations (so-called 'private humanitarian aid') from Russia to her proxy forces in Ukraine.
This 'aid' is suspected to be a cover for Russia's FSB and GRU (Military Intelligence) directly aiding its proxy forces in Ukraine. These operations are understood to be under the orders of a MoD unit of Russia's Ground Forces in Moscow's Military District.
Publicly, Phillips' associates operate as part of Russia's pro-Putin media and as "search party" units, which repatriate Soviet dead of WWII and claim to preserve and promote Slavic culture, heritage and patriotism in Russia and in Donbas, Ukraine.
Phillips has been actively promoting and apparently participating in these 'private humanitarian aid' operations, organized and carried out by his associates from Russia, that he publicly promoted for allegedly benefitting school children and the injured in eastern Ukraine.
"For months it has been obvious to those who wish to see that Russian intelligence stands behind the campaign of espionage, terrorism, propaganda, and covert action (including raising and arming rebel militias), which I have termed Special War" — John Schindler, June 2014.
Graham Phillips Activities in Ukraine
For a short time during the early stages of the Russian-backed war in Ukraine, Phillips' short video reports were a hit, gaining the attention of mainstream media. But after he started to exhibit an unacceptable "pattern of behavior," only Russia's propaganda outlets, mainly RT, would take his material. RT are a Kremlin-backed Russian propaganda outlet who have been found guilty of bias coverage of the Ukraine crisis by OFCOM, the UK's broadcasting regulator.
Then the "Tripwire" incident occurred, which made Phillips infamous for falsely claiming that the Ukrainian army had shot at him. Even RT contradicted his claim, retracting and correcting their story. Phillips' reports progressively devolved into blatant Kremlin propaganda. Soon he was banned from entering Ukraine (for 3-years) in July 2014, claiming to have been penalized "for working for RT".Once RT had dropped Phillips, he was relegated to providing his video-based propaganda exclusively to Russian language news media outlets, including LifeNews, and the Russian military outlet, Zvezda.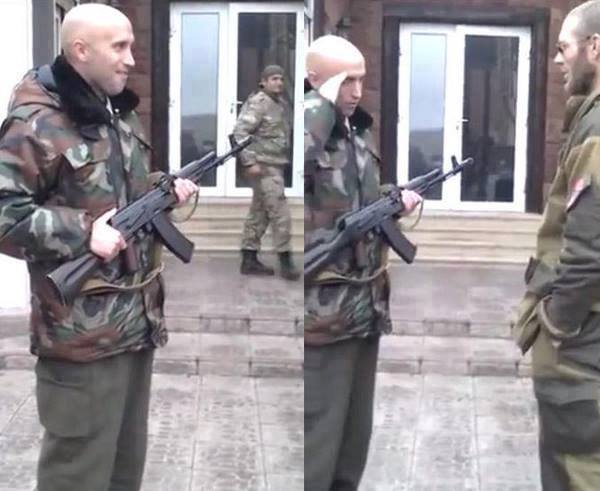 In August last year Phillips willfully disregarded the 3-year ban and RT's advice, boasting of his unlawful return to East Ukraine (traveling via Russia), by illegally crossing Ukraine's Eastern border.
Heading for Russia.Have been in London, taken expert advice here.My 3-year ban from Ukraine is simply not legal,or valid, I don't accept it.

— Graham W Phillips (@GrahamWP_UK) 8 августа 2014
Just to be clear on this, the RT position is that im banned from Ukraine, for 3 years, so i cant go to or work in Ukraine while banned. — Graham W Phillips (@GrahamWP_UK) 11 августа 2014
It's a border into territory the US and EU consider as 'Ukraine'. But there's no Ukrainian border guards anywhere. pic.twitter.com/3yV3O6n7c4

— Graham W Phillips (@GrahamWP_UK) 14 августа 2014
Phillips started working for Zvezda (Star) in Ukraine on September 23rd, 2014, filing numerous video reports (e.g.: Dec 14th, Feb 6th and 10th.) Zvezda is a Russian TV network owned by Russia's Ministry of Defense (MoD) which is registered as part of Russia's armed forces. Phillips wrote that he made about two-dozen video reports for Zvezda.
On his return from east Ukraine to the UK in early March, Phillips claimed (on social media March 21st) that he no longer works for them. However, it seems Zvezda are still employing him  — on July 12th Zvezda published a report on MH17 using his video and "evidence" from so-called witnesses he had found, who said they had seen the Malaysia Airlines Boeing 777 shot down by Ukrainian jets over Ukraine on July 17th, 2014.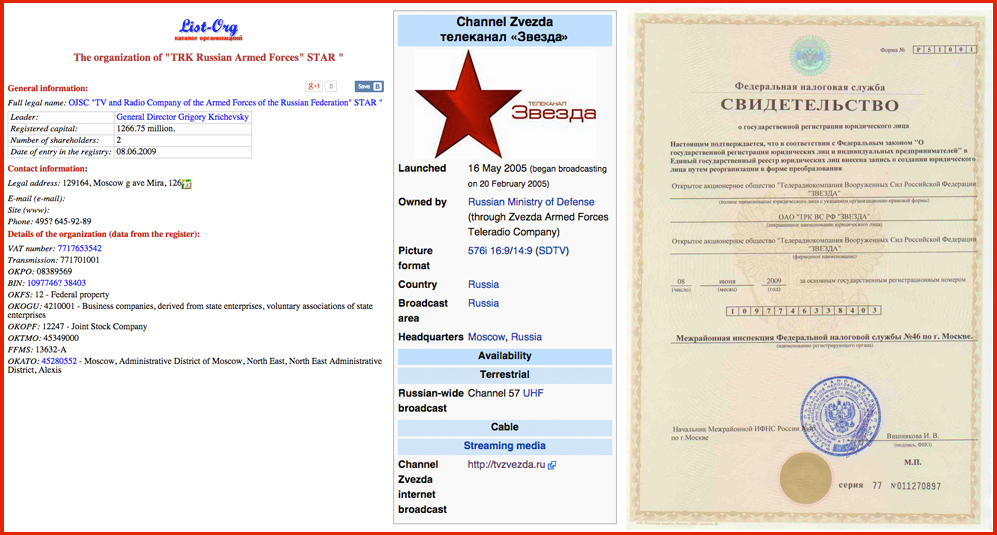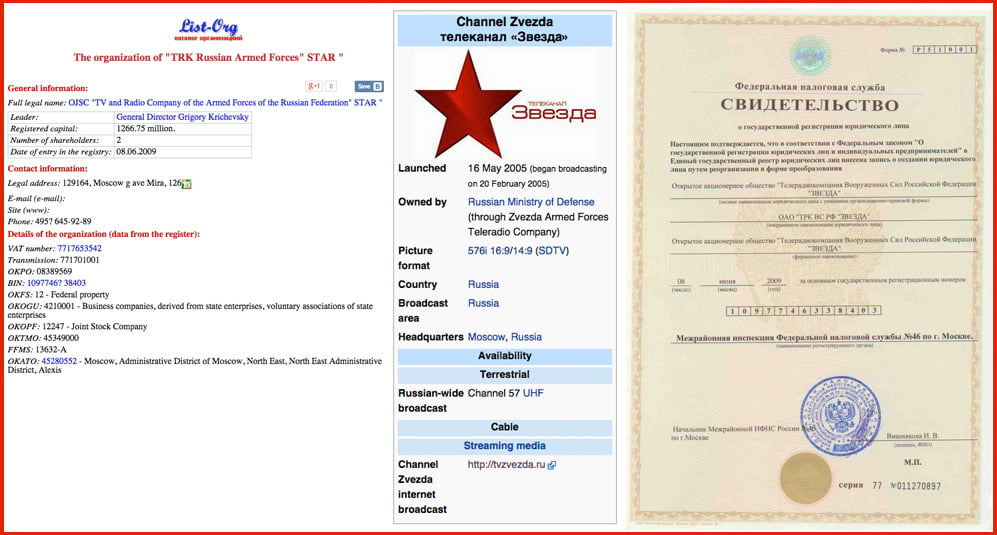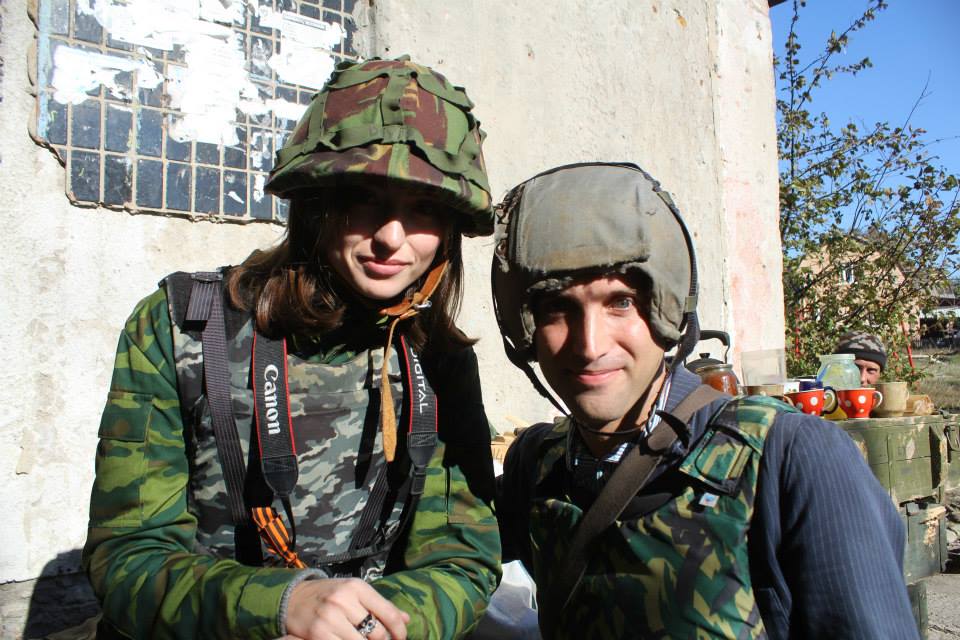 In late March, Russia's Defense Minister Sergey Shoigu, publicly stated that Russia's media is "yet another part of [Russia's] military" and can be used as a weapon. This effectively means that Pro-Kremlin "journalists" working for Russia's media are designated as military assets. Phillips is known to have worked for Kremlin-backed Russian outlets RT, LifeNews, Ruptly and Zvezda in Ukraine for over a year.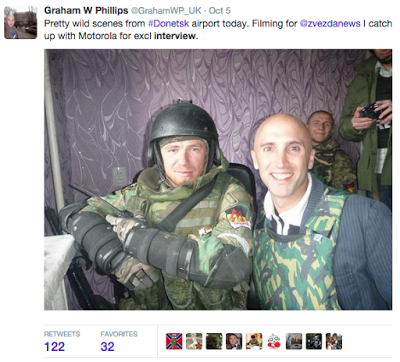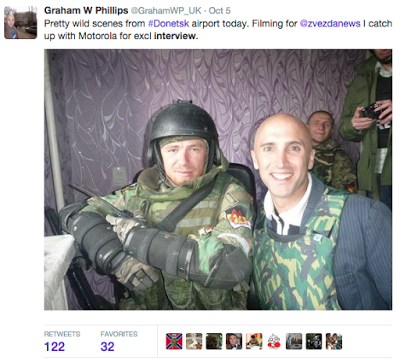 Phillips' notoriety came into full public view late last year, when he interviewed Ukrainian POW's and a badly wounded soldier. In the interviews, he repeatedly demands the prisoners explain why they have come to "murder civilians" and asks are they "ready to go home now and accept that it is Novorossiya here and not Ukraine."In a second interview he aggressively interviews a severely burnt Ukrainian POW for about 15-minutes. After Phillips posted a September 2014 video of him interviewing Ukraine POW's, BBC journalist Daniel Sandford reminded him that what he was doing was illegal as well as unethical:
@GrahamWP_UK Graham, you know I try to resist criticising you all the time. But you cannot interview prisoners of war. Unethical and illegal — Daniel Sandford (@BBCDanielS) 10 сентября 2014

Phillips does not hide his pro-Russian sympathies for Moscow's proxy organizations in east Ukraine, DNR and LNR. He makes no attempt to be impartial in a war zone, posting photo's of himself donning the uniform of the Russian Federation armed forces, complete with insignia/badges of Novorossiya (New Russia, an outdated Tsarist term, resurrected by Putin and eastern Ukraine's Kremlin-backed forces to describe Eastern and Southern Ukraine) and cheering after Russia's armed forces and Moscow's proxy organization, DNR, captured the strategic railway hub of Debaltseve. (FT)
#Russia's military, special forces, troops & armor ID'd on the frontline in #Debaltseve eastern #Ukraine: cc @NSA_PAO pic.twitter.com/TK7JRsL0RF

— Silver Surfer (@RobPulseNews) 17 февраля 2015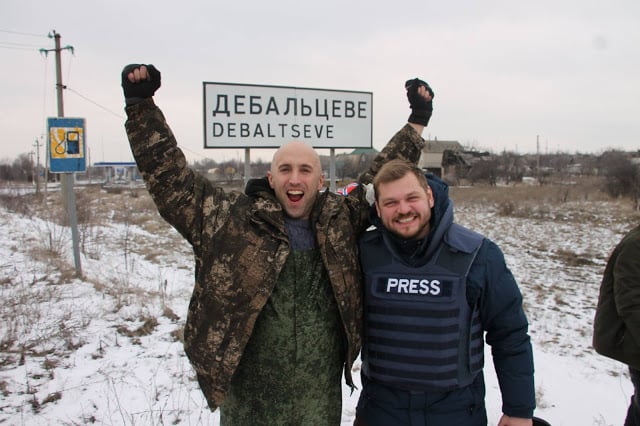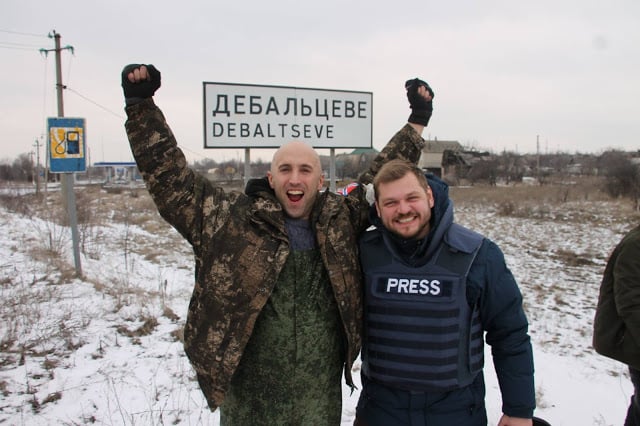 Shortly after the capture of Debaltseve, Phillips interviewed a number of captured Ukrainian soldier prisoners who were forced to march carrying their dead and injured comrades, Phillips hounded the POW's, repeatedly asking whether "they feel ashamed":
English subs, as I ask Ukrainian POWs if they feel ashamed. https://t.co/ajDZeyQcP3 #Ukrainewar #Debaltsevo #Novorossiya #Donbass — Graham W Phillips (@GrahamWP_UK) 26 февраля 2015

Phillips, who poses as a self-proclaimed "Gonzo" journalist, seems to be unconcerned with upholding press standards and exhibits complete disregard for the Geneva Convention:
.@HollieGoodall @cityjournalism FYI: @GrahamWP_UK has repeatedly broken ALL of IPSO's rules. https://t.co/ZTHPCUHMDW pic.twitter.com/4oJt2otmf6

— Ystri Ya (@ystriya) 20 Март 2015
@ystriya @HollieGoodall @cityjournalism Sometimes I had actually broken all of those by lunchtime 😉 — Graham W Phillips (@GrahamWP_UK) 20 Март 2015
2/2 The Geneva Convention is a nice idea, but the Ukrainians chose not to apply it in Donbass. In my interviews, I entered into that spirit.

— Graham W Phillips (@GrahamWP_UK) 12 Март 2015
British Border Police were concerned enough to detain and question Phillips upon his return to the UK in March (via Moscow and the Netherlands to supposedly 'assist' in the MH17 investigation), for four hours under Schedule 7 of the 2000 Terrorism Act about his activities in Donbas. Phillips was released after questioning. The British Foreign Office is allegedly pressuring Phillips to stop his reporting from the Donbas. (FT) This is undoubtedly due to his open stance as a propagandist in Russia's billion dollar information led 'special war' against Ukraine.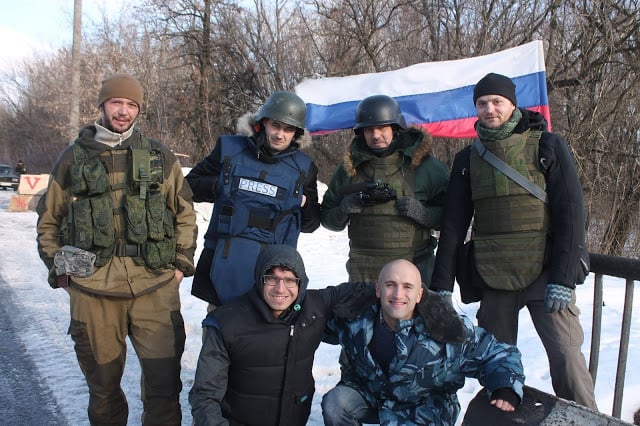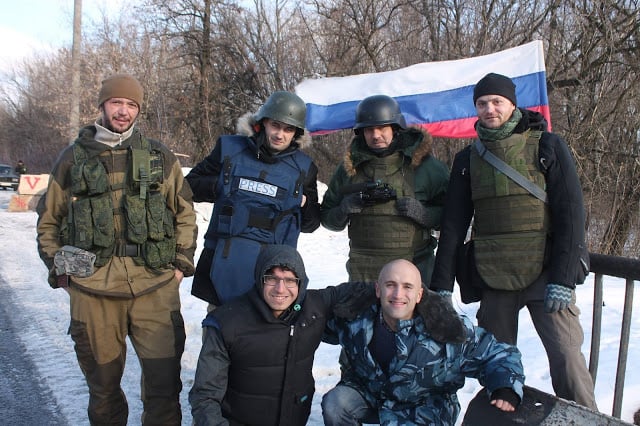 After arriving back from Ukraine in early March, Phillips spent the remainder of the month and April in the UK doing so-called 'fundraising for Donbas,' which included selling his war photographs and his Russian military jacket complete with "Novorossiya" insignia. He also raised the money to buy a $1,500 drone via a Kickstarter campaign, that he said he would be using when he returned to Ukraine. Phillips, who switched from the Conservatives to UKIP, openly became friends with Piers Mellor — a well-known neo-Nazi and fascist affiliated with far-right political party, Golden Dawn, also widely described as Neo-Nazi and fascist — who was seen protesting with Phillips:
.@GrahamWP_UK is friends w/ Piers Mellor of Golden Dawn @MykhailoXPIH @olex_scherba @HumanGrip http://t.co/egeNmKug5y pic.twitter.com/fKyTOW6KBG — Silver Surfer (@RobPulseNews) 21 Март 2015

Golden Dawn attended a Saint Petersburg forum meeting on March 22nd which was organized by the Rodina party, headed by Russia's Deputy PM, Dmitry Rogozin. KHPG's report dated March 20th, titled "European Fascists and Neo-Nazis to meet to defend Russian interests", explains that in the run-up to the [then upcoming] 70th Victory day anniversary "Russia has persistently enlisted the aid of fascist and neo-Nazi groups and parties to support its aggression against Ukraine while claiming that it is fighting a 'fascist regime' in Ukraine."
Furthermore, many of the former and current leaders in Russian-occupied eastern Ukraine have ties to or are affiliated to "far-right or neo-Nazi Russian organizations." – many of whom Phillips has had access to, and interviewed.
Screenshot 2015-07-02 16.33.28.png
Therefore, it is unsurprising that Phillips aligns himself with far-right extreme groups and individuals, such as Mellor, which is also consistent with his pro-Kremlin affiliations and bias.
In May, Phillips returned to Russian-occupied eastern Ukraine via Russia (after attending the Victory day parade in Moscow on May 9th) – again willfully disregarding his 3-year ban and driving his 2003, British registered, racing green colored Rover 75 car. This time he brought with him so-called "aid for Donbas" and his new $1,500 drone, that he funded and purchased in the UK. From all appearances, Phillips imported the drone into Russia then illegally transported it to Ukraine, without an export license. This sophisticated drone is capable of being flown 'out of sight'.
Furthermore, Phillips now appears to be 'backed up' in Ukraine by people who are attempting to improve the production values of his propaganda videos. In the recent past, Phillips' videos were poorly edited with terrible sound and generally abysmal production values. Now Phillips and his cohorts have mastered better editing techniques, even managing to put in some titling and split screens to enhance their pro-Kremlin propaganda. It is just slightly better packaged and benefits from the addition of some very steady drone footage.
Phillips admits on social media that he had flown his newly acquired drone over Ukrainian military positions on at least two occasions. He has been observed with Russian military soldiers, who appear to be guiding the drone, as seen here:
Urgent⇢"Independent journalist" Fib.lips uses his drone for reconnaissance for #Russia's army https://t.co/GulKAHj6c5 pic.twitter.com/pv9gBkysXA

— Silver Surfer (@RobPulseNews) 9 июня 2015
In a revealing pro-Kremlin video from Donetsk dated June 26th, Phillips verbally affirms his role affirm his role as a 'information soldier' in Russia's propaganda-fueled war in Ukraine, by his apparently candid conversation with a U.S. mercenary Russell Bonner Bentley III, who is known as "Texas". He is a convicted drug smuggler, described by federal authorities as "a long-time Minneapolis drug-dealer." "Texas" was sentenced in 1996 to 63-months in federal prison and 4-years supervised release, after pleading guilty to one count of "knowing and intentional possession with intent to distribute a quantity exceeding 100 kg of marijuana in the Southern district of Texas." Five other counts of marijuana possession and one for money laundering were dropped as part of the plea-bargain. "Texas" served the full 5-years in federal prison, after which he spent the next 4-years on supervised probationary release.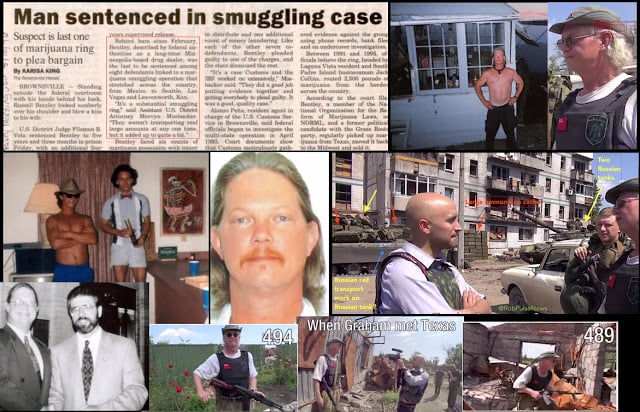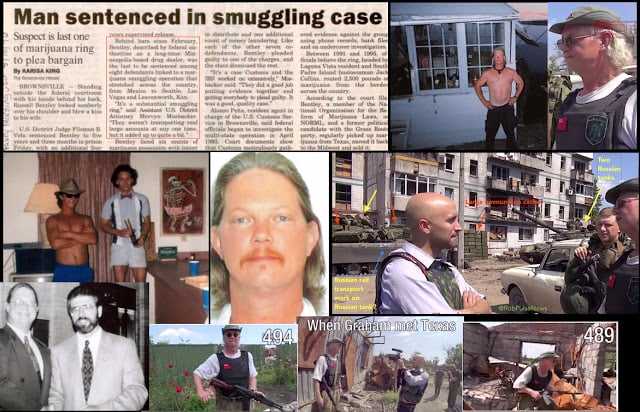 Interestingly, Phillips greets "Texas" (who has an armed soldier accompanying him) after appearing from behind a large cache of ammunition (next to two parked Russian armed forces tanks), stored next to a residential block close to Donetsk airport. It is believed this is the same area that "Givi" has been using as a military base. Phillips and "Texas" exchange pleasantries and say that they have been following each-other's work. "Texas" proclaims that part of the reason he is in Ukraine is from watching Phillips' videos in the U.S., adding "I'm glad to be working with you." [0:47] He continues, "I was here 6-months and mostly fighting up here [Donetsk] and 'Sparta'. Now I'm doing the information war." At 2:49 in the video, Phillips remarks, "now you're an information soldier, on the front lines of the information war and the constant shelling from the Ukrainian lies and the propaganda machine of distortion, manipulation, but I mean you know I absolutely believe that we'll win." A good guy like you comes onboard [as an information soldier] and does what you're doing, and it gives a lot of hope, a lot of inspiration, you know, to a lot of people." Philips complains there are no western journalist covering the war and approvingly mentions reports by "Texas'' for Anna (a Kremlin-backed Russian outlet), that he says produce good quality videos on location, appeal to English speaking western audiences, are well-received and important in spreading the message. Phillips rambles on about western media twisting reports, while in fact he is utilizing the technique known as "mirroring" in an attempt to defect from his own uncorroborated and bias video-based 'reports' from Ukraine. In fact, this is a typical Russian propaganda technique – that of accusing others of exactly what you are doing. Kremlin Highly Values Graham Phillips' Propaganda Since last returning to Ukraine in May, Phillips appears to have been assigned an armed guard of Russian GRU spetsnaz soldiers. They have accompanied him in a black Mercedes while filming on several occasions.
Here's GWP's Rover 75 & black Merc escort car, complete w/ Russian GRU who protect him while he concocts for Moscow pic.twitter.com/MoSZd4jCVq — Silver Surfer (@RobPulseNews) 21 июня 2015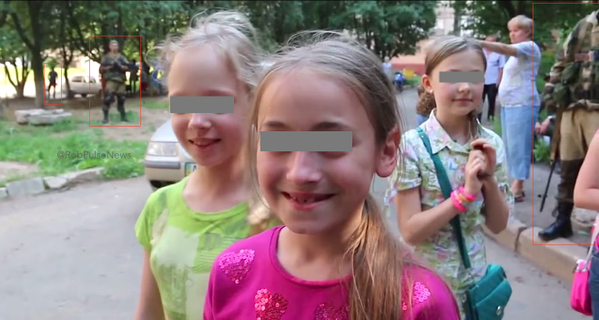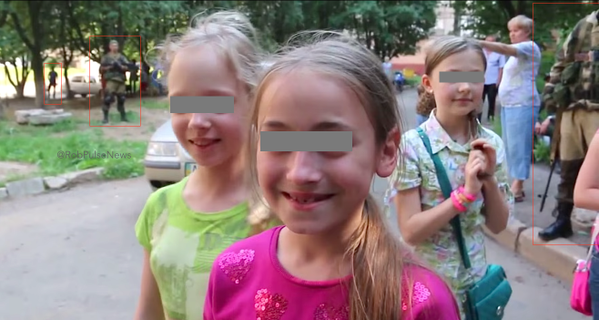 A well known kremlinologist, understood to be close to the Kremlin and its propaganda apparatus, compiles statistics and lists of performance in the social media space. In one list, "the top 15 twitter media experts", Phillips is in 3rd place – another indicator of the value that the Kremlin places in Phillips' propaganda.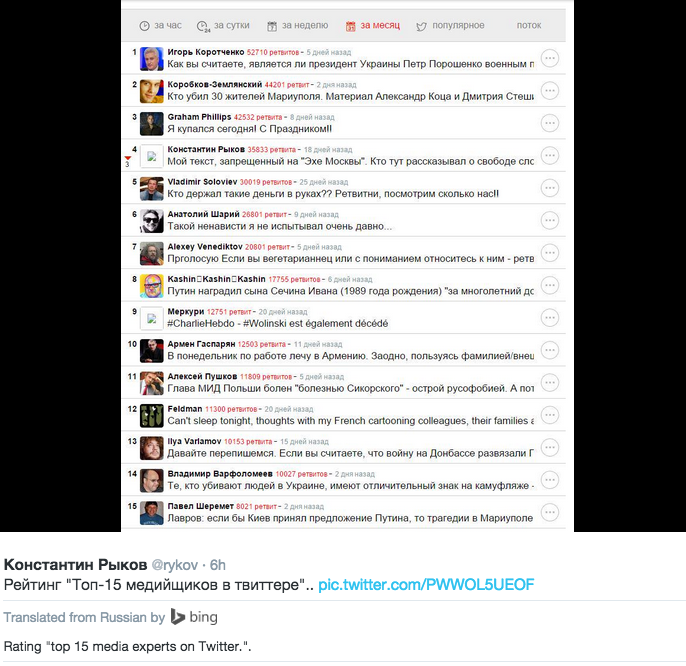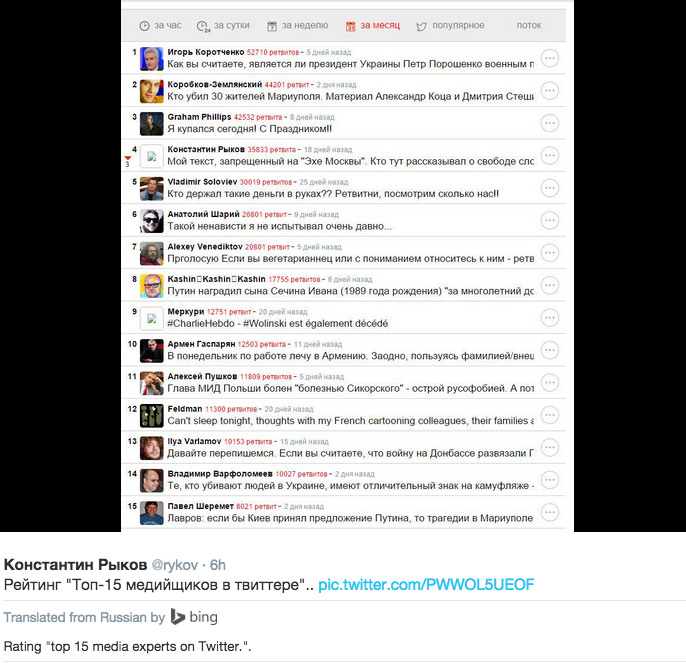 Graham Phillips Awarded Medal and Certificate from the Border Service of the FSB of the Russian Federation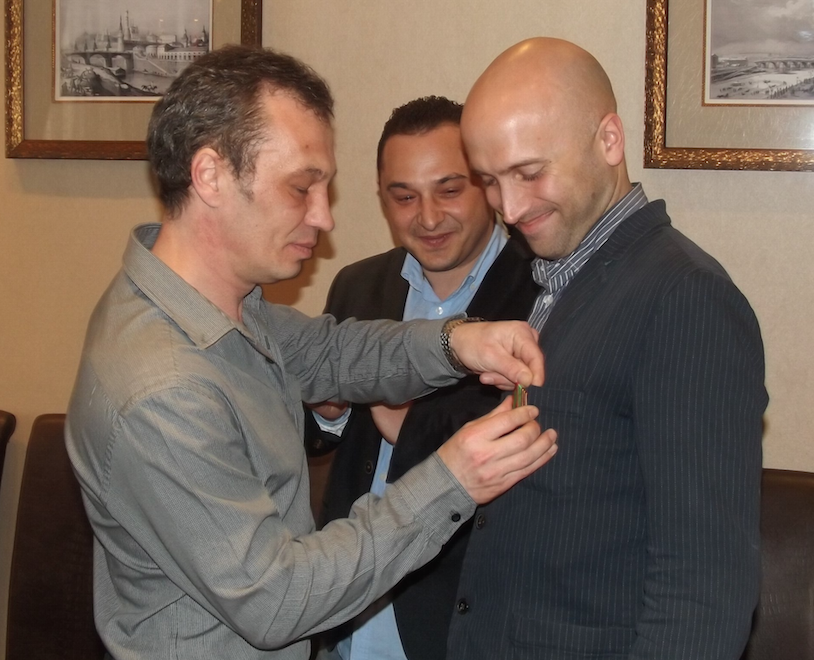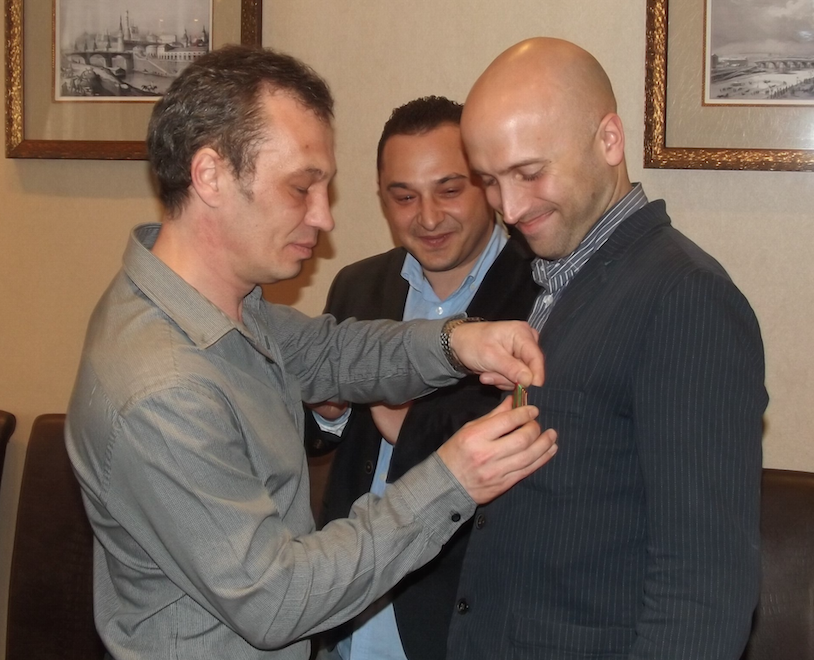 The award given to Phillips, a "distinction" for "providing real help to New Russia," consisting of a medal and certificate, was presented to Phillips by Russian citizen Pavel Hlyupin, in Chekhov — a city about 70km South-West of Moscow.
The writing on Phillips' medal says, "Border Brotherhood", a reference to an organization that appears to be first documented in this Russian article published November 14th, 2014.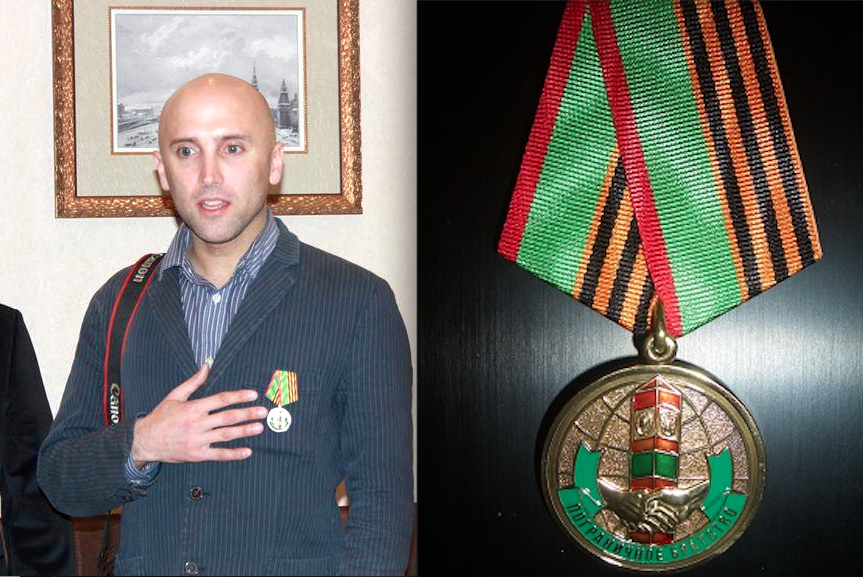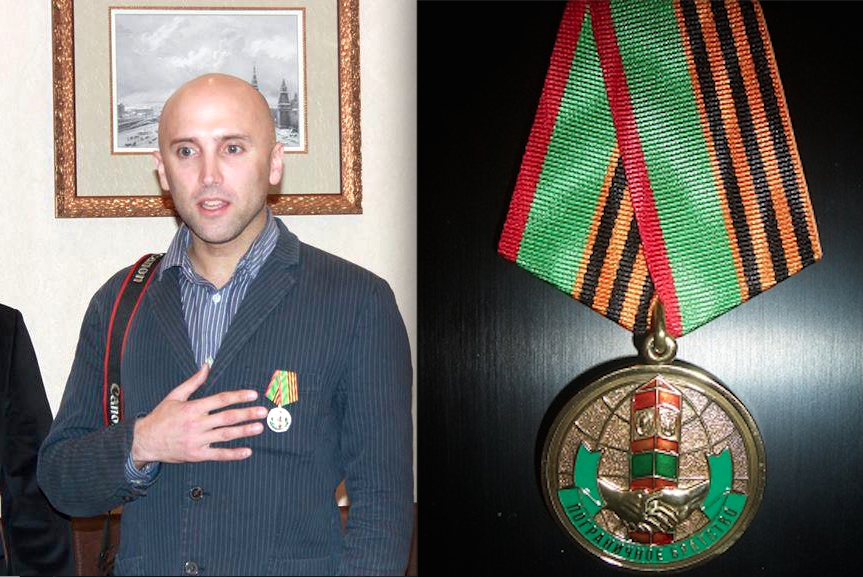 Oddly, braggart Phillips did not publicize any close-up photos of the medal, nor publish a photo of the accompanying certificate, completely omitting it from all his social media announcements of the award.
However, on March 17th a Lopasnya VK post (linking to their story of Phillips' award) includes a set of photographs (archive link). One shows Hlyupin awarding the medal to Phillips, and another shows the medal complete with certificate and Graham Phillips' name handwritten in Russian. It is dated March 1st 2015, while social media posts on this topic suggest the award presentation took place on March 2nd, which is the date used herein.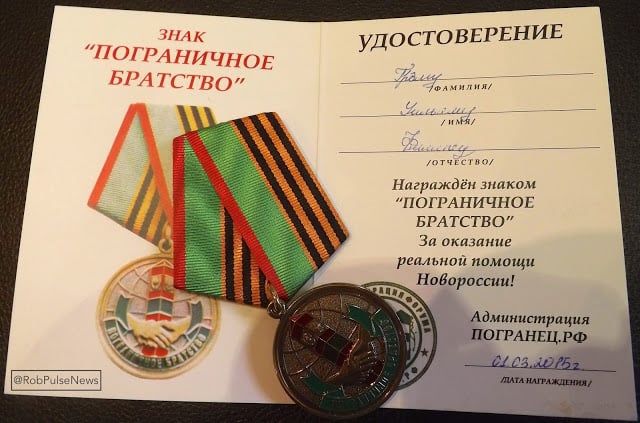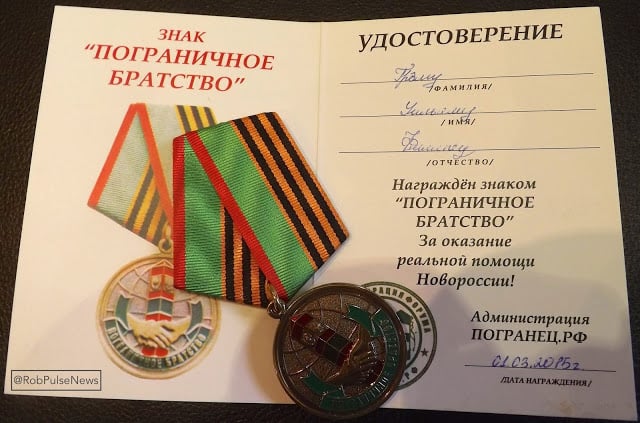 By Robert Schultz, Ukraine: War Log
Report compiled from open-source, non-classified information.
You can read the full version here