By Vitalii Rybak, for UkraineAlert
The anti-vaccination movement in Ukraine uses a non-transparent messenger for coordination.
Since the beginning of the pandemic, more than 3 million COVID-19 cases have been registered in Ukraine, and more than 75 thousand Ukrainians have died from the coronavirus. As of November 11, Ukraine is a global COVID-19 hotspot. Each day for the last two weeks, the country recorded an average of 22,085 new COVID-19 cases and an average of 711 coronavirus-related deaths. This means that 51 people per 100,000 in Ukraine are dying from COVID-19 each day.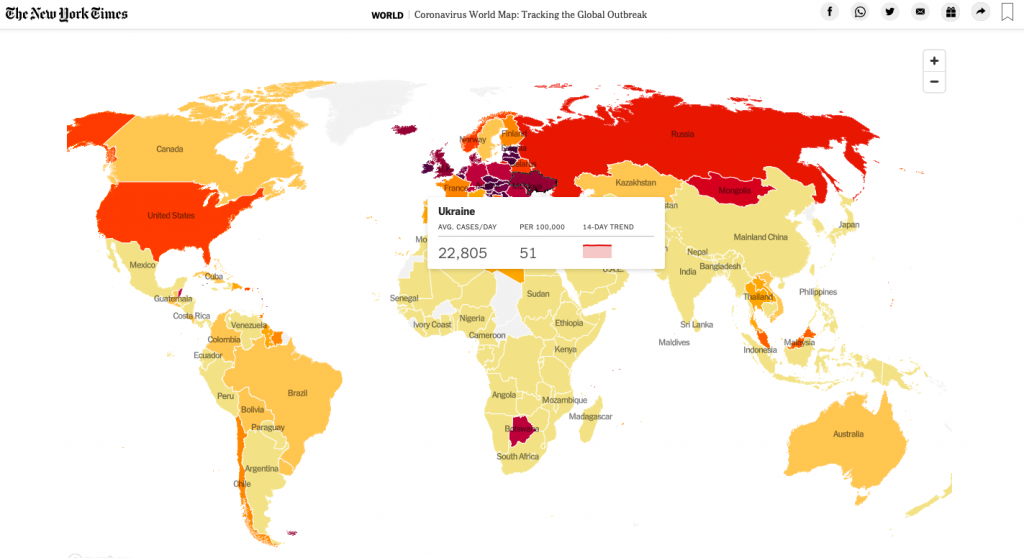 At the same time, Ukraine's vaccination campaign has struggled to gain steam. Up to June 2021, less than a million people per month were receiving jabs. Starting in July, the pace of vaccination increased, though only slowly. Only in October, when Ukraine's government started introducing the so-called "red zone" restrictions for unvaccinated people in many regions, did the pace of vaccination start to really spike, with a twofold increase compared to September. Nevertheless, as of November 11, only around 20% of the country's population has been fully vaccinated.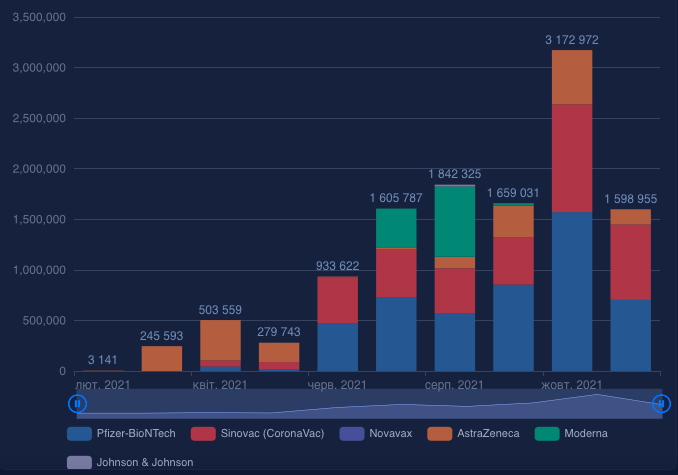 Vaccine hesitancy plays a big role in slowing down the country's vaccination efforts. According to a November 2 poll by Rating Sociological Group Rating, 43% of respondents said they were not ready to accept a vaccine. One of the causes of vaccine hesitancy is the country's strong anti-vaccination movement.
ORGANISED ANTI-VAXERS
On November 3 2021, around 2 thousand people gathered near Ukraine's parliament for a protest against coronavirus restrictions and mandatory vaccinations. They decried "violations of human rights" and "medical genocide". Some protesters also had placards against healthcare and land market reforms, as well as high utility tariffs. It is also worth noting that most placards seen in Kyiv on November 3 had the same design as placards previously used by anti-vaxxers in Moldova.
The anti-vaxxer movement is highly coordinated. Among the key organisers of the anti-vaccination rally is the civic movement Prava Liudyny (Human Rights) founded by Ostap Stakhiv, a Lviv-based blogger who is one of the most vocal opponents of vaccination in Ukraine. On his Facebook page, Stakhiv often shares information about the pandemic and vaccination which gets marked as false by independent fact-checkers. On November 16, Ukraine's security service (SBU) conducted a search in Ostap Stakhiv's apartment in Lviv due to his anti-vaccination activity.
As of November 11, Stakhiv's page has around 91 thousand followers.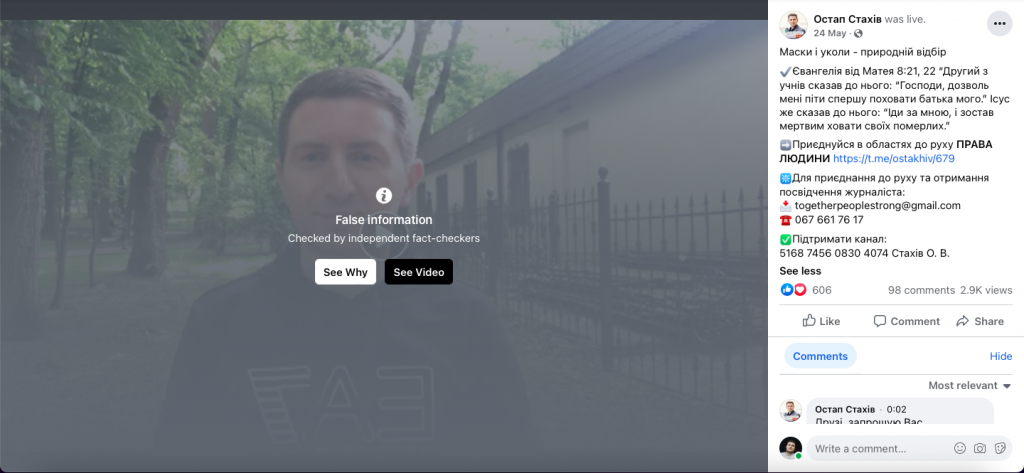 In addition to Stakhiv's profile page, Prava Liudyny movement has a public group on Facebook with 7.4 thousand members, which was founded on December 3, 2020. In addition to spreading conspiracy theories about the pandemic and vaccines, group members also use it for coordination of future protests.
Analysis via CrowdTangle, a public insights tool owned and operated by Meta, shows that within the period of December 3, 2020-November 11, 2021, Facebook users interacted with posts in the group 149.6 thousand times. It is worth noting the rate of interactions on the page dropped significantly in May 2021. On the one hand, this might mean that Facebook intensified its fight against false information, resulting in the removal of many of the group's posts. On the other hand, it could simply mean that the leaders of Prava Liudyny moved their communication elsewhere.
NETWORK OF OSTAP STAKHIV'S MOVEMENT ON VIBER
Further analysis of Stakhiv's Facebook page, YouTube channel (65.7 thousand subscribers) and Telegram channel (24,132 subscribers) shows that he heavily promotes a network of groups on Viber, a popular messenger in Ukraine. According to a September 2021 study by Kantar Ukraine, Viber is the third most popular app in Ukraine, being installed on 97.9% of all smartphones.
Source: Screenshots from Ostap Stakhiv's YouTube and Telegram channels
In addition to these main Viber groups, Stakhiv's Prava Liudyny organisation has at least 24 regional groups for people in all regions of Ukraine. Each group varies in size: from several dozen to several thousand members. The total number of members in Stakhiv's Viber groups is at least 77 thousand.
VIBER GROUPS OF OSTAP STAKHIV'S MOVEMENT
WHAT DO THESE GROUPS DO?
We joined all of Stakhiv's groups for a week to study the content shared there. The groups are very vibrant and active: depending on the size, dozens to hundreds of messages are posted in each group every hour. These messages can be divided into two types.
The first type involves people sharing conspiracy theories about the pandemic. Most of these messages are either links to YouTube or TikTok videos or links to fringe news websites, mostly in Russian. There are also many reposts from other anti-vaccination groups on Viber from outside of Stakhiv's network. People who post these messages rarely interact with each other. Furthermore, content posted in regional groups is almost always uniform, with all regions receiving mostly the same content. Hence, a person joining even one of the groups is subjected to a constant flow of anti-vaccination propaganda with no discussion on the issue. This contributes to the growth of an anti-vaccination information echo chamber in which people believe that there are people all around them reinforcing their false beliefs about the pandemic and vaccines, and all the people outside the bubble who accepted jabs are either crazy or were tricked.
With the second type of posts, people in the groups often discuss ways to avoid inspections of vaccination certificates in public places and ways for non-vaccinated people to keep their jobs. Members of Stakhiv's groups often quote the Ukrainian Constitution and claim that the quarantine measures, vaccination certificates and mandatory PCR tests are "illegal" and "violate human rights". There are often messages in Stakhiv's groups about a member suspended from their job or denied service for neither being vaccinated nor having a negative PCR test. In this case, members of the Viber groups often discuss the possibility of creating shops, schools and other public places for the unvaccinated.
Members of Stakhiv's movement also use the groups to coordinate upcoming protests. One such protest, similar to the one which took place on November 3, is planned for November 24.
TIP OF THE ICEBERG
Ostap Stakhiv's total audience across all social networks is around 100 000 people. This network uses Viber as its main means of communication. This messenger is hard for researchers to study, as there are no digital instruments that allow researchers to track the audiences of messages published in its groups.
Many Ukrainians use Viber not to be a part of big groups, but to join smaller 20- to 30- person chats for people living in the same apartment complex or parents of a class in a school. It is thus highly likely that false content about vaccination and the COVID-19 pandemic goes far beyond the network of the Prava Liudyny movement — with little possibility for researchers to measure just how many people may be exposed to this false information. Therefore, the 77 thousand participants of Ostap Stakhiv's Viber groups are merely the tip of the iceberg in Ukraine's anti-vaccination movement.
Anti-vaxers in Ukraine are highly organised and are planning their next protests. This means that eventually, the steady flow of people willing to accept vaccination will run out. Thus, the Ukrainian government has to figure out just how to persuade those unwilling to vaccinate themselves to change their minds if it wants Ukraine's population to be able to achieve herd immunity.
By Vitalii Rybak, for UkraineAlert
Vitalii Rybak is analyst and journalist at UkraineWorld and Internews Ukraine.
This article was written as part of the project "Antibot: how to resist information manipulations" which is being implemented by NGO Internews-Ukraine with financial support from the NATO Information and Documentation Centre in Ukraine. This article is the sole responsibility of its authors and may not reflect the official position of NATO.