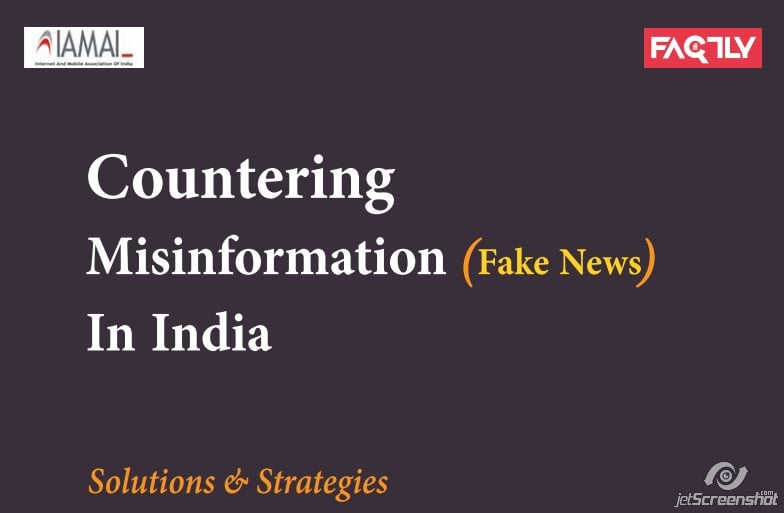 By Tejeswi Pratima Dodda, Rakesh Dubbudu, for Factly Media & Research
Download the full report here.
Executive Summary
As India braces for the upcoming General Election in 2019, recent election experiences from countries like Brazil and United States have highlighted new challenges in information ow, access to data and the critical nature of misinformation in the context of technology and human behaviour. This is a relatively new and evolving subject with very limited research in the Indian context. This report strives to understand information disorder and ecosystem in India by consolidating facts, indicators and opinion from multiple stakeholders. The report examines the use of the term 'fake news' and the large spectrum of dierent kinds of information issues that arise.
The report gives an overview of the history and implications of misinformation from global scenarios and specically from the Indian context.
The report has three main components:
A web survey that collected data to understand the patterns of information consumption in India and if there is a correlation between beliefs, attitudes, bias and motivation to share information.
Consolidated opinions of multiple stakeholders extracted from semi structured interviews.
Extensive section on recommendations, case studies and best practices for tackling misinformation.
Research, Design & Editing Team:
Preeti Raghunath
Bharath Guniganti
Premila Manvi
Mady Mantha
Uday Kumar Erothu
Jyothi Jeeru
Shashi Kiran Deshetti
Surya Kandukuri
By Tejeswi Pratima Dodda, Rakesh Dubbudu, for Factly Media & Research
This report is a collaborative effort by Factly Media & Research (Factly) and the Internet and Mobile Association of India (IAMAI). Factly works towards making public data & information more accessible to people through a variety of methods. IAMAI is a young and vibrant association with ambitions of representing the entire gamut of digital businesses in India.