A journalist of Russia's largest TV channel performed an anti-war protest during a live broadcast. Several journalists have publicly declared they are not taking part in the Kremlin's disinformation machine and left their jobs. But will the current exodus of journalists affect the broadcasting of the Kremlin outlets?
Last week's public display of defiance during the Nine O'Clock News of the Channel One Russia (Pervyi Kanal) is just one example of journalists on Kremlin outlets who eventually decide to cease lying. Marina Ovsyannikova went on live TV with a public protest against the war. She was detained, fined and, of course, fired.
Zhanna Agalakova, Channel One Russia's correspondent in Paris and earlier in New York, has declared that she is quitting. On a question from the independent agency Meduza, she replied: "I think the reason is obvious".
Several other high-profile journalists of Kremlin-controlled media are also leaving: Liliya Gildeeva, anchor on the nation-wide broadcaster NTV, travelled abroad before handing in her notice. Ivan Urgant of Channel One Russia protested against the war already in late February and left the channel. Maria Baronova, an RT host, also left the channel almost immediately after the war began. Baronova was quoted as saying: "A week ago, I was writing about NATO propaganda, Russophobia… They were right and I was wrong."
Leaving Russia
One of Russia's most seasoned propagandists, Sergey Brilev, deputy head of the state broadcaster Rossiya, even had to publicly announce that he would not quit his job. Brilev is a British citizen and a long-time resident of "Londongrad". He explained his absence from the air with being busy filming a documentary in Brazil.
More than 150 journalists have reportedly left Russia since February 2022.
A similar picture was noted already in 2014, when several key journalists left RT in protest against the attack on Ukraine, for instance Washington, DC, Bureau Chief Liz Wahl and talk show host Abby Martin. Both made public statements condemning the war and the role of RT in the aggression against Ukraine, but it did not affect RT editorial policies.
Nationalist outlet Zavtra triumphantly views the exodus of journalism as a purge of Russian journalism and states that "they are fleeing like cockroaches". The outlet describes Marina Ovsyannikova's action as a "provocation":
"On 14 March, the same day as Ukrainian Nazis killed twenty peaceful citizens of Donetsk, she played out a scandalous action. Or to be precise, a disgusting, anti-Russian, pro-Nazi provocation. (…) The provocation was clearly planned. Before the incident Ovsyannikova recorded a video message, later spread by the OVD-Info, financed by the European Commission and the US Agency for International Development, USAID."
"The Fish Rots from the Head"
Ovsyannikova's action was used by nationalist website Tsargrad to call for a purge of the rank and file of the Russian media:
"Is it not time for 'those at the top' to start thinking about who controls our central TV channels?! It is, after all, a well-known fact that the fish rots from the head."
While several Kremlin mouthpieces demanded severe penalties for Ovsyannikova, she was fined a relatively moderate amount, around 300 EUR, and released from custody. Some sources suggest the action might be a scheme to tighten the Kremlin's control of Channel One Russia.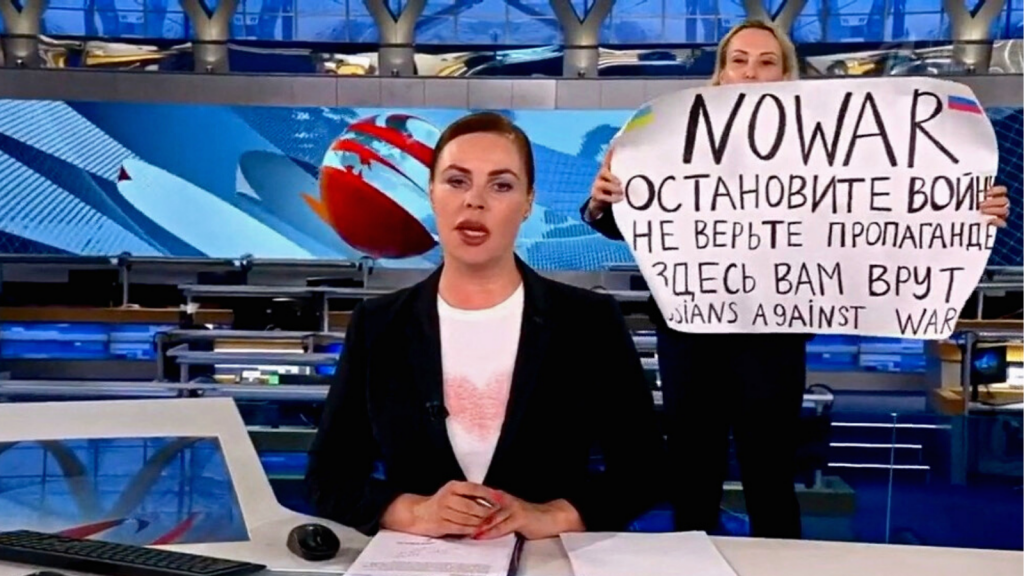 Meanwhile, Ukrainian sources warn about paying too much attention to individual cases of protest such as Ovsyannikova's. Ukraine's deputy minister of defence, Hanna Malyar, writes in a statement that any kind of communication from the enemy might be a set-up for diverting attention away from the atrocities on the ground:
"Do not believe in the protests on the central Russian channel, whose programme grid is written in the Kremlin. Do not believe in any apologies, tears, talk about historical roots, common past, place of birth in Ukraine, etc. Do not believe in the public condemnation of Putin by his fellow citizens during the war. It could be a trap."
Ovsyannikova's act of defiance was dramatic, but Russia's true heroes are those who for years have stood up against Kremlin lies and Kremlin violence. Some were killed, like Boris Nemtsov and Anna Politkovskaya, and some were poisoned, like Vladimir Kara-Murza and Alexei Navalny. And many were imprisoned, detained, are facing trial. Since 24 February, 14,973 individuals have been detained at protests against the war, according to the NGO OVD-Info.