Dmitry Peskov, the long-time spokesman for Vladimir Putin, can't seem to get his name out of the news. Earlier this month, Peskov weathered two media storms about his expensive tastes: one about an opulent wristwatch he wore to his wedding, and the other about the pricey yacht he allegedly rented in the Mediterranean for his honeymoon.
Now "Peskov's watch" is buzzing online again, after Russian Internet users discovered this weekend that Yandex, the country's most popular search engine, returns image results for the phrase "Peskov watch" ("песков часы") that are curiously different from the results available on Google. Enter these terms on Google's image search, and you'll be confronted by a wall of images related to Dmitry Peskov and the recent scandal about his Richard Mille RM 52-01, which is reportedly worth at least $620,000.
When searching for this on Yandex, however, the results, until late on Sunday, August 23, featured nothing about Peskov, instead showing hourglasses and pocket watches lying in the sand. (Peskov's surname is identical to the genitive plural form of the word "sand" in Russian.)
АХАХАХА😂😂😂😂😂 #яндексзассал #цензура #часыпескова pic.twitter.com/JWqyMJv1AC

— Garmazhapova (@buu3a) 22 августа 2015
AHAHAHAHA. 😂😂😂😂😂 #YandexChickenedOut #Censorship #PeskovsWatch
After several Internet users began mocking Yandex for the apparent effort to purge its image search results of political content, Yandex's official support account on Twitter responded, calling the discrepancy an "error," and promised to fix it.
@Liveuamap@LyapunovS Спасибо, что обратили наше внимание на эту ошибку, будем исправлять.

— Yandex.Support (@yandexsupport) 23 августа 2015
Thank you for bringing this error to our attention. We will correct it.
Yandex appears to have made some change to the way it returns image results for this query, and some images of Peskov at his wedding do now appear, though the first ten results are still photographs of hourglasses and watches lying on the beach.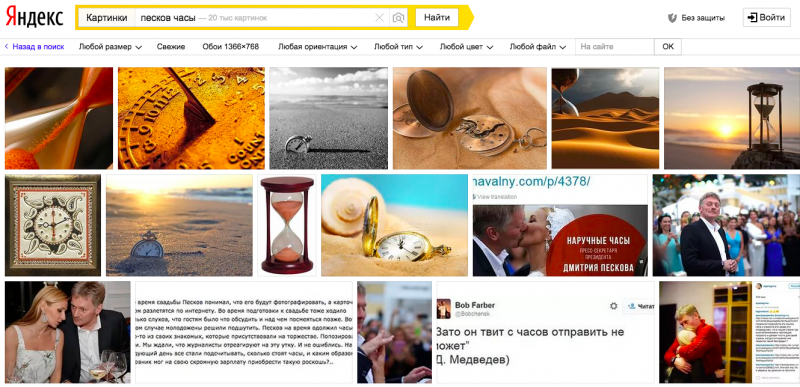 Yandex has yet to issue any official statement explaining why its image search results vary so strikingly from what can be found on Google, when it comes to this politically sensitive search.
By Kevin Rothrock, Global Voices