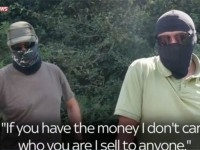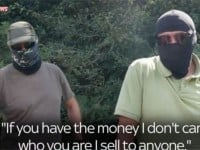 The Directorate for Investigating Organized Crime and Terrorism (DIICOT) prosecutors are conducting searches in seven locations in Targu Mures and Bistrita Nasaud in the case opened following the broadcast of the Sky News feature report on arms trafficking shot in Romania. According to DIICOT head Daniel Horodniceanu, the feature report was staged by Sky News Chief Correspondent Stuart Ramsay.
On Wednesday, DIICOT prosecutors started criminal investigation proceedings against the four alleged arms dealers for arms trafficking and breach of ammunition regulations. According to judicial sources,  the fixer who put the Sky News journalists in contact with the alleged Romanian arms dealers was brought to the DIICOT headquarters on Tuesday evening. During hearings he admitted to the facts.
In a feature report broadcast by Sky News on August 7, four alleged arms dealers presented the journalists with several weapons they intended to sell. The report was shot in a remote, forested area of Romania. According to Sky News reporters, the four were part of a criminal gang selling military-grade weapons.
"As Britain's security services warn of potential Paris-style terror attacks in the UK, Sky News has been told by eastern European mafia gangs that demand for their military grade weapons across Europe has rocketed in two years – and they will supply to anyone," reads a piece titled "Gang Selling AK-47s 'Bound For Western Europe" published August 7 on News.sky.com.
"From the mountains of the Balkans across huge, remote forest lands in eastern Europe, networks of gangs have access to millions of weapons that have been cached after years of conflict or are in general supply in areas bordering conflict zones such as Ukraine.
After months of negotiation with a Romanian gang Sky News was directed to a remote part of the country for a meeting with gang members prepared to show us what they could supply," the article reads.
DIICOT investigators: The guns were lawfully owned and used for hunting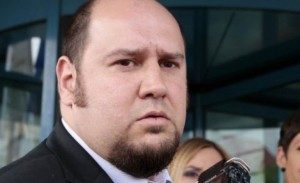 However, according to Romanian investigators, the rifles supposedly trafficked by the alleged gun dealers in the Sky News feature report were lawfully owned and were used for hunting. The AK weapons featured in the report, investigators argued, are very different from the AK 47 assault rifles.
In an August 10 intervention, DIICOT head Daniel Horodniceanu stated that the Sky News feature report was staged. "Until now, what we expected from the beginning – a script, which I believe was staged by British journalists – is confirmed." According to prosecutors, Sky News Chief Correspondent Stuart Ramsay paid the alleged gun dealers for their role in the feature report. Broadcaster Digi24 reported on Wednesday that the amount offered was EUR 2,000. Moreover, the prosecutors argue, Ramsay also provided the four Romanian citizens with equipment, such as vests, and wrote the lines they used while being filmed.
According to investigators, on 18 July 2016 Sky News representatives got in touch with a Romanian citizen based in the UK and asked him to be their fixer in Romania during the shooting of a feature report on gun trafficking in Europe. According to broadcaster Digi24, the UK-based Romanian citizen had been told that the topic of the feature report was arms trafficking and the way in which Romanians, as well as European citizens, can counter it. The journalists arrived in Romania on July 29, and the next day, together with their Romanian fixer, met the alleged gun dealers and asked them to be filmed in a remote mountainous area. The Romanian citizen acting as fixer for the Sky News crew told investigators they received equipment they wore during filming. Moreover, the four alleged dealers told investigators they had been asked to learn by heart several lines written by Sky News reporter Stewart Ramsay. The Sky News team left Romania on August 1.
By Georgeta Gheorghe, Business Review