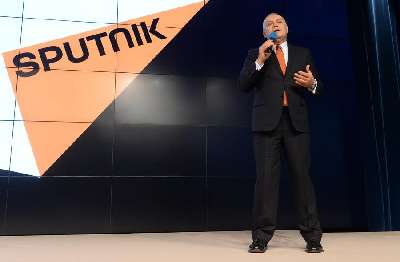 The recent intensification of high-level exchanges between the governments of Azerbaijan and Russia—most recently exemplified by the visits of the Azerbaijani foreign and defense ministers to Moscow (TASS, July 17; APA, July 31)—poses a number of questions about the aim and scope of these bilateral talks. Evidence suggests that Russia is seeking to build up political support inside Azerbaijan for the Moscow-led Eurasian Economic Union (EEU). And an important part of this effort has been an attempt to intensify Russia's notoriously powerful media presence in this South Caucasus country.
A key development helping to perpetuate Russia's political and propaganda efforts in Azerbaijan was the creation, a year and a half ago, of the "Eurasian Movement" in Azerbaijan by Ilgar Gasimov and Nariman Imranov. Both men are directly connected to the Russian military and political establishments. Gasimov worked for many years at the Russian Ministry of Justice; in 1996, back in Azerbaijan, he established a small political movement called "The Azerbaijani Way." The other initiator, Imranov, worked for the Soviet intelligence services in Moscow before becoming Azerbaijan's minister of national security from 1993 to 1994. Imranov was later charged with treason, before being pardoned in the early 2000s. Since then, he had largely disappeared from public life (Haqqin.az, July 27).
Little information currently exists about the strategic goals of the "Eurasian Movement," only a vague statement from this political project's creators: "Modernity, with its complicated geopolitical challenges and socio-political processes in the world, naturally [results in] a high degree of mainstreaming of the Eurasian ideology; [and] it urgently requires organizational and practical design [of an] appropriate national movement" (Haqqin.az, July 27).
In fact, this movement was originally announced soon after Russia's annexation of Crimea, first by Gasimov alone, before he was joined, a year later, by Imranov. Gasimov initially stated that the ultimate goal of the movement was to see Azerbaijan join the EEU, arguing that accession would open up more trade opportunities for ordinary citizens as well as accelerate the resolution of the Karabakh conflict, in accordance with the principle of territorial integrity (Echo.az, January 23).
A key point in this regard is that it is often mistakenly assumed such political movements are created or "sponsored" by the Kremlin itself. But as two leading political figures of the Azerbaijani diaspora in Russia have noted, while speaking on the condition of anonymity: More frequently, the Russian intelligence services independently have a hand in creating these foreign movements, thus laying the groundwork for these political projects to be used in the future by the Kremlin, should a relevant scenario arise (Author's interview, July 20–21).
Another notable recent development has been Russia's growing soft-power influence in Azerbaijan. In particular, in the past few months, Moscow has introduced several pro-Kremlin media outlets in Azerbaijan. The first was the May 2015 launch of the Russian "Sputnik News" Internet portal in Azerbaijan, available online in both Azerbaijani and Russian (Sputnik, May 25). The notorious Sputnik news outlet was established a year ago in Russia, in order to counter what Russian officials call "the aggressive propaganda of Western media" (http://www.reuters.com/article/2014/11/10/us-russia-media-idUSKCN0IU1UO20141110see EDM, November 12, 2014). Sputnik is efficient in reproducing Vladimir Putin's particular "world view" for an international audience.
Another Russian broadcast outlet, part of the Sputnik multimedia news agency, is the radio station Sputnik Azerbaijan, which recently started broadcasting on the airwaves of Araz FM (Contact.az, July 3). This marks a significant shift in Azerbaijan's broadcasting landscape. Previously, the Russian-language radio station Europa Plus was banned from Azerbaijan's national frequencies at the end of 2008, along with Western radio stations such as Voice of America (Wcd.coe.int, June 29, 2010). Baku tightened legal restrictions for foreign broadcasters in Azerbaijan, requiring that at least 75 percent of all private television and radio broadcast be in the Azerbaijani language. Additionally, any foreign radio station wanting to broadcast in Azerbaijan was required to sign a cooperation agreement with a local radio channel, for use of that channel's national frequency. Sputnik Azerbaijan navigates these legal restrictions by broadcasting news in Azerbaijani—which will significantly extend this outlet's public influence and outreach—and signing a cooperation agreement with Araz FM.
As it turns out, Sputnik Azerbaijan's frequency partner in Baku, Araz FM, is owned by the family of one of President Ilham Aliyev's top aides, Ali Hasanov (BBC–Azerbaijani service, June 24, 2014). This indicates that the operation of pro-Kremlin radio broadcasts in Azerbaijan must have received a "green light" from the top echelons of power in Baku.
In sum, the emergence of the pro-EEU Eurasian Movement in Azerbaijan alongside the growth of Russian propaganda directed at the country is no coincidence. The initiators of the Eurasian Movement see that Azerbaijani authorities are deeply unhappy with the country's current relations with the West and that there is scope for manipulating these feeling with the help of a directed barrage of pro-Russian sentiment.
The Azerbaijani government is currently busy accusing Western supported/financed non-governmental organizations (NGO) in Azerbaijan of constituting a "fifth column," which suits the interests of the Eurasian Movement in Baku quite well. It simultaneously plays to Moscow's interests: the Kremlin evidently believes that this growing political vacuum left by the ejection of pro-Western influences can be filled by Russophile politicians and experts. Regarding Russian media propaganda, anti-Kremlin sentiment among the Azerbaijani public remains strong, but Baku's deteriorating relations with the West and one-sided coverage in local media is damaging the West's image as quickly as it is boosting Moscow's profile (APA, June 16; Vestnik Kavkaza, June 22; Newsweek, August 2). So even though the Azerbaijani government and the public are reluctant to submit to Moscow's political dominance, at the same time they are losing faith in the West's willingness to counterbalance Russian power.
At present, the Azerbaijani authorities are using harsh rhetoric toward the West as a way to "pacify Russia," while at the same time, Moscow deploys propaganda and supports pro-Russian political forces inside this South Caucasus republic. Such has been the case since the annexation of Crimea. But considering this arrangement's inherent contradictions, it remains to be seen how long this kind of relationship can remain sustainable.
By Zaur Shiriyev, The Jamestone foundation