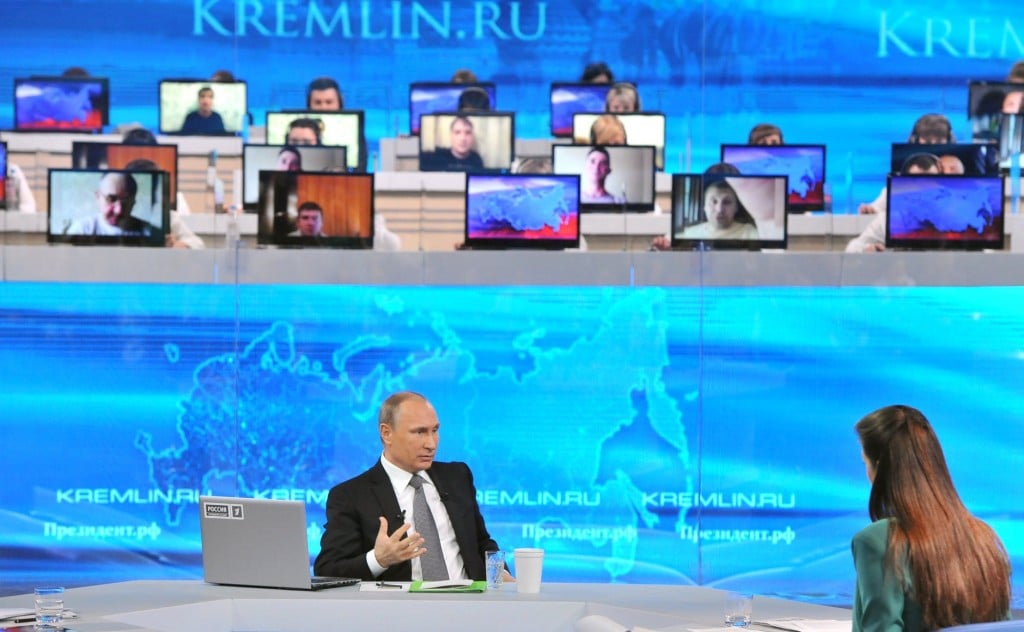 The EU foreign service is recruiting a handful of new experts to help counter Russia's anti-Western propaganda. The job description, sent out on 20 March to EU states' embassies in Brussels, says their task will be "correction and fact-checking of misinformation/myths".
It will also involve "development and regular updating of EU 'narrative' via key messages/lines to take, articles, op-eds, factsheets and infographics, with an emphasis on communicating the benefits of the EaP".
The EaP, or Eastern Partnership, is an EU policy on closer trade and political ties with six former Soviet countries.
The new staff are to be Russian speakers and to do "analysis/monitoring of reporting on EU policies" in Russian language media. The group – between two and five people – will also prepare press "materials" in Russian. They'll be initially hired for one year and paid at least €4,350 a month. But they'll be paid by whichever EU countries put them forward because EU institutions have not earmarked any money for the project.
The job description notes they should be former journalists or press officers and know their way around "social media". The move comes after EU leaders, in March, tasked the foreign service "to challenge Russia's ongoing disinformation campaign". They said the EU should "prepare, by June, an action plan on strategic communication in support of media freedom. The establishment of a communication team is a first step in this regard".
Russia's media machine was on show on Thursday (16 April) when president Vladimir Putin held his annual Q&A session with the general public. Most questions focused on Russia's economy, the rising cost of food and medicine, or problems with housing and social services. Putin said in Moscow that EU economic sanctions "have an impact" and that "it's highly unlikely that [they] will be lifted anytime soon". He claimed the EU and US imposed them "to restrain our growth" and that they "have nothing to do" with the conflict in Ukraine, because "the Russian army is not in Ukraine". He predicted the Russian economy will return to growth in two years. He also claimed the US forced EU leaders to boycott his 9 May military parade in Moscow, a WWII memorial event. The TV show, which included glamorous female presenters and questions from starry-eyed children, was broadcast, with live translation, by RT.
The Kremlin's media flagship has a budget of $300 million a year, employs 2,000 people in 16 countries, and airs shows in English, French, German, and Spanish. It is reaches millions of households worldwide and it makes the EU counter-project look tiny by comparison. But the new group of EU foreign service specialists is just one of several measures.
The job description notes they'll work together with the EU's foreign embassies and relevant departments in the European Commission. The EU Council, which represents member states, is also co-ordinating groups of diplomats who will liaise with the EU foreign service cell.
"We're thinking how best to make use of whatever this team of myth-busters produces. One idea is a virtual network, anchored in the Council's communications department, to distribute materials to member states", an EU official said.
A second EU official noted the EU foreign service cell "is only one element". He said there will be "a wide range of EU activities aimed at communicating on EU policies and programmes, supporting independent media and media diversity … and promoting freedom of the media throughout the neighbourhood".
By Andrew Bettman, EUobserver