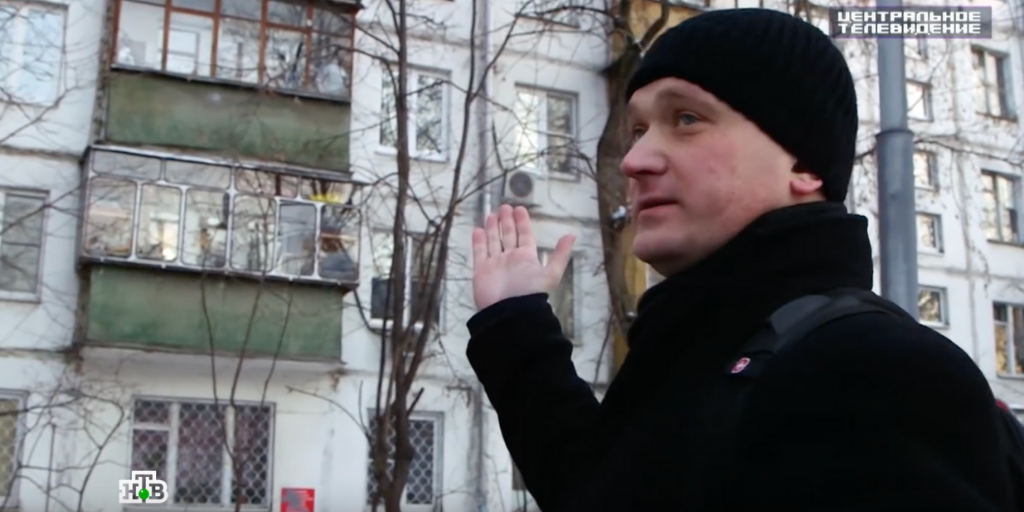 A Russian state-controlled TV channel has again been exposed after presenting an interview with a paid actor in a news programme as authentic.
This time it was Gazprom-owned NTV which on 26 January broadcast a news story about a young man who was allegedly putting his Moscow apartment up for sale in order to move to Russia's disputed Kuril Islands in the Pacific.
When independent Russian journalists had exposed the story as staged, NTV showed its irritation by trying to block the critical programme from being watched on Youtube.
David vs. Goliath
It was the small and independent Russian online channel TV Rain (Dozhd') which dared to challengethe television giant NTV's story and proved it to be a hoax.
TV Rain showed that NTV's interviewee had previously appeared in a number of reports and reality shows.
The journalists from TV Rain got in touch with the actor, explained that they were from a TV channel and asked if he would be willing to appear with another message; for example, that he would move to Crimea instead of the Kuril Islands. The answer was clear: He would do that, but for money.
Watch how TV Rain exposed the state-controlled television giant NTV (in Russian). The headline says: "What people are paid for when appearing in NTV's programmes". The video can also be watched via this link.
The punishment 
After TV Rain had shown the report about the hoax, NTV blocked the critical story on Youtube. TV Rain host and editor Maria Borzunova tweeted about the blocking the following way:
ой, рассказали как нтв платит героям своих сюжетов, а они нас заблочили, какие нежные и обидчивые ребята
(ща придумаем что-нибудь) pic.twitter.com/2sAueFLkz8

— маша борзунова (@mborzunova) January 31, 2019
"Oh, after we told how NTV pays people who appear in their stories, they have now blocked us, how tender and touchy they are (we'll think of what we can do)."
The image in the tweet says: "This video contains material from the partner NTV Broadcasting Company. It has been blocked in order for copyright not to be violated".
In a comment to the independent newspaper Novaya Gazeta, host Maria Borzunova explained that NTV had not earlier interfered when her programme had shown excerpts from NTV's output
"Perhaps they have had enough or have become angry because of their actor, whom they often show in their programmes," Ms Borzunova told Novaya Gazeta. "Perhaps they were offended that we clearly showed a fake in one of their top-rated programmes, one which they themselves on NTV do not consider to be propagandistic."
TV Rain's report later re-appeared on Youtube where it can currently be watched.
"To help you from going crazy"
TV Rain's critical story was part of a series of programmes titled "Fake News" which was launched last year.
Here is how the independent channel presents the weekly show:
"If you don't pay for the news you receive, it means someone else is paying for it. All the national news channels operate at a loss, so the state pays them in order for you get the news the state needs. What is this news? Let's figure it out. We undertake the hard work to review the main news programs and understand how they want to influence us through manipulating numbers, words and video. To help you from going crazy when you switch between the national TV channels, [hosts] Ilya Shepelin and Maria Boruznova offer you the most convenient guide – in Fake News on TV Rain".
Actors presented as genuine sources
It is not the first time Kremlin-affiliated outlets have used actors as sources of disinformation.
In 2014, the state TV channel Pervyi Kanal interviewed a woman who claimed to have witnessed the crucifixion of a three-year child by Ukrainian nationalists. However, bloggers and journalists from Ukraine and Russia could quickly prove that the story was a hoax.
Last year Pervyi Kanal broadcast a story about an alleged Ukrainian who expressed his disappointment with the development in his country. In this case, the interviewee was identified as a Belarusian actor, thanks to a Russian blogger and Belarusian journalists.
Reflecting a related practice, Pervyi Kanal has advertised for a commentator, specifying in advance which kind of answer the TV station would like to hear from the expert.