Russian Defense Ministry television channel Zvezda disseminated a fake story claiming that 45% of all Ukrainians work abroad and the country is struggling with record high unemployment. Official Ukrainian data and the International Organization for Migration (IOM) tell a completely different story. According to the IOM some 688,000 Ukrainians are currently international migrant workers, that is approximately two percent of the Ukrainian population. 1,643.000 are internal migrant workers, having moved from their homes to other places in Ukraine because of work.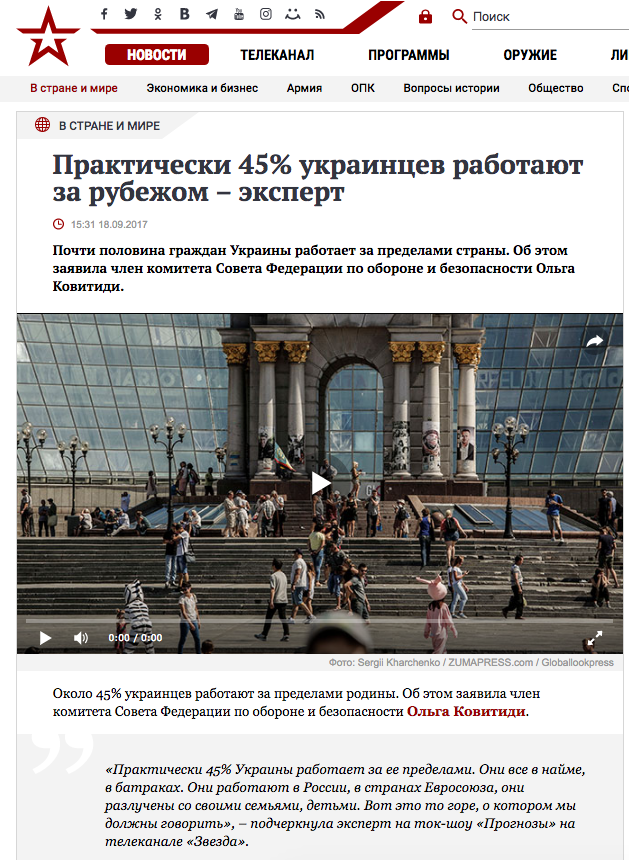 Ukraine's State Statistics Service tracks demographics and migrant workers movements. The Service's annual analysis of migration movements shows that the number of Ukrainians leaving their country in search of work is getting smaller. In 2015 519,000 Ukrainians left the country to work abroad, in 2016 that number fell to 246,000.
According to Ukraine's Labor Service and the Ukrainian Foreign Ministry, at the start of 2017 some five million Ukrainians were working outside Ukraine.
Zvezda not only claims that 45% of Ukrainians are working abroad but also states that as of 2013 unemployment in Ukraine grew by 60%. This claim is also completely false. According to the International Labor Association the current level of unemployment in Ukraine is 9.7%, having gone up 2% since 2013.
Ukraine's labor market has been impacted by the Russian annexation of Crimea and the invasion of the Donbas territories leading to more 1.5 million internally displaced people.