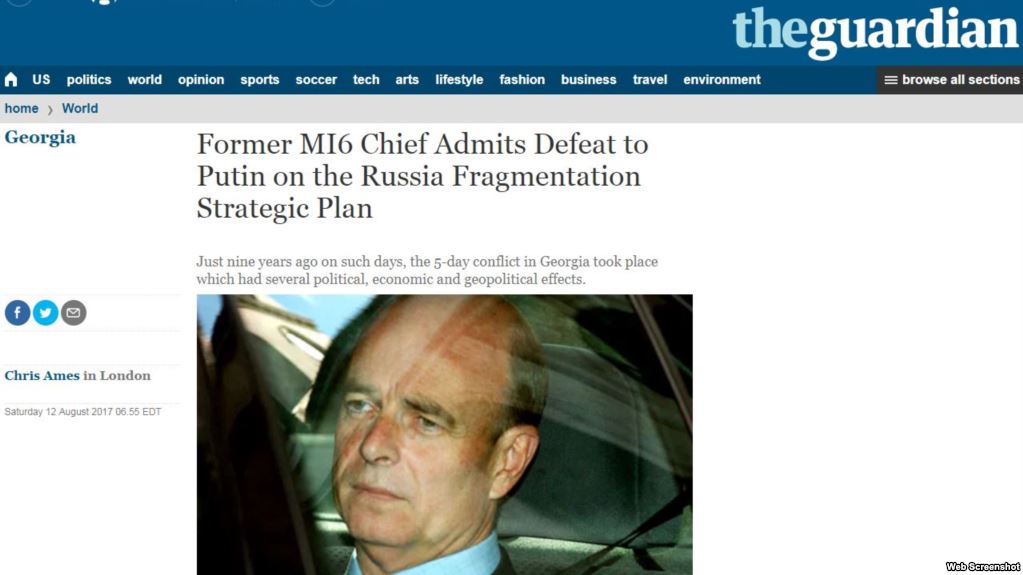 By Carl Schreck, for RFE/RL
A fake article attributing explosive claims about Russia to the former chief of British intelligence was quickly debunked last week after it appeared on a site that looked nearly identical to that of the British newspaper The Guardian.
But that didn't stop one of Russia's most famous television personalities from citing the fake article, which included fabricated quotes — often in clunky English — attributed to former MI6 head John Scarlett about an alleged secret plan aimed at "collapsing Russia."
Vladimir Solovyov, the host of one of Russia's most popular political talk shows, opened a discussion by citing the claims in the hoax article during the August 20 broadcast of Sunday Evening, his weekly program.
The show aired at least five days after a Guardian spokesman confirmed it was "a fake story…on a fake site purporting to be The Guardian" and two days after a Guardian article quoted experts saying they suspected "Kremlin supporters" were to blame.
"An interview was published — some say it's true, some say it's not — that says a rather noted former English spy says that their plans after the [2008] war in Georgia were the following: seize the Caucasus, use the Caucasus to break apart Russia, and use radical Islam as a weapon," Solovyov said.
WATCH: Solovyov's comments can be seen around the 12:30 mark.
It was quite a stretch for the TV and radio host, who has been granted high-profile interviews with Russian President Vladimir Putin, to suggest there was some debate about the veracity of the quotes attributed to Scarlett.
The fake article in question appeared on August 12 on a website faithfully mimicking the actual Guardian site and using a URL that, on first glance, could be mistaken for the real one used by the newspaper. (The hoax site used a Turkish character in place of the 'i' in the publication's actual URL, theguardian.com.)
The fabricated quotes attributed to Scarlett lay out an alleged British-U.S. conspiracy to use the rise of Mikheil Saakashvili, the pro-Western former president of Georgia, in 2003 and a "fictitious quarrel between Ukraine and Russia" as part of a strategy for Russia's "re-disintegration."
Days after it was published under the headline Former MI6 Chief Admits Defeat To Putin On The Russia Fragmentation Strategic Plan, the hoax was debunked by The Guardian.
The only outright defense of the fake article publicly proffered by any of the parties involved came from an individual who claimed to have translated the hoax into Russian.
"Seems like the Guardian has two websites –, a real one and a fake one — and they did it themselves," BuzzFeed quoted the individual as saying in its investigation into the hoax.
The BuzzFeed investigation found that the fake article was linked to other fabricated articles — also translated into Russian — that were made to appear as if they were published by prominent foreign media outlets.
Solovyov was quickly called out for lending credence to the fake Guardian article after his August 20 program aired, including in an article in the popular Russian daily newspaper Moskovsky Komsomolets headlined: Solovyov Passed Off Fake Interview As Real Plan To Break Up Russia.
Aleksei Kovalyov, the proprietor of Noodle Remover, a project that debunks fallacious Russian media reports, regularly tracks anti-Western articles of dubious veracity and origin that are translated and picked up by prominent Russian news outlets.
Kovalyov, who is also critical of what he sees as overzealous attempts to blame the Kremlin for political discord in the West, wrote in an August 21 blog post that the fake Guardian article "was thrown out there specifically" so that people "like Solovyov can lie about it on television."
Solovyov, for his part, took to Twitter to defend himself from critics who pilloried him for citing the hoax article.
"These days it's difficult to verify practically any facts," he wrote in an August 21 tweet. "Referencing it, I expressed doubt. This gave viewers a chance to check it out for themselves and decide."
Сейчас практически все факты сложно поверить. Ссылаясь , я высказал сомнения. Тем самым дав зрителям возможность самим проверить и решить.

— Vladimir Soloviev (@VRSoloviev) August 21, 2017
By Carl Schreck, for RFE/RL