Russian Defense Ministry television channel  Zvezda published a story claiming that the majority of Kyiv residents are against banning Russian social media sites and Russian films. Citing a poll carried out for the Ukrainian Obozrevatel internet newspaper, Zvezda claims the majority of Kyiv residents want the Russian social media network VKontakte back. The poll however was not about Russian social networks or Russian films, but rather about Kyiv residents' attitudes to Ukrainian sanctions against Russia.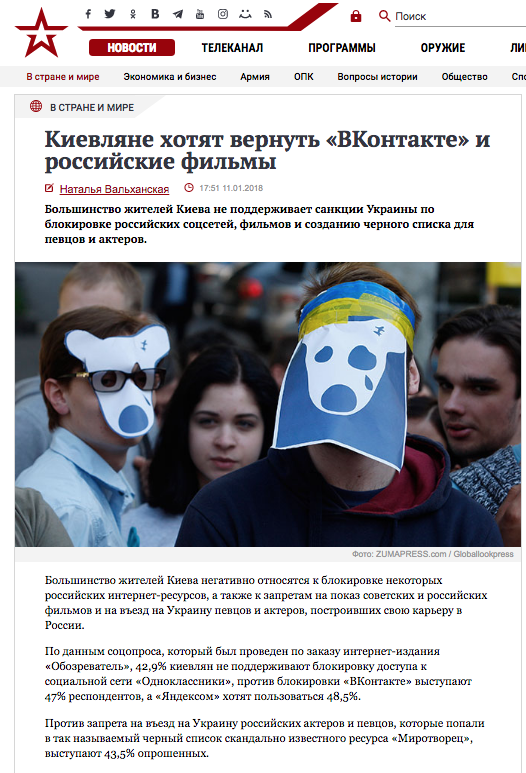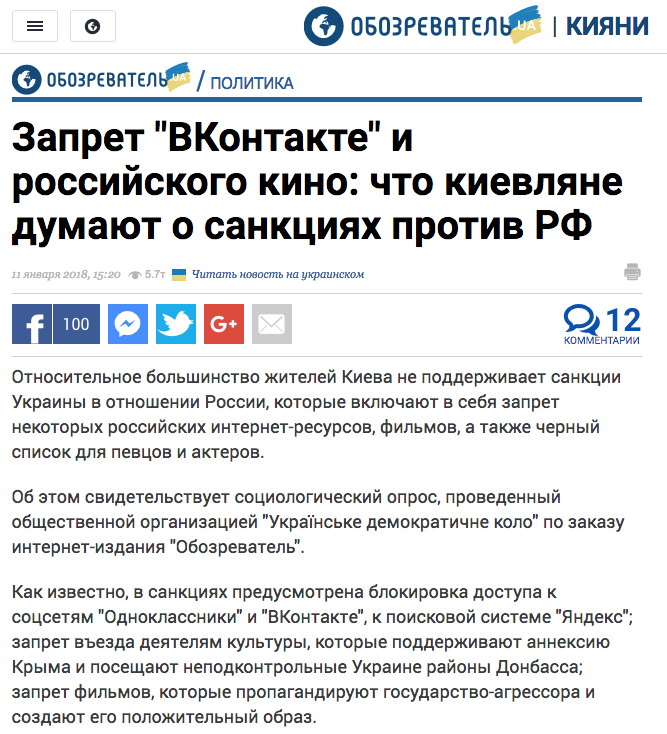 Since the annexation of Crimea by Russia in 2014 and the Russian sponsored war in eastern Ukraine, there has been relatively broad popular resistance to Russian sites and servers. In May 2016, citing national security interests, President Petro Poroshenko banned Russia's VKontakte and Odnoklassniki social networks, the Mail.ru email service and the search engine company Yandex.
Obozrevatel's original story states that a small majority of Kyiv residents do not support Ukraine's sanctions against Russia, there is no mention of support for any particular social media site. The poll was conducted by a group called Ukrainian Democratic Circle, who have done previous polls for Obozrevatel. This particular group however is not certified by the Ukrainian Sociological Association, who omitted it from their 2014 list of trusted sources.
Obozrevatel also has a poll of their own about the ban of Russian social media and search engines, the response is a resounding support for the ban.
A recent December 2017 rating of Ukraine's top 25 internet sites did not include any Russian social media sites, mail services or search engine companies.