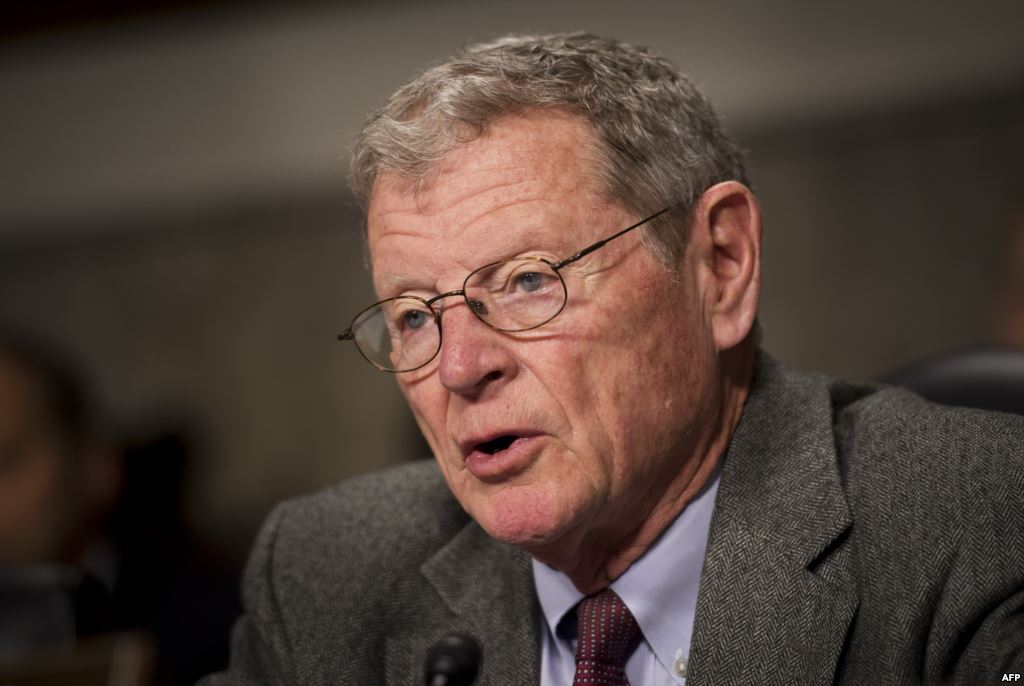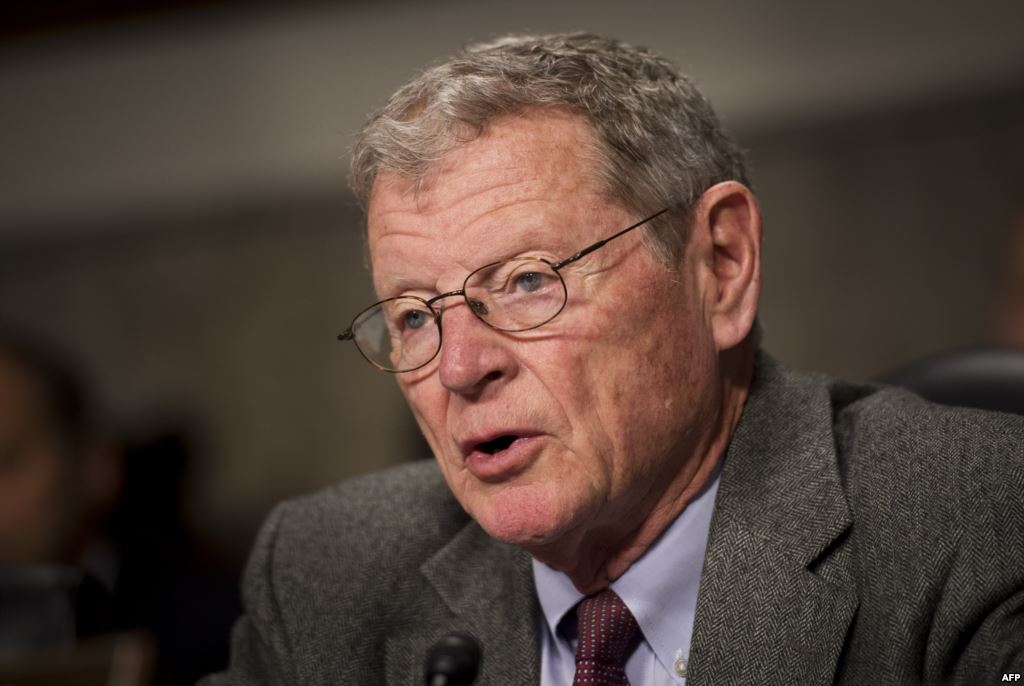 Ukrainian deputy is denying claims that he provided U.S. Senate staff with photos of Russian convoys from 2008 and portrayed them as part of an incursion into Ukraine.
Yuriy Bereza, a parliament deputy who also leads the pro-Kyiv Dnipro Battalion in eastern Ukraine, says that when he and a Ukrainian delegation met with Oklahoma Senator James Inhofe's staff in November 2014, he provided them only with photos taken by his men between August 24 and September 5.
"Those photos were taken during [the battle] for Ilovaysk, then after Ilovaysk, the events in Piskiy and Mariupol — three places" he told RFE/RL's Ukrainian Service. "I never gave photos from 2008."
On February 12, the Washington Free Beacon online news site published a series of photos that it said showed direct evidence of Russian military involvement in eastern Ukraine. But journalists quickly raised questions about several of the photos, which the conservative news outlet said had been "exclusively obtained" from Inhofe's staff.
The previous day, Inhofe, a Republican, had presented the same pictures in a speech on the Senate floor.  
​Two of the images appear to be news agency photos of armored convoys participating in Russia's war with Georgia in 2008. Another is an AFP photo of Russian-backed separatists near the Luhansk town of Krasniy Luch in October.
Semen Semenchenko, a deputy and a commander of Ukraine's Donbas Battalion who also attended the meetings, could not completely confirm Bereza's account, saying he did remember "some sort of" photos of Russian military among a packet of around 300 given to congressional staff.
"I saw these photos. They were laid out on the table several times," he said of the delegation's meetings in Washington. He added that he could not remember the specific nature of the pictures.
Several posts on Bereza's Facebook feed show the Ukrainian delegation conversing with congressional staff as snapshots are spread out on a table. Their content is not clear.
In his Senate speech, Inhofe, who has authored a bill to provide lethal military aid to Ukraine, had said that "these are pictures we brought back with us — those are the tanks, all lined up within that area of Ukraine," but he reacted angrily when evidence showed the photos had been misidentified.
In a statement provided to news organizations Inhofe said, "The Ukrainian parliament members who gave us these photos in print form as if it came directly from a camera really did themselves a disservice."
Asked to respond to Bereza's contention that he never provided the photos, Inhofe spokeswoman Donelle Harder e-mailed RFE/RL a link to a New York Times report that described two other instances of the Ukrainian government reportedly providing misleading information about photos.
"There was no need for this one false photo to have been used or for them to have falsified photos in other incidences like the NY Times is reporting," she said. "This was an unfortunate and unnecessary occurrence and the fact that, according to your outlet, they aren't wanting to get to the bottom of how the photo got into their presentation to Members of Congress is disappointing.
"It does not negate though that Russia has made significant advancements with tanks and heavy lethal military weapons and pro-Russian separatists have killed Ukrainians in cold blood."
More than 5,300 people have died in eastern Ukraine since fighting began in April 2014. Although Russian President Vladimir Putin continues to deny his country's role in the fighting, there is strong evidence that Moscow is providing direct military support, including Russian conscripts, to pro-Russian separatists.
Hours before a new cease-fire due to start at midnight on February 15, U.S. Ambassador to Ukraine Geoffrey Pyatt tweeted satellite photos that he said showed Russian artillery positioned near the key Ukrainian city of Debaltseve, which has faced heavy shelling for weeks.
1/3 Debaltseve. We are confident these are Russian military, not separatist, systems pic.twitter.com/RLX3z8hQZn

— Geoffrey Pyatt (@GeoffPyatt) February 14, 2015
Nonetheless, Russian state-run media, which is vociferously anti-Western and frequently provides dubious reporting on the conflict was quick to use the apparent flub to attempt to discredit Washington and the government in Kyiv.
The only American in the Ukrainian delegation this past November, Phillip Karber, a Georgetown professor and head of the Virginia-based Potomac Foundation, told RFE/RL in a phone call from the eastern city of Dnipropetrovsk that Bereza's account was likely "a memory issue."
The Ukrainian deputy, he said, had brought one packet of photos taken by his men and another packet that was clearly meant only to demonstrate Russian weaponry.
He said Senate staff mixed the photos together and then took several of these images away with them after their meetings.
Three months later, Inhofe's office asked Karber if he could confirm the photos. He said he assumed they were referring to those taken by Bereza's men during a Russian-backed ambush on Ukrainian fighters in the town of Ilovaysk.
He contacted Bereza's staff under this assumption and they confirmed that the specific images of the Ilovaysk ambush were authentic.
He then sent a message to the senator's staff, saying he had confirmed that "the photos were taken during the summer Russian 'backstab' invasion between 24 Aug and 5 Sept when Bereza and his men were surrounded at [the] Ilovaisk battle in Eastern Ukraine."
The Ilovaysk photos, of which there is no doubt, show the charred remains of Ukrainian battalion fighters who had been surrounded by separatists and promised an escape corridor — they were massacred instead.
Bereza suffered shrapnel wounds in the ambush and at least 100 others died.
NOTE: This article has been amended since publication to add further details to Karber's account of events.

By Levko Stek and Glenn Kates, Radio Liberty