Russian media regularly disseminate fake stories about regional autonomy in Ukraine. The latest version of this favorite theme concerns the Polish minority in western Ukrainian, who according to Russian media are demanding economic autonomy and closer integration with Poland.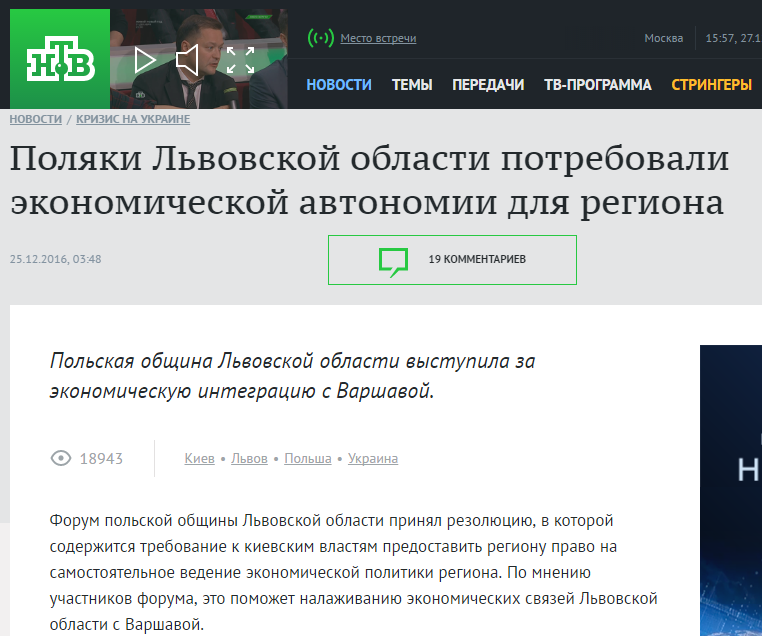 NTV, Rossiyskaya Gazeta, Vesti, Lenta.ru, Komsomolskaya Pravda and other Russian media all published versions of this fake story.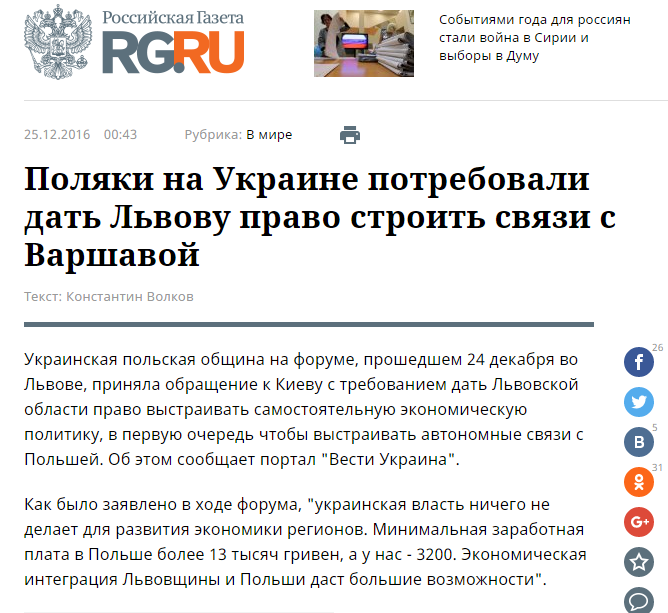 The obscure web site Lviv.web2ua.com first published this fake story in a text filled with grammatical errors, claiming that a forum of the Polish community in Lviv took a decision to demand economic autonomy from Kyiv and closer integration with Poland. Presa Ukrainy followed suit and it is their unsourced version of this fake news story that Russian media cited and disseminated further.
Russian media also reported that Jan Zharyn, a member of the Polish parliament from the Law and Justice Party was present at the Polish forum where he announced that Lviv has always been faithful to Poland, while the chairman of the Polish Society of Lviv Serhiy Lukianenko said that closer integration with Poland presented greater opportunities.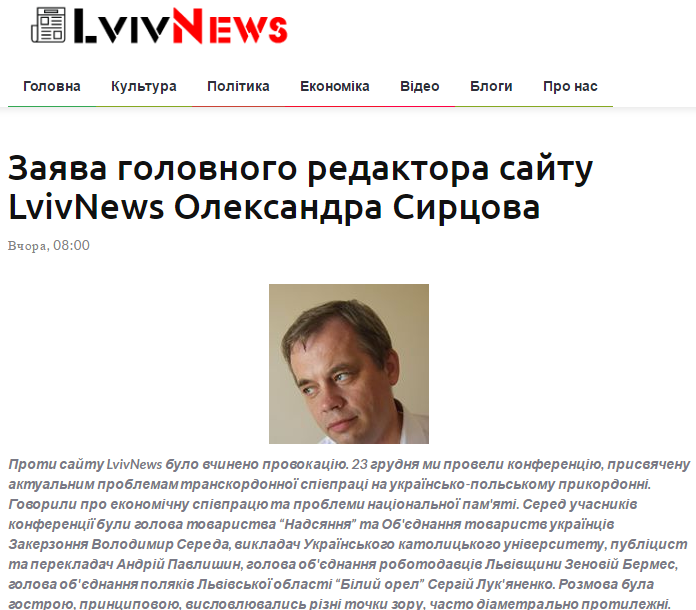 The forum in question was actually a panel discussion sponsored by the LvivNews agency focusing on Ukrainian-Polish border issues. Serhiy Lukianenko, the chairman of the Polish organization White Eagle addressed the meeting, but he never mentioned economic autonomy or integration with Poland. Polish parliamentarian Jan Zaryn was not present at the meeting at all.
After Russian media published stories about these alleged Polish demands, LvivNews editor Oleksander Sertsov published a statement describing the real nature of the conference and included the video of the proceedings.
Ukrainian Catholic University professor Andriy Pavlyshyn, who was one of the speakers at the Lviv-Poland forum, also dismissed the Russian claims of Polish economic separatism as complete fakes.