Several Russian media outlets claim that the Serbian Defense Ministry and therefore the country itself consider Euromaidan a coup d'état  (Pravda news, Rambler  and others). To support their claim, they quote Serbian Minister of Defense who compared recent protests in Serbia with the AutoMaidan movement in Ukraine. While Minister Alexander Vulin did compare the protests in an interview on National television RTS, he never called the Ukrainian protests a coup d'état.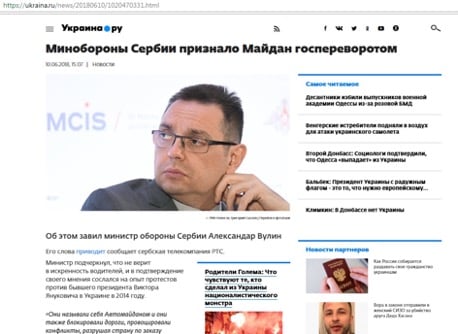 Due to a sudden petrol price increase, several massive spontaneous protests recently broke out in Serbia. Starting in Belgrade, the protests spread to more than 30 cities, demanding a reduction of the excise taxes imposed by the government and allowing the price of gasoline to remain unchanged.
The Minister declared that these protests have a hidden agenda supported by Western secret services and Serbian opposition leaders  and that their real goal is to destroy the country, like they did in Ukraine. Several media reported that quote. Other media wrote that Vulin said that the recent events in Ukraine, such as Euromaidan, were a project designed by the USA and other foreign secret services (Naspravdi, Topre, Mkru and others ). This statement does not represent the official position of the Serbian authorities.
Vulin said the protesters were organizing traffic jams in order to destabilize the country. "Fortunately for us, we have as Head of State Aleksandar Vucic and not Yanukovich, so they shouldn't have any hope that they will manage to destabilize and destroy Serbia in that way" declared Vulin.
AutoMaidan was a full-fledged social and political movement and an integral part of the Euromaidan protests, whereby driver activists provided supplies to the demonstrators and organized various public actions involving cars. Their leader was kidnapped and tortured, an act which was condemned by many international actors, including the EU High Representative for Foreign Affairs.
Claims that the Maidan protests were organized by American intelligence services is a regular staple of Russian disinformation about Ukraine.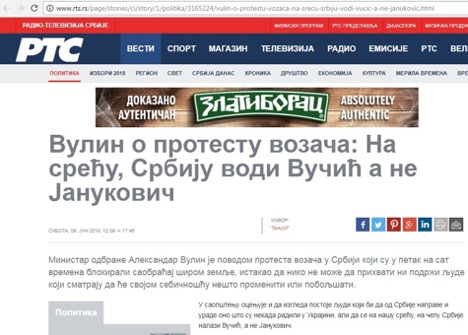 Vulin's position was criticized in certain media.   This is not the first time that Serbian authorities have gone public with such declarations concerning Ukraine's political situation. Following a bilateral meeting between President Vucic and President Poroshenko during the Trans-Anatolian Natural Gas Pipeline (TANAP) conference on June 12 in Turkey, a joint press release was issued by both presidents. The release included a call from President Poroshenko to Serbian politicians to cease running an anti-Ukrainian campaigns and a thank you to Ukraine for not recognising Kosovo as an independent state. This was reported in several Serbian outlets Danas, Vesti, Novosti, Pink and many others.