The imminent collapse of Ukraine's national currency the hryvnia and everlasting Ukrainian financial instability are two favorite themes for Russian media fakes and manipulation. The latest incarnation of this narrative is an August 16 story in the pro-Kremlin publication Ukraina.ru claiming that Turkey's current economic crisis has impacted negatively on Ukraine's currency and badly hit the country's economy.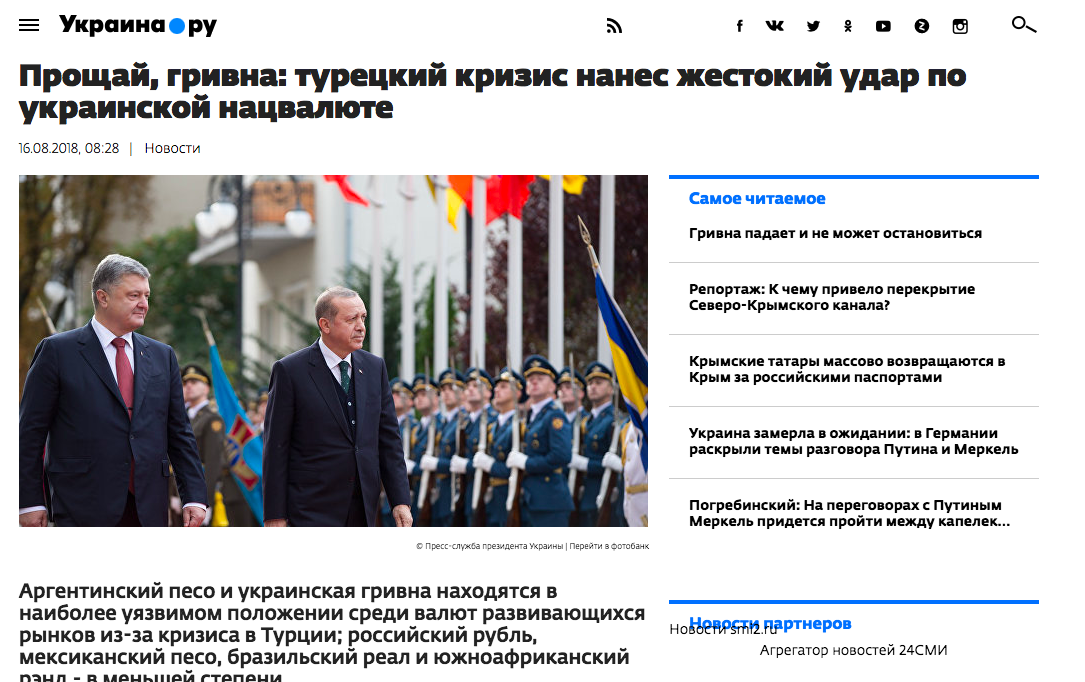 The hryvnia is falling and can't stop, Ukraine's National Bank can't keep its currency afloat, Ukraina.ru's headlines have been blaring for the last two weeks, foretelling the country's financial collapse. The Turkish lira crisis, lack of funds from the IMF and the National Bank's "inactivity" are the culprits of choice for Ukraine's alleged financial woes.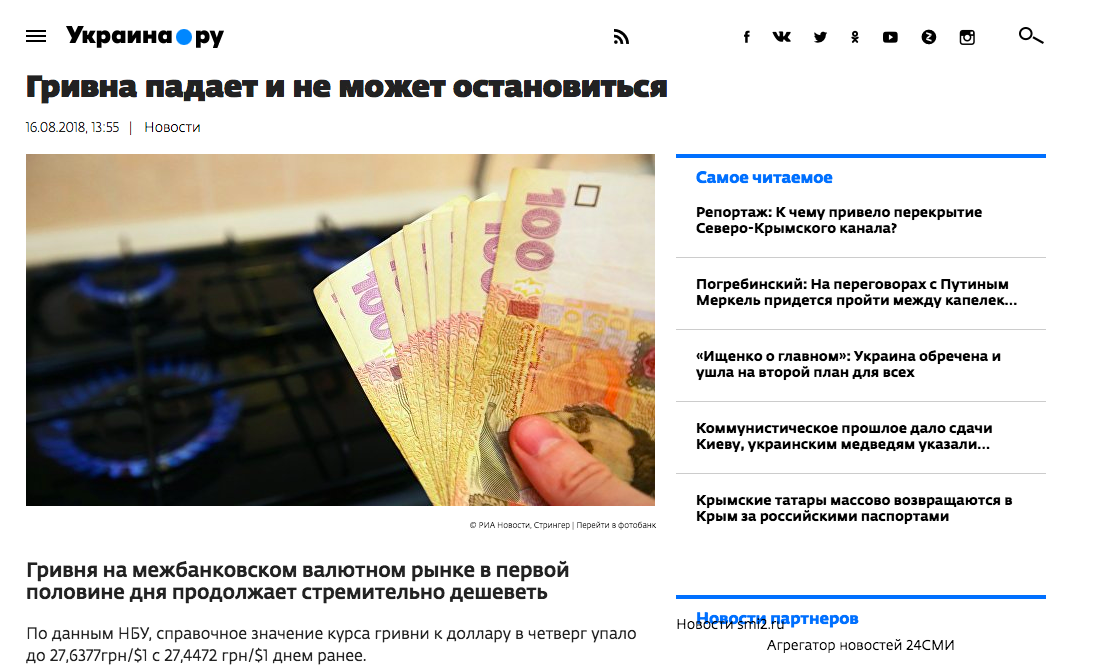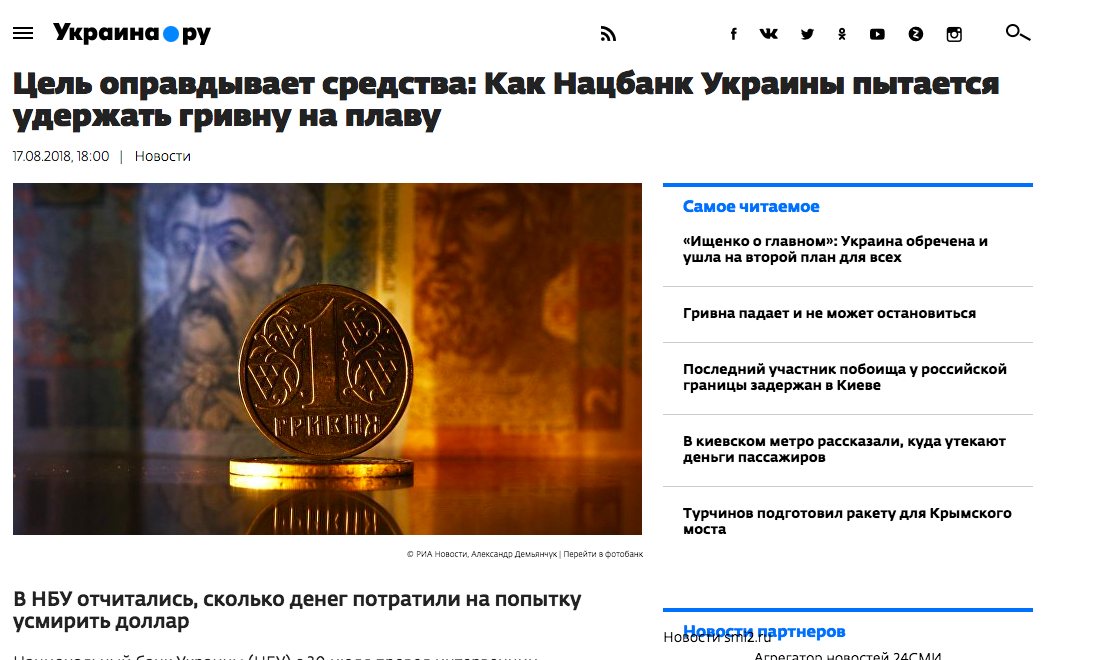 The crisis currently unfolding in Turkey which has brought on the devaluation of the Turkish lira has no effect on the value of Ukraine's hryvnia currency. Ukrainian National Bank deputy chairman Oleh Churyi says Ukraine is not so deeply integrated into the world economy that the lira's troubles would affect the hryvnia anytime soon.
Churyi told the Interfax news agency it is unlikely that capital flight from Turkey and its accompanying reduced investment in developing countries will impact Ukraine significantly in the short term. In the long run however, Ukraine's economy can feel some negative impact from the Turkey crisis as Turkey is a large market for Ukrainian products. With the fall of the Turkish lira demand for Ukrainian products could decrease, Churyi said.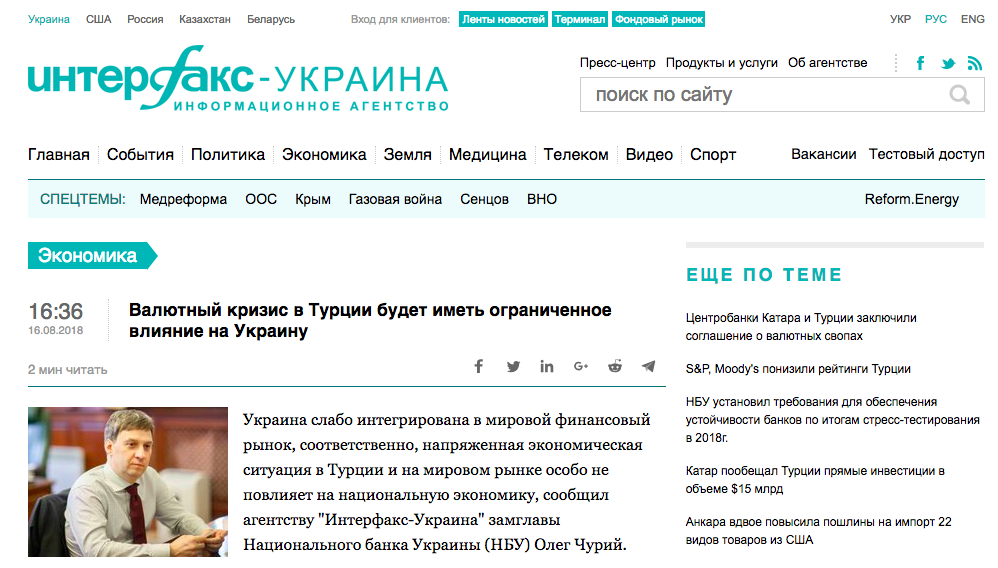 The current US dollar hryvnia exchange rate is 27.74. According to Ukraine's National Bank, the hryvnia undergoes seasonal fluctuations vis-à-vis the dollar. Currently Ukraine's agricultural sector is preparing for the harvest and buying vast amounts of fuel for its combine  harvesters and other machinery with hard currency. Ukrainian demand for consumer electronics and foreign vacations is also on the rise, these goods require hard currency, which Ukrainians are actively purchasing, driving up the price of the US dollar.
Ukraine's Finance Minister Oleksander Danyliuk says Ukraine's budget planned for a realistic dollar-hryvnia exchange, allowing for a fluctuation of up to 30 hryvnia to the dollar. Today's exchange of 27.74 hryvnia to the dollar is well within that fluctuation corridor.