Russian publications such as RIA Novosti, Ukraina.ru, Strana.ua, Moskovskyi Komsomolets and others disseminated a story claiming that over the past year Ukraine has become the most anti-Semitic country in the post-Soviet space. The source of this information purports to be the Israeli Ministry of Diaspora Affairs annual anti-Semitism report for 2017.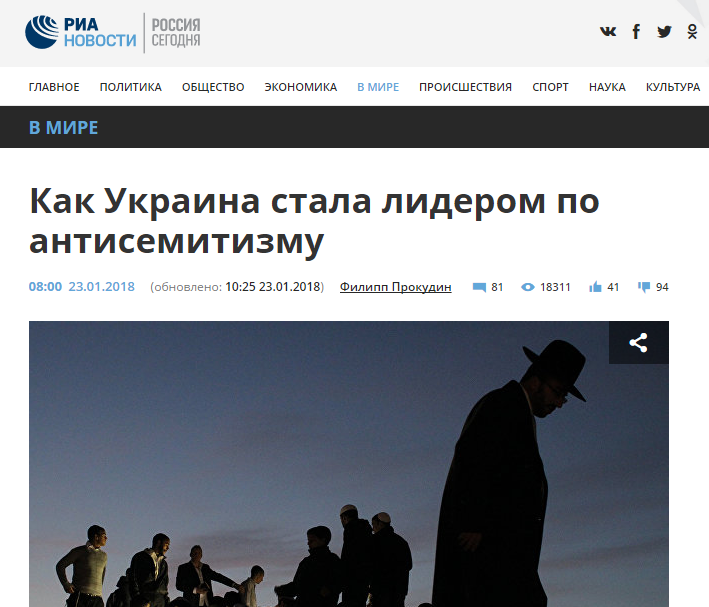 On January 21, a few days before Holocaust Remembrance Day Israel's Minister of Diaspora  Affairs Naftali Bennett presented the annual Report on anti-semitic trends and incidents for 2017. Focusing on countries where Jews live, the report presents Ukraine in a singularly negative light.
Against a backdrop of decreasing incidents of anti-Semitism in Eastern Europe, the number of anti-Semitic incidents has doubled in Ukraine, the report claims, with the largest number of anti-semitic incidents of any post-Soviet country. The Ministry of Diaspora Affairs report also claims that for the second year running, the largest number of anti-Semitic incidents were recorded in Ukraine.
Russian media eagerly picked up this information and disseminated it under such headlines as How Ukraine became a leader in anti-Semitism, Israel demands Ukraine curb anti-Semitism and attacks against Jews. They not only exaggerated quotes from the report, they also invented new "facts". RIA Novosti for example claimed that Ukraine leads in verbal and physical attacks on Jews and the situation is progressively getting worse.
The report does not claim that physical attacks on Jews have increased, it does claim that the level of anti-Semitic propaganda in political discourse and vandalism have grown, where Jews are viewed as scapegoats amidst the difficult socio-political situation in Ukraine.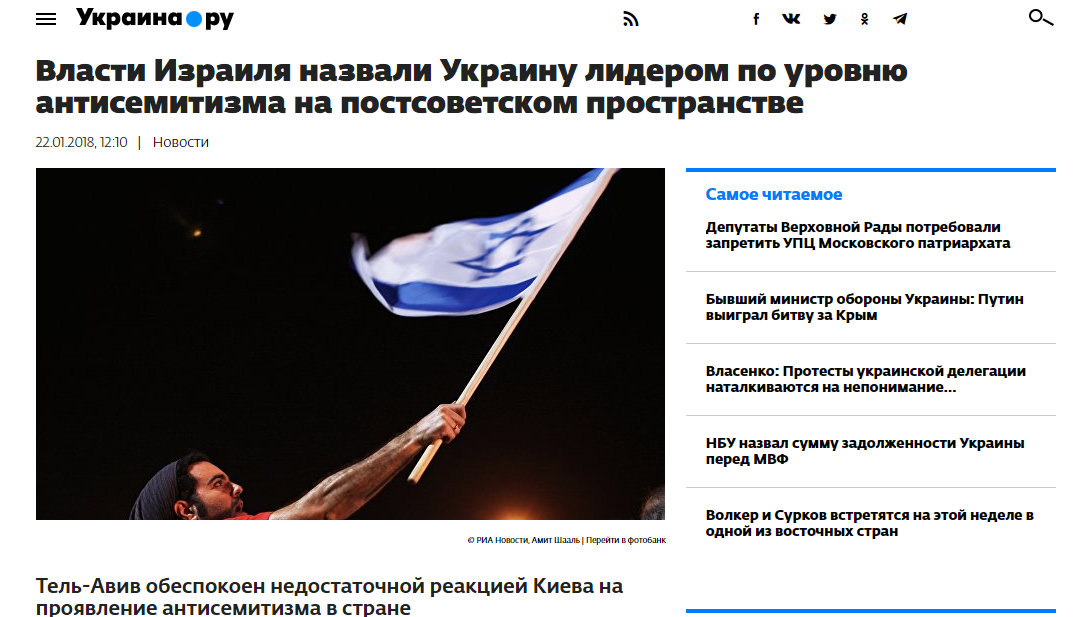 The Israeli report also criticizes Ukraine's National Memory Institute accusing it of glorifying national heroes who the report claims participated in the humiliation of Ukraine's Jewish population. According to Eduard Dolinsky of the Ukrainian Jewish committee, this is the first time that the Israeli government had singled out the National Memory Institute and its director Volodymyr Viatrovych, who in the past has called for studying the Holocaust as an integral part of Ukrainian history.
Ukraine is rampant with anti-Semitism, its being run by an anti-Semitic government, but Europe chooses to ignore this, is a favorite trope of Russian propaganda, regularly pedaled in the international arena. The Israeli report is being presented in Russian media as confirmation of this. On March 18, 2014 Russian President Vladimir Putin declared that "the main executors of the coup are nationalists, neo-Nazis, Russophobes and anti-Semites".
While Russian media are busy twisting the Israeli anti-Semitism report, it is worth noting that the report itself raises many questions.
The Israeli newspaper Haaretz writes that the report should be viewed with skepticism. It is thin on methodology and data, is far from a scientific report, and appears to be a public relations tool aimed to justify the existence of the Diaspora Ministry, writes Haaretz correspondent Ofer Aderet.
According to Vyacheslav Likhachev, who heads the Ukrainian National Minorities Rights Monitoring Group and has been systematically monitoring anti-Semitism and xenophobia in Ukraine for over 10 years, the report is written from a stereotypical view of Ukraine and does not take into account its real historical and political context.
The Diaspora Ministry report is filled with untrue statements, such as the claim that public insults of Jews in the state sector and in political life have become commonplace over the last two years.  Likhachev says he cannot recall even one such case in the state sector.  You get some in the political realm, but that's the same in any country, particularly on social media.
The authors of the Israeli report appear to have simply looked on the Internet and prepared a report filled with stereotypical generalizations, Likhachev notes. The number of anti-Semitic incidents did not double in Ukraine, he pointed out, vandalism incidents increased from 19 in 2016 to 24 in 2017.  In 2016 there was one act of anti-Semitic violence in Ukraine, in 2017 there were none.
Likhachev suspects the report's authors simply dumped all 'incidents' that they heard about together, without differentiating between real act of anti-Semitism and insults shouted during a march.  Such an approach breaches all standards for documenting hate crimes used by professional monitoring groups in Ukraine and abroad, Likhachev says.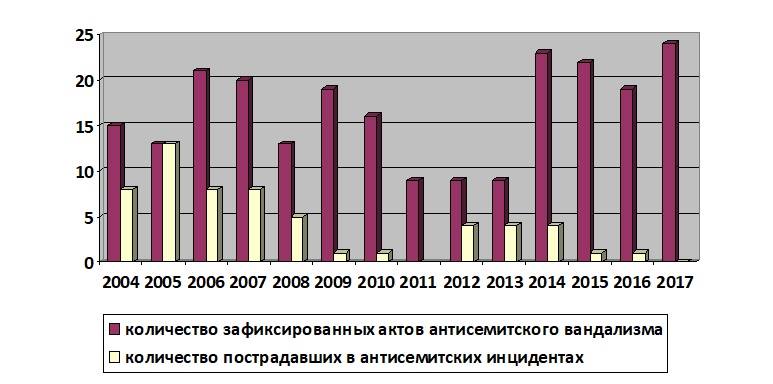 He said that had the authors of the Israeli ministry report followed the systematic monitoring available, they would have been aware that the Minority Rights Group monitors have, on the whole, found a positive, downward trend regarding instances of anti-Semitism in Ukraine.