Russian media reacted to the detention of teacher Tatyana Kuzmych in the Black Sea port of Kherson by declaring that Ukraine was beginning punitive actions aimed at eradicating the Russian language in the country. Publications such as Tsargrad, Politnavigator, Federalnoye Agentstvo Novostey, Novoross Info, Yandex and other implied that Kuzmych was arrested because she teaches Russian, but according to Ukrainian authorities,  the teacher was detained because she is suspected of treason and cooperation with the Russian security service the FSB.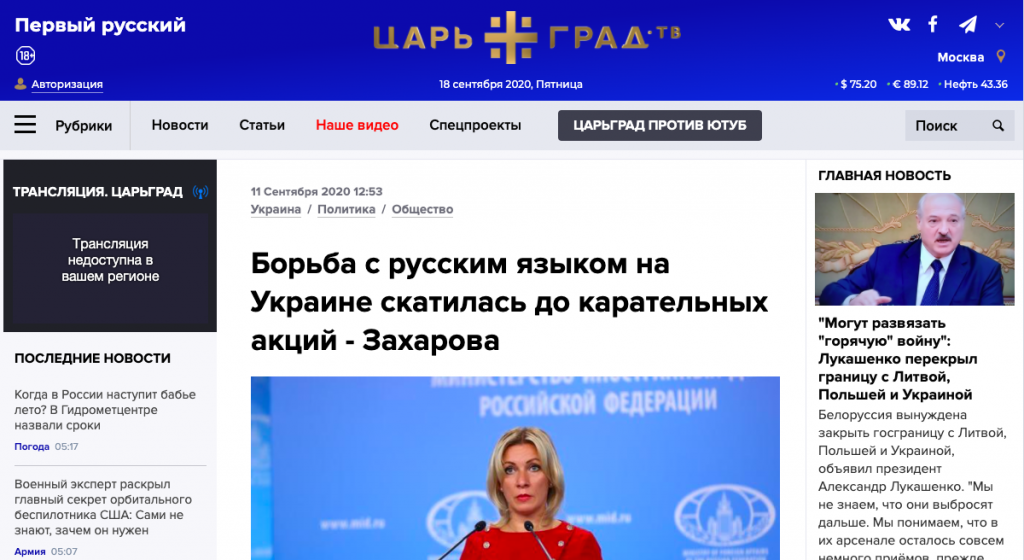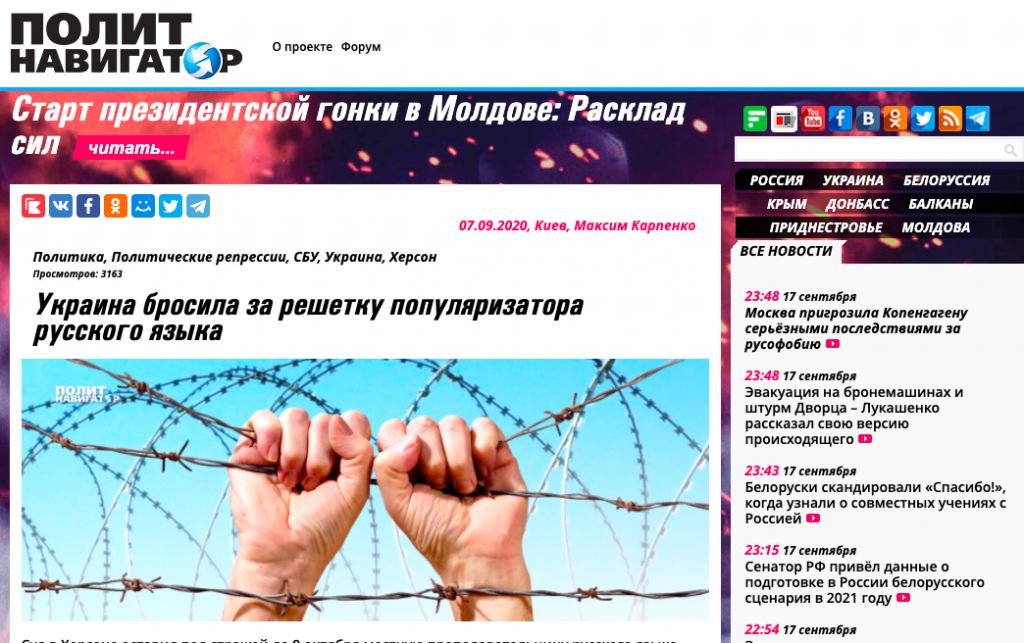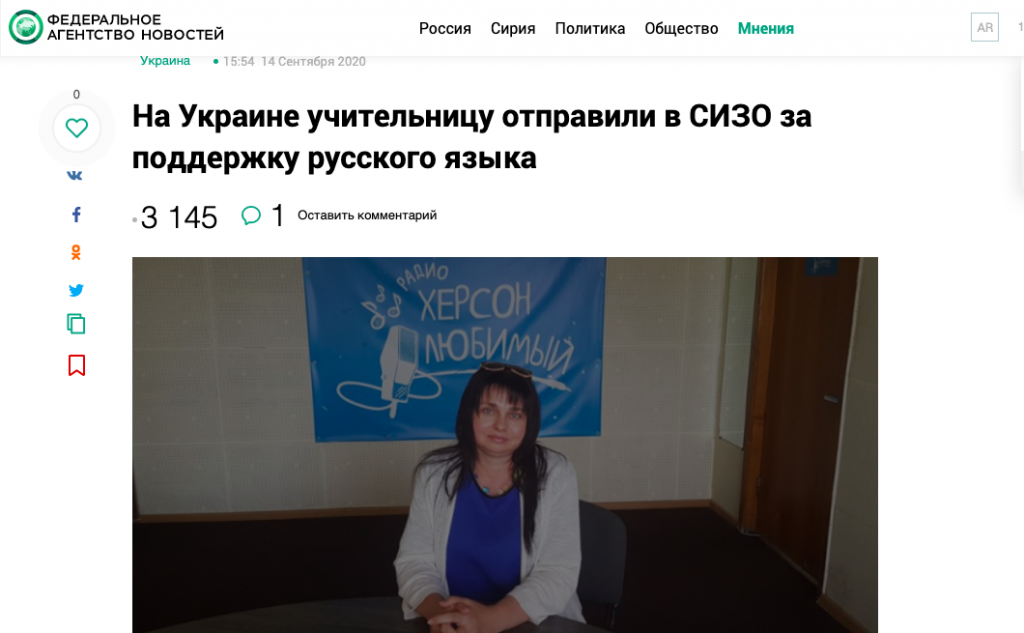 On August 20 Ukrainian Security Service (SBU) counterintelligence officers announced that they had thwarted an FSB intelligence network operating in the Kherson region. A woman who had been recruited by Russian security services in annexed Crimea in 2015 was detained. Her job was to collect intelligence about military facilities and SBU personnel. She was to report on the social and political situation in southern Ukraine, the activities of local government, NGOs, foundations as well as on individuals and public figures loyal to Russia.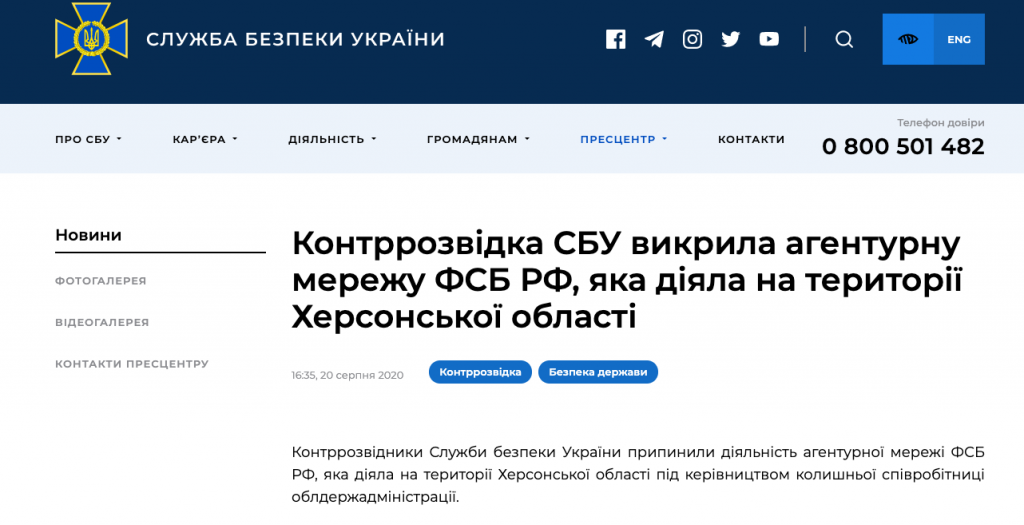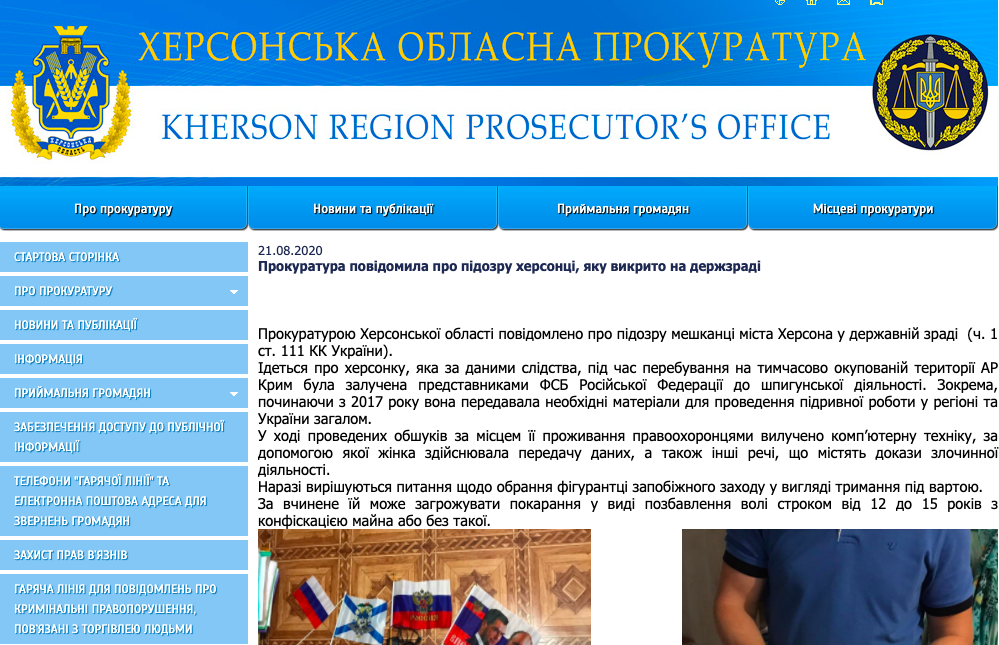 The following day on August 21 it became known that a local teacher at the Kherson Academy of Continuing Education and the head of Rusych Russian National community had been arrested. At the request of the prosecution, the case was heard behind closed doors. Kuzmich will remain in custody until October 9, with bail set at 500,000, (about $18,000). During a search of Kuzmich's apartment authorities found equipment she used to transmit information to the FSB and other items containing evidence of her activities. Kuzmich faces a prison term of 12-15 years.Kuzmych's detention has absolutely nothing to do with her being a teacher of Russian. Back in 2017 local journalists reported that Kuzmych was closely involved with Russkiy mir (Russian world) representatives in Kherson and actively supported pro-Russian events in the city. In 2016 Kuzmych took part in a Russian nationalist forum held by the Russian occupying authorities in Crimea along with separatists from the self-proclaimed Donetsk and Luhansk People's Republics and Russian officials. Before Russia invaded Ukraine Kuzmich did not hide the source of funding for her activities. In a 2013 interview published in an Odesa newspaper, Kuzmich confirmed that the money for her activities was provided by the Russian consulate in Odesa, Russian world foundations and other official Russian organizations. Kuzmich has repeatedly traveled to Russian occupied Crimea. Ukrainian journalists have found proof of her visits there in 2014, 2015, and 2016.