You might have seen similar images in a video game or a thriller: video footage filmed with an infrared camera shows a queue of people slowly moving through a dark terrain, when suddenly they get ambushed and fired upon. In the end, motionless bodies are left lying on the ground…
Pro-Kremlin disinformation outlets have circulated such footage fished from the depths of the internet to claim that Ukrainian border guards attacked and killed a group of illegal migrants attempting to enter Ukraine from Belarus through the Chernobyl exclusion zone.
Such allegations resemble earlier attempts to accuse Poland and Lithuania of inhumane treatment of the migrants, and must be seen both in the context of ongoing instrumentalisation of migration by the Lukashenka regime and Russia's military build-up along Ukraine's borders.
The Ukrainian authorities have exposed the video as fake.
The video and its circulation
The video first appeared on Facebook on 1 December 2021 and was shared from the account of Mr. Vasili Rumak (the footage itself was dated 29 November). Later, in an exclusive comment to Ukrainian Centre for Strategic Communication and Information Security, the owner of this Facebook account said that he had not posted the video, that his account had been hacked and he no longer had access to it.
The video started making the rounds on Russian social media channels immediately after it first appeared on Facebook: it was shared by Telegram channel Охранитель (Rus: Guardian), from there it was re-posted by the Telegram channel, presumably by an RT journalist, eventually ending on the Telegram channel of Sputnik Belarus less than an hour after it was first published. Copies of the video circulated through Telegram, VKontakte, and Odnoklassniki. Multiple Russian YouTube channels also re-posted it.
From there it was a small step to the major pro-Kremlin outlets, such as state-controlled news agency RIA Novosti which, citing "media reports", reported on the alleged execution of the migrants by Ukrainian border guards.
Such messages spread widely through the Russian-language pro-Kremlin media ecosystem, appearing on news aggregator websites RIA FAN, SouthFront, Donbass Insider and several other disinformation outlets.
The hackings
Notably, this attempt to portray Ukraine as cruel and inhumane towards migrants included cyber elements. Before appearing on social media, the story was carefully planted on hacked Ukrainian websites, which were then quoted as references for its veracity.
On 2 December, the regional news website Zhitomir News announced that it had been hacked and that the cyber-attackers had published an article a few days earlier containing a fabricated screenshot taken from the official website of the Ukrainian State Border Guard Service (SBGS).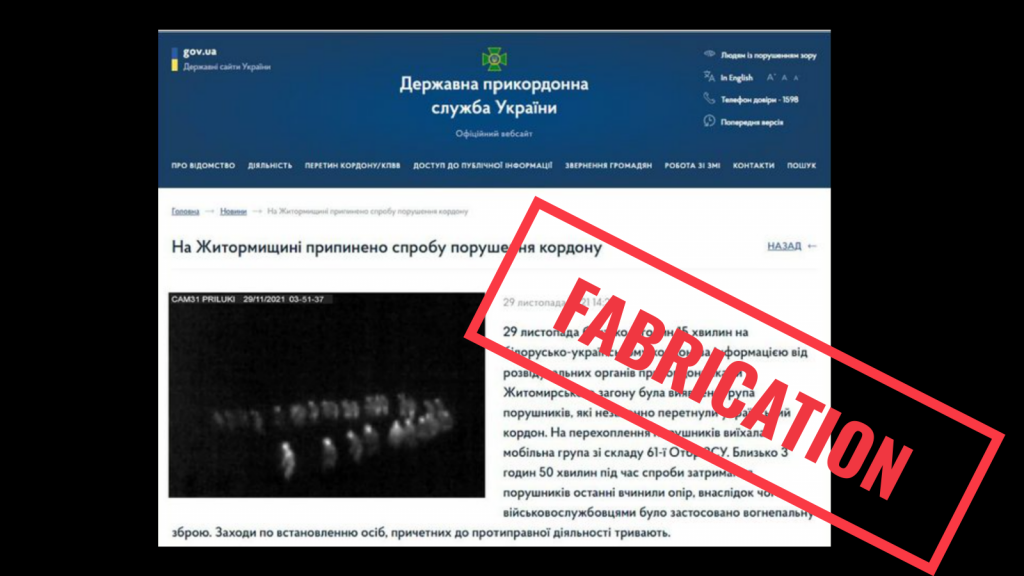 A fabricated screenshot allegedly from SBSG website placed on Zhitomir News.
The screenshot allegedly showed a news story dated 29 November (according to the video, this is when the shooting happened), in which the Ukrainian authorities "admit" to the border incident. Of course, no such article was published on SBGS's website on 29 November (or any other date). It seems that the cyber-attackers chose an easier path of hacking a small website such as Zhitomir News, than going after an official government portal.
Detector Media, a non-governmental media watchdog, said its website was hacked, with the attackers replacing an article from 29 November with a fabricated story about the border incident, along with an eye-catching headline about an alleged seizure of power implicating Ukrainian businessmen and politicians.
Screenshots of the planted and fabricated stories were circulated in some Russian-language online outlets mentioning the "incident", and on several social media channels.
The behavioural pattern
The distribution of the fake video follows an already-established pattern of information manipulation by the pro-Kremlin media. First, the hacking of a few websites as a basis for a doctored story. Planted fabricated screenshots were to serve as supporting material ("media reports") to lend credence to this fabrication. Then, disseminating content through multiple social media platforms, in the hope that the story gets wide reach across several mediums. And finally, amplifying the story via large, pro-Kremlin media outlets (in reference to previous "media reports").
It is quite difficult to estimate the reach and impact of this attempt to discredit Ukraine. However, it is clear that it appeared on multiple social media platforms (Facebook, Telegram, VK, OK, Youtube), major Russian state-controlled news agency, and multiple pro-Kremlin media outlets in Russian, English and French. Some preliminary calculations show that the video was viewed over 200 000 times on VKontakte, Odnoklassniki, and Youtube, and was mentioned over 400 times on various blogs, forum posts and online media.
The communication pattern
Ukraine has long been a major target of pro-Kremlin disinformation, so the appearance of such disinformation messages is not surprising, if not expected. In the past, the pro-Kremlin media have used highly emotional (and manipulated) content to rally its audiences against Ukraine.
This particular video also needs to be seen in the context of Russia's military build-up along the borders of Ukraine, and instrumentalisation of migration by the Lukashenka regime.
The message conveyed by the video – the alleged cruelty of the Ukrainian border guards directed at migrants – closely resembles pro-Lukashenka and pro-Kremlin disinformation narratives smearing the EU as inhumane in its treatment of the migrants. And it follows a long line of efforts by the Kremlin to cast Ukraine as aggressive, militant and having no regard for human rights – or human lives – all in attempts to justify its own aggressive actions.