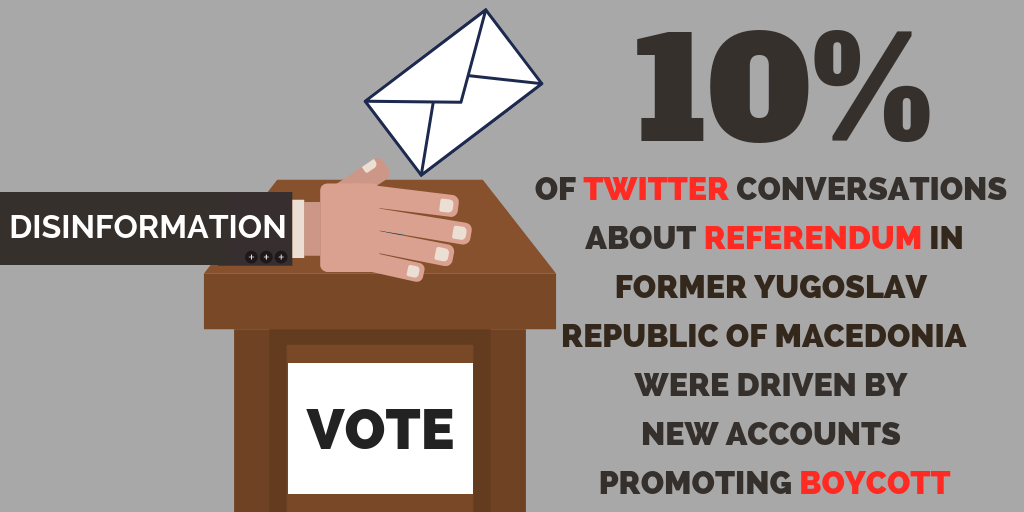 The Former Yugoslav Republic of Macedonia (FYROM) has seen a coordinated disinformation campaign targeting its referendum on changing the name of the country, and some fingers are pointing in Moscow's direction due to the coverage by Russian state media.
The Digital Forensic Research Lab scrutinised articles published by the pro-Kremlin Sputnik news agency in the run-up to the September 30 referendum and found that their content was "exclusively one-sided, polarizing, or misleading."
Speaking on 14 September, NATO Secretary General Jens Stoltenberg accused Russia of spreading disinformation to harm FYROM's efforts to join the alliance.
Three days later, U.S. Defence Secretary Jim Mattis, who travelled to Skopje to show Washington's support for the referendum, also accused Russia of funding "influence campaigns" to undermine the vote.
According to the Transatlantic Commission on Election Integrity — a think tank co-founded by former NATO Secretary General Anders Fogh Rasmussen – Twitter accounts created less than two months ago and calling for a boycott of the vote made up 10 percent of discussions about the referendum on Twitter.
A name change would put the Balkan nation on a path to join NATO and the European Union.
More than 90 percent backed the name change in the non-binding referendum, in which about one third of voters took part.
The vote follows a sustained online campaign to boycott the referendum, with hundreds of newly created websites calling on citizens to stay home and Facebook users being urged to burn their ballots.
There has also been a proliferation of false online reports targeting both the referendum and the government.
In one example, a still taken from a Croatian pop star's music clip was used as fake evidence of alleged police brutality against women protesting the name change in FYROM.
Some websites tried to stoke tensions with the ethnic Albanian minority in the country, which nearly slipped into civil war in 2001 when some ethnic Albanian groups rose up against authorities in Skopje.