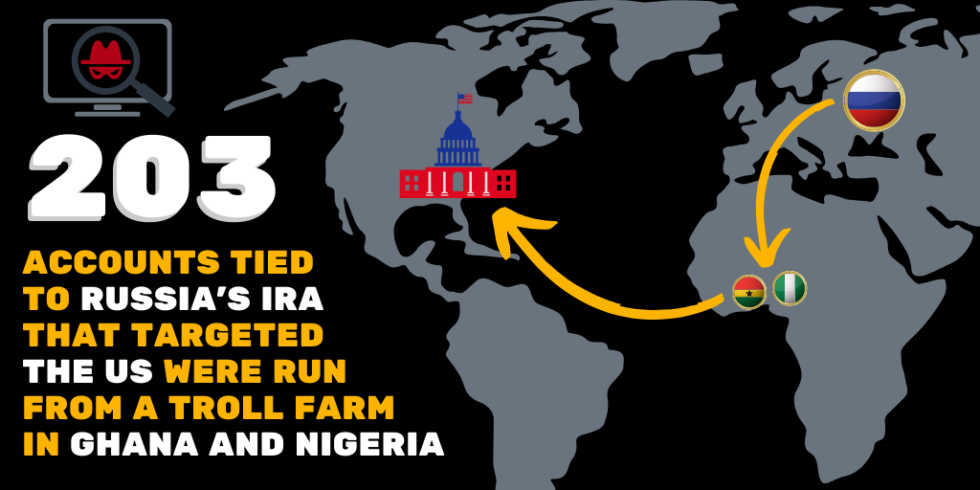 Facebook and Instagram have removed a total of 203 accounts linked to Russia's Internet Research Agency that were operating out of Ghana and Nigeria and targeted the United States.
Earlier this month, a cross-platform social media influence operation linked to the Internet Research Agency (IRA) but run from Africa was exposed through a joint investigation involving CNN, Facebook, Twitter, social media analytics firm Graphika, and researchers at Clemson University who specialise in tracking Russian social media influence operations.
Run from Ghana and later Nigeria, the operation specifically targeted black communities in the United States in an apparent continuation of the IRA's strategy to inflame racial tensions around the 2016 US election. The investigation concluded that this operation, which was still in the early stages of building its audience, was linked to a Ghanaian NGO seemingly focused on human rights but ultimately traceable to Russia. Facebook and Twitter explicitly attributed the operation to "individuals associated with past activity by the Russian Internet Research Agency (IRA)."
The operation began in June 2019 and took place across Facebook, Instagram, and Twitter. It focused almost exclusively on racial issues in the US, promoting black empowerment and often displaying anger and resentment towards white Americans, in line with the familiar pro-Kremlin goal of inflaming divisions and provoking social unrest. It did not systematically comment on the 2020 US presidential election.
Many of the posts were vitriolic and used extreme language, including references to fascism and even calls to violence (e.g., "America's descent into a fascist police state continues.. Someone needs to take that senator out"). They also pursued explicit agitation, for instance by engaging with real Black Lives Matter activist groups. At the same time, the operation sought to build up a following by using positive and inspirational topics, like highlighting black excellence and black women's beauty.
A Facebook post by an EBLA account from January 2020 invoking fascism and calling for violence against a US state senator. Image courtesy of Graphika.
Posts by EBLA accounts from February 2020 highlighting police brutality against blacks. Image courtesy of Graphika.
The operation also did not create much original content; instead, it primarily borrowed material from elsewhere online, especially memes that were already popular. The trolls appeared to have had access to a shared stock of images and memes that they used repeatedly across different accounts – and some of those matched posts made by the original IRA in 2016-2017.
The front for the Ghanaian troll factory was a non-profit group called Eliminating Barriers for the Liberation of Africa (EBLA), run by a man calling himself 'Mr. Amara'. In reality, the man's name is Seth Wiredu – a Ghanaian national living in Russia. EBLA rented a walled compound near the Ghanaian capital Accra which served as the headquarters for the troll farm. 16 Ghanaians worked there; according to CNN, they were issued mobile phones, not laptops, and communicated as a group through the encrypted chat app Telegram – which is rarely used in Ghana but popular in the Russian-speaking world. One of the trolls told CNN that they did not know Russia was behind the operation.
The trolls were given US-focused topics to post about – LGBT issues, police brutality, etc. – and instructed to post and tweet during hours when US audiences would be most active. They posed as Americans and in some cases took impersonation a step further, for instance by claiming to be related to a black man who died in police custody. Notably, some of trolls used their personal accounts throughout the operation in addition to fake ones.
On 6 February, the EBLA compound in Accra was raided by Ghanaian security services, who said that their Cyber Security Unit had grown suspicious of EBLA's activities and believed it was engaged in "organized radicalism with links to a foreign body." They have since confirmed that EBLA's financing originated fully from Russia. However, as of earlier this month, EBLA still appears operational, with Wiredu leading group meetings with employees and, according to some who spoke to CNN, encouraging the trolls to set up new accounts.
In total, the operation created more than 200 accounts (the majority in the second half of 2019) with estimates of their reach ranging between the hundreds of thousands to potentially millions of people (exposure and impact are notoriously difficult to measure). Facebook removed 49 Facebook accounts, 69 Pages and 85 Instagram accounts on grounds of engaging in foreign interference. 13,200 Facebook accounts followed one or more of the troll accounts and around 263,200 people followed one or more of the inauthentic Instagram accounts, about 65% of whom were located in the US. Meanwhile, Twitter removed 71 accounts with a total of 68,000 followers. Both companies said they reliably determined that these networks were associated with the IRA. Facebook said the network was linked to activity it had previously removed and attributed to the IRA in April 2018, July 2018 and November 2018.
Beyond adding to the evidence that the Kremlin is seeking to interfere in the US democratic process ahead of the 2020 presidential elections, this operation also attests to Russia's growing interest and activity in Africa, using both state power and private interests. For example, new research details how pro-Kremlin networks use fake election observation as a tool of electoral interference, highlighting the case of an observation mission in Zimbabwe with links to Yevgeny Prigozhin, the Russian oligarch widely suspected to be behind the IRA. Last October also brought revelations of a social media operation linked to Prigozhin that targeted eight African countries in an attempt to influence their elections. Meanwhile, numerous media investigations have revealed that security companies tied to Prigozhin are active in the Central African Republic, allegedly even providing personal guard to the country's leader, Faustin-Archange Touadéra. Over the past year, pro-Kremlin groups have also become more involved in the conflict in Libya, with new research by the Stanford Internet Observatory investigating how a Prigozhin-linked firm is funding Libyan broadcast media.