Trump "has used Russian active measures at times, against his opponents."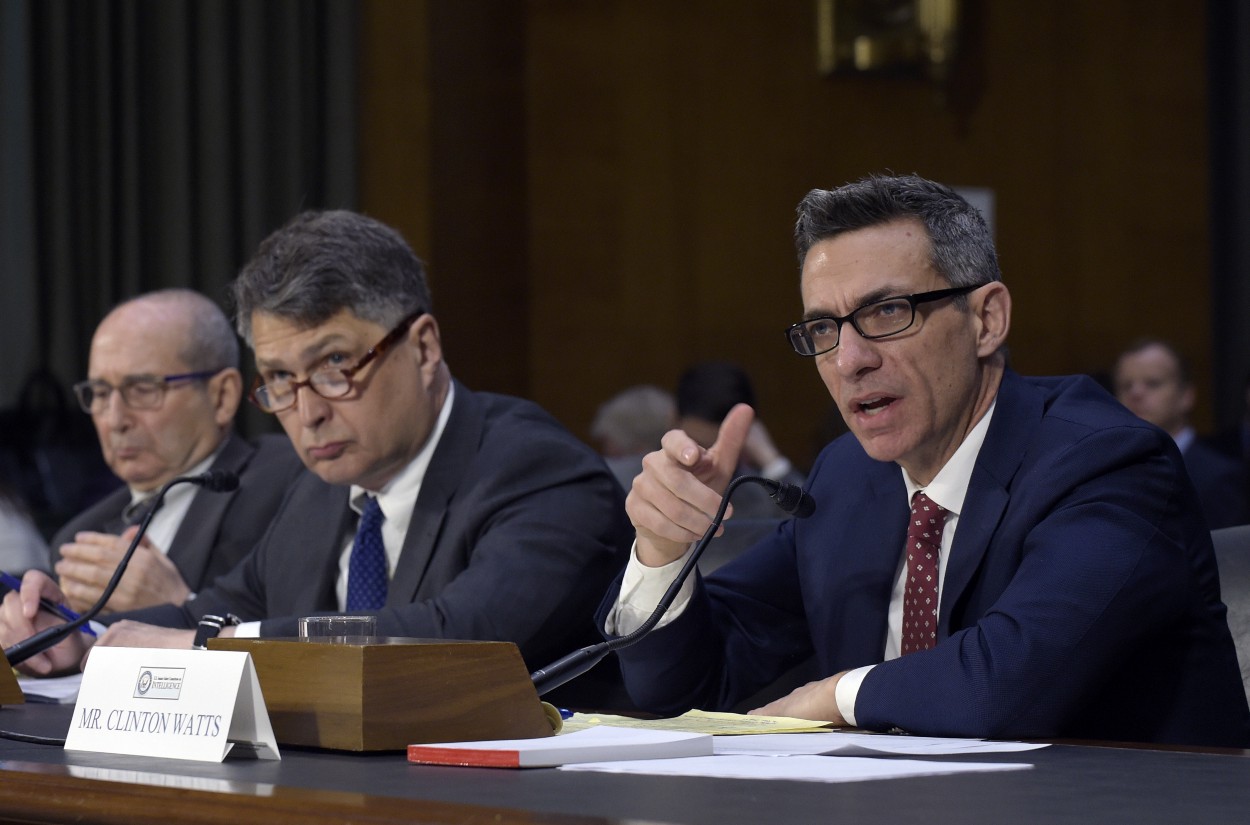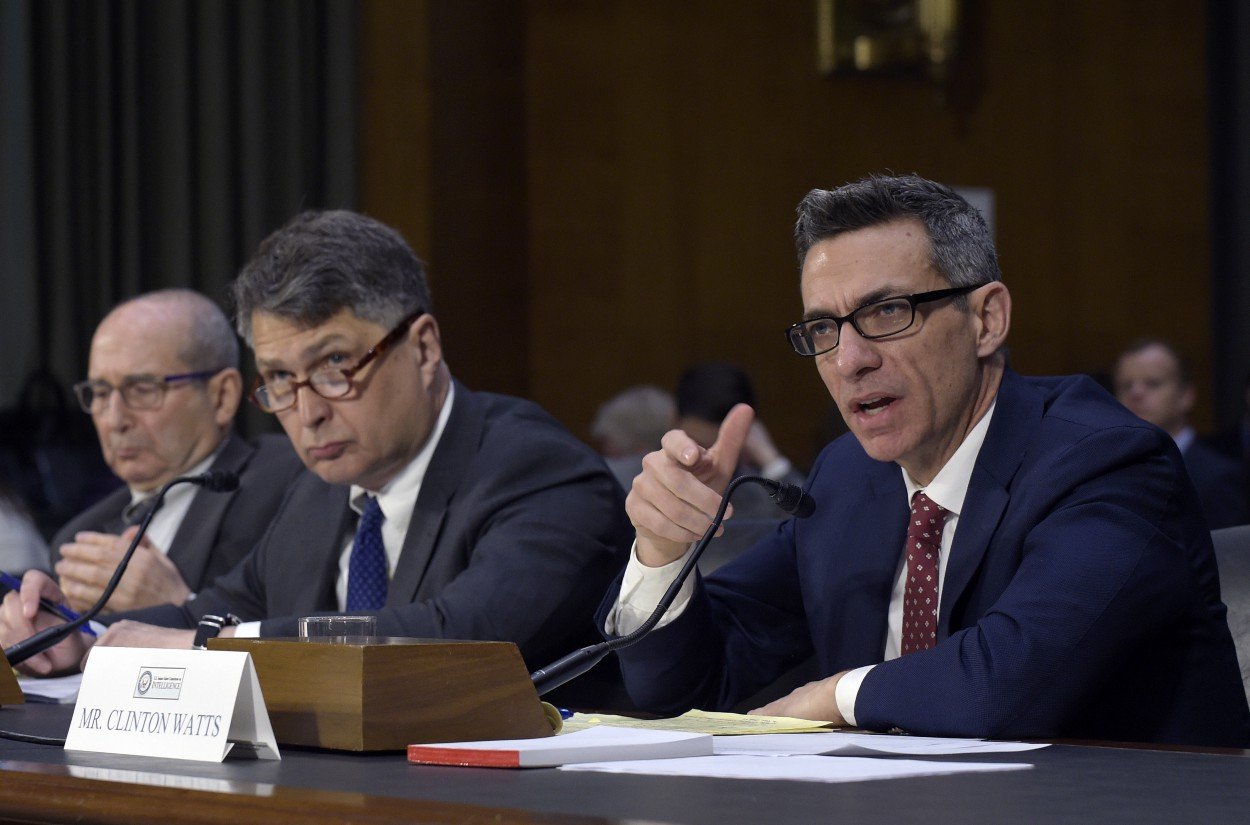 By Aaron Rupar, ThinkProgress
During the first public Senate Intelligence Committee hearing about Russia's meddling in the presidential election on Thursday, former FBI special agent Clint Watts explained how Russia and the Trump campaign team up to weaponize fake news.
Asked by Rep. James Lankford (R-OK) about why Russian President Vladimir Putin decided to make more of an effort to interfere in the 2016 presidential election than in years past, Watts, who is now a a fellow at George Washington University's Center for Cyber and Homeland Security, said, "the answer is very simple and it's what nobody is really saying in this room."
"Which is, part of the reason active measures have worked in this U.S. election is because the Commander-in-Chief [Trump] has used Russian active measures at times, against his opponents," Watts continued.
Russia expert says Trump strengthened Russian propaganda: "Part of the reason active measures works…is they parrot the same lines." pic.twitter.com/tTGHLDfKvR

— ABC News Politics (@ABCPolitics) March 30, 2017
Watts cited two specific examples from the campaign — one that came from the mouth of Trump's campaign chairman and one that came from Trump himself.
On August 16, Paul Manafort, who at that time was still Trump's campaign chairman, was interviewed by CNN's Jake Tapper and criticized the media's coverage of the campaign.
Instead of focusing on stories like Trump's veiled threat about "Second Amendment people" potentially stopping Hillary Clinton, Manafort suggested the media cover more important things.
"You had the NATO base in Turkey being under attack by terrorists," Marafort said. "You had a number of things that were appropriate to this campaign, were part of what Mr. Trump has been talking about."
That attack never happened — it was fake news. But as BuzzFeed reported at the time, "several Russian sites [were] quick to report on potential terrorist attacks on NATO bases in Turkey." Manafort used false information spread by those sites to attack Clinton.
"In late July, Sputnik and RT — both Russian state-controlled media outlets — pointed to a fire near a NATO base in western Turkey as potential sabotage," the BuzzFeed report continued. "And both sites helped spread the idea — which also was passed along on Twitter by accounts that are both pro-Trump and pro-Russian — that the protests [at the NATO base] in late July were a massive mob attempting to takeover the base."
During his testimony, Watts noted that Manafort and Trump used the "debunked" Turkey story "as a talking point." It was recently revealed that Manafort did secret propaganda work on behalf of Putin before working for Trump.
Watts' second example was Trump using a fake news story to attack Clinton during an October 10 rally in Wilkes-Barre.
"This just came out a little while ago. I have to tell you this," Trump told the audience, reading from a sheet of paper that he said contained the text of an email written by Clinton confidant Sidney Blumenthal.
"The attack was almost certainly preventable," Trump read, alluding to Benghazi. "Clinton was in charge of the State Department… if the GOP wants to raise that as a talking point against her, it is legitimate."
But Blumenthal never wrote that. An NPR report explains the context:
For Newsweek reporter Kurt Eichenwald, the words Trump read sounded familiar. It turns out they were taken from an article he wrote, which Blumenthal had included in an email. So they were not Blumenthal's words, but Eichenwald's.
The misconstrued "email" that Trump was reading had appeared in an article on a Russia-funded website called Sputnik, which has since taken it down…
It's unclear how Trump obtained the same misinformation that appeared in Sputnik. Eichenwald asks: "Who in the Trump campaign was feeding him falsehoods straight from the Kremlin?"
During his testimony, Watts described the article Trump read as "a fake news story from Sputnik News that disappeared from the internet."
"He denies the intel from the United States about Russia. He claims that the election could be rigged. That was the number one theme pushed by RT, Sputnik News… all the way up until the election," Watts continued. "He's made claims of voter fraud, that President Obama's not a citizen… So, part of the reason active measures works, and it does today in terms of Trump Tower being wiretapped, is because they parrot the same line."
Fake news can be effective. A poll released earlier this week found that 74 percent of Republicans now believe Trump's evidence-free claim that his Trump Tower office "were wiretapped, or under government surveillance during the 2016 presidential campaign." When House Intelligence Committee chair and former Trump transition official Rep. Devin Nunes (R-CA) made a clumsy attempt to validate Trump's claim last week, the story was quickly amplified by Sputnik and RT.
Beyond the virtual component of Russia's meddling, Watts encouraged committee members to "follow the trail of dead Russians."
"There have been more dead Russians in the past three months that are tied to this investigation, who have assets in banks all over world," he said. "They are dropping dead even in Western countries."
Watts also expressed concern that the Trump administration won't ultimately protect people like him.
"I'm going to walk out of here today, I'm going to be cyberattacked, I'm going to be discredited by trolls. My biggest fear isn't being on Putin's hit list or psychological warfare targeting me — I've been doing that for two years," he said. "My biggest concern right now is I don't know what the American stance is on Russia, on who is going to take care of me. After years in the Army and the FBI, working in the intel community — today, I'm going to walk out of here and ain't nobody going to be covering my back. I'm going to be on my own, and so that's very disconcerting."
By Aaron Rupar, ThinkProgress