A group of French parliamentarians recently visited the Crimean peninsula annexed by Russia in 2014. The visit was not official and did not have the authorization of the French parliament. Nevertheless Russian media reported the visit as officially representing the French government.
"French MPs learn 'Crimea is ours' in Russian", "French MPs: we will continue coming to Crimea until the world learns the truth" "International blockade of Crimea broken" such were some of the headlines in leading Russian publications in the wake of the French MPs' visit.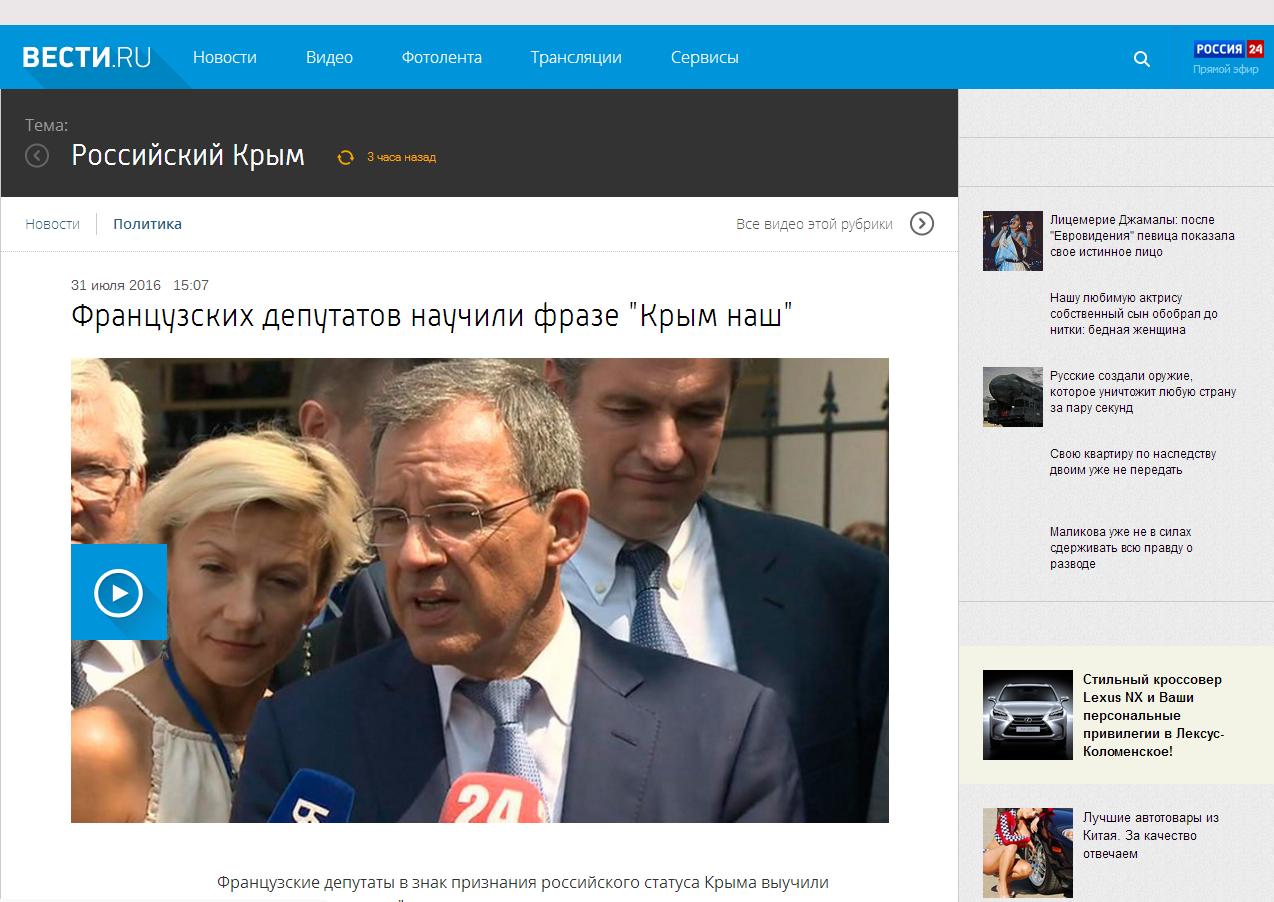 Russian media presented the group as "an official parliamentary delegation". While the group was made up of parliamentarians, they were there on a private visit. Figaro reported that National Assembly president Claude Bartolone said in a letter to Laurent Fabius that the MPs could not use the resources of the Assembly or speak in its name.
The group was escorted by Russian Duma deputy Leonid Slutsky from the Liberal Democratic Party headed by the notorious Vladimir Zhirinovsky.
"French parliamentarians visited Crimea and made a number of statements, which are not in the mainstream of European politics" declared Gazeta.ru. while RIA Novosti called the visiting French MPs "our allies" and "our people.
Radio Liberty reported that the visit was heavily criticized in France. French political analyst and professor of the prestigious Sciences Po Institute Marie Mendras told Radio Liberty that the MPs visiting Crimea were rather notorious in France because of their behavior. "This group headed by Thierry Mariani is known for their support of Vladimir Putin. They are against a unified western position on the Ukrainian conflict and they express the opinion of a significant part of the French big business community" she said.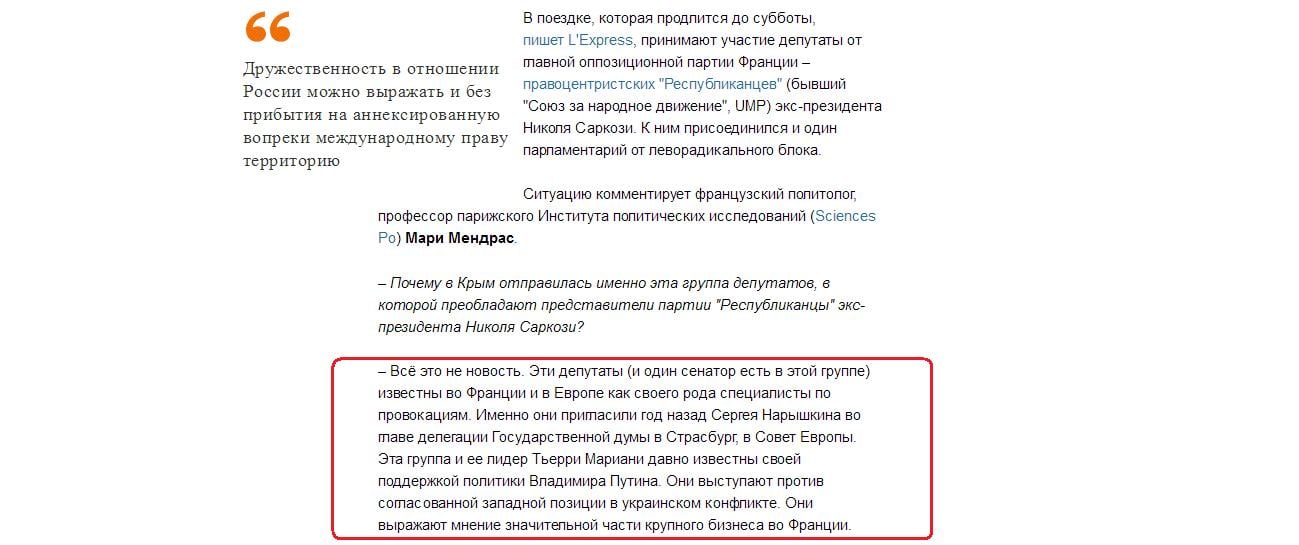 French National Assembly Foreign Relations Committee chair Elisabeth Guigou echoed Mendras' concerns about the visit being used for Russian propaganda purposes. "These deputies visited territory which was annexed, violating international law. They can talk all they want about being in Crimea as private citizens, however, they can't stop being MPs simply for the duration of their visit" she said.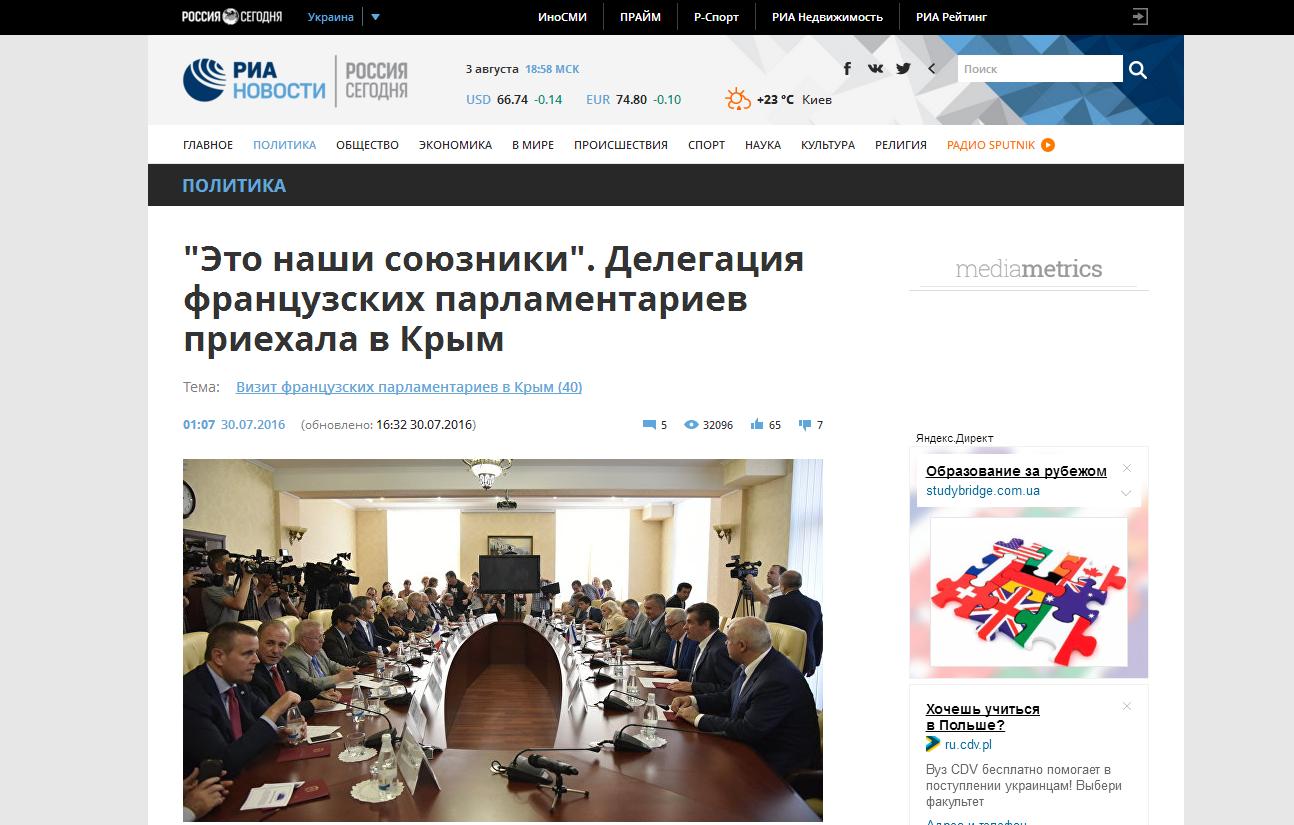 The French MP's trip to Crimea was financed by the Russian Peace Fund and according to Leonid Slutsky, "was not very expensive".
The French group was led by Republican MP Thierry Mariani who introduced a resolution in the Assembly calling for an end to Russian sanctions, centrist senator Yves Pozzo di Borgo, who introduced a similar resolution in the French Senate and radical Jérôme Lambert, all of whom are popularly known in France as "friends of Putin".