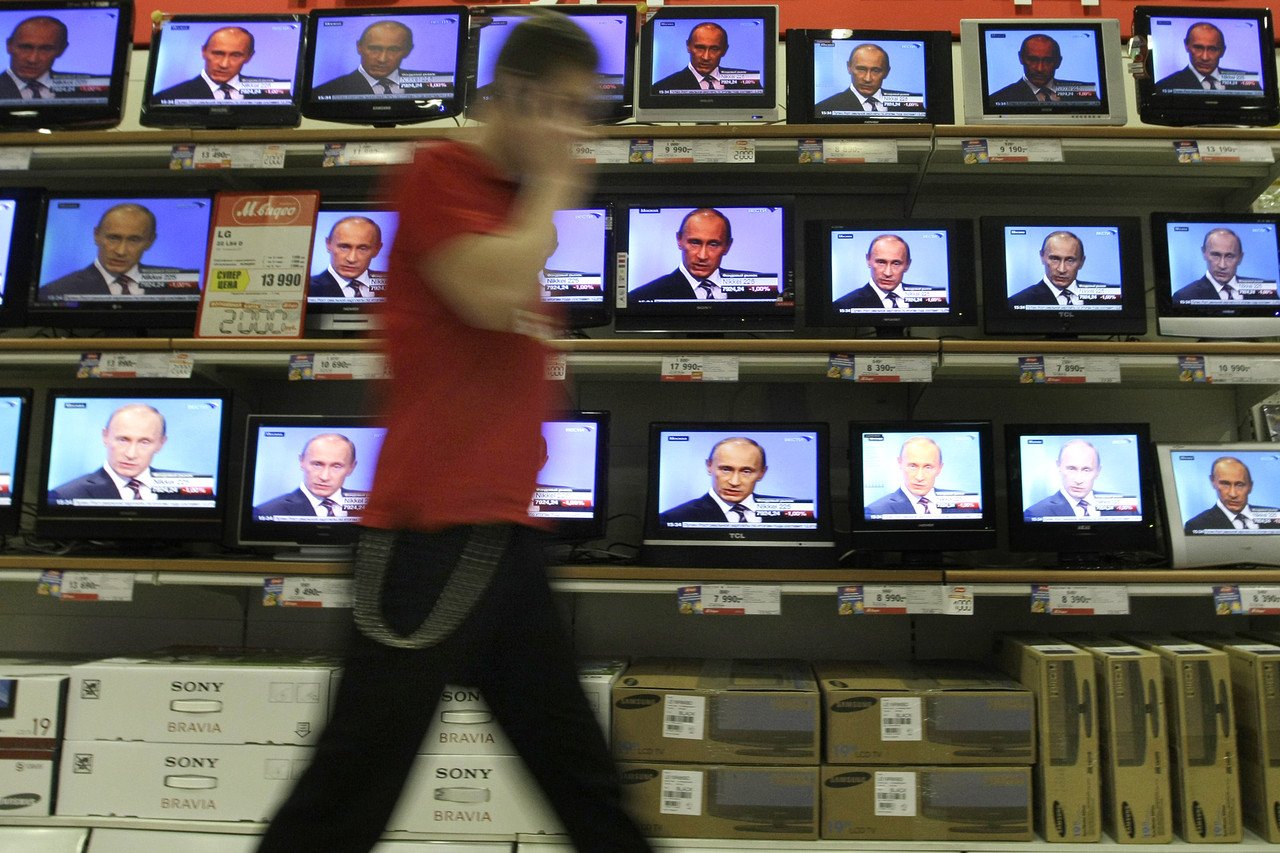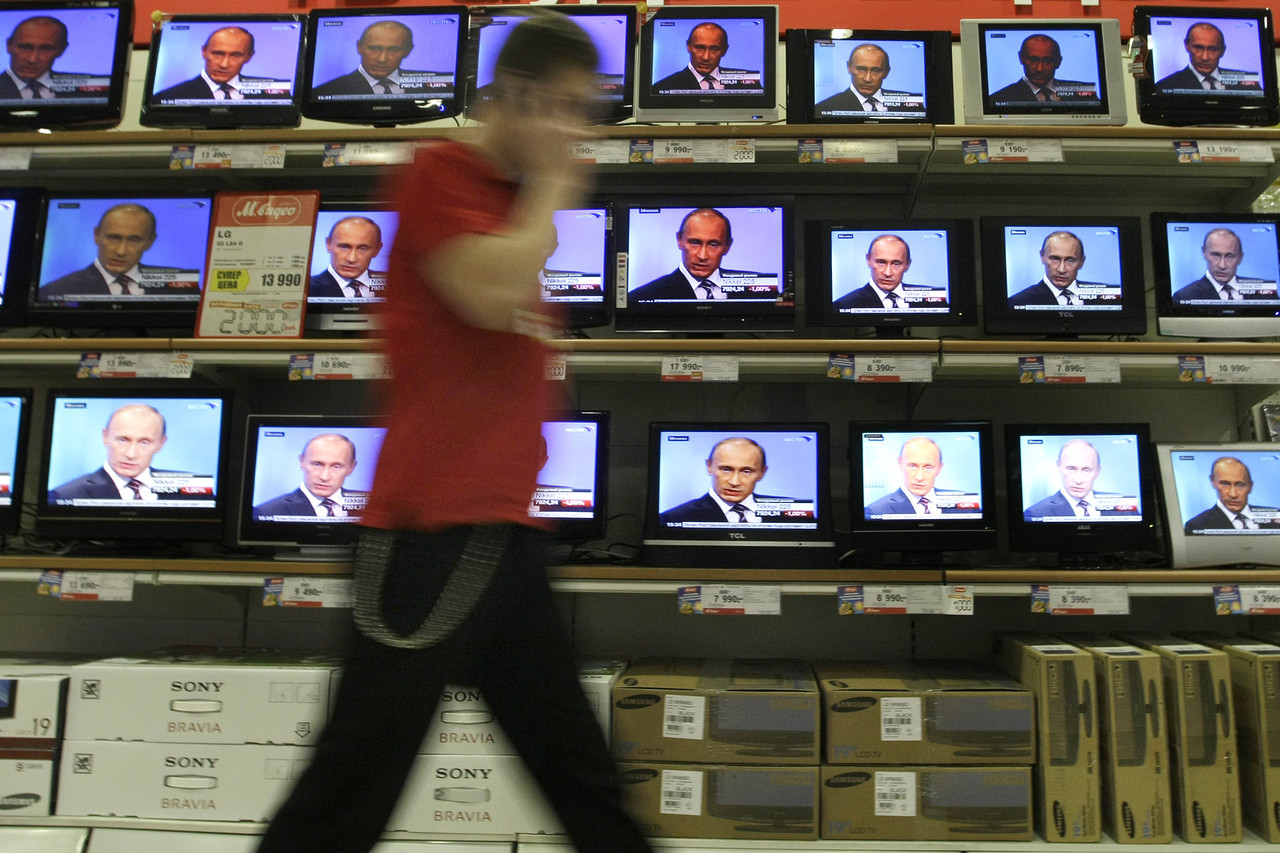 Germany is launching a new international news service to counter Russia's aggressive propaganda push in Europe. The only problem: Employees of Deutsche Welle, the state-run broadcaster spearheading the initiative, are having none of it.
Deutsche Welle, an international television and radio broadcaster akin to the British Broadcasting Corp.'s World Service, plans to launch a new multimedia English-language service called DWNews in April. Deutsche Welle President Peter Limbourg has said the new service is designed to "defy [Russian President Vladimir] Putin's propaganda."
Russia has been expanding its own media arm, Russia Today, or RT, across Europe, adding more German and English-language programs. Through new websites and television channels, RT has reported critically on Western media outlets' coverage of the crisis in eastern Ukraine and has run editorials accusing the U.S. of military involvement in the region, which Washington denies.
Chancellor Angela Merkel 's government is putting Deutsche Welle, and its new DWNews service, at the center of its public-relations counterattack. This year, she is boosting Deutsche Welle's annual budget by more than 2%, to €294 million ($332 million), a rare spending increase for a government that has made fiscal discipline its mantra. Earlier this week, Deutsche Welle opened a bureau in Kiev.
Yet, instead of welcoming the expansion, some Deutsche Welle employees are up in arms over the push. Other critics, including opposition politicians, have accused the government of trying too hard to match Russia's propaganda machine.
"I don't want to see the Deutsche Welle become a mouthpiece for the German foreign ministry," said Harald Petzold, a parliamentarian for the opposition left party Die Linke.
For the government, the broadcaster is perfectly positioned to counter what it calls Russian propaganda. "Deutsche Welle is the lighthouse for Germany's democracy around the world," said Monika Grütters, German minister of culture and media, in the German parliament last December. "For some it is the only connection to the free world."
The move comes in the wake of another big controversy at Deutsche Welle: Last year, it joined with China state television to share music and business news content. Critics, including some journalist activists, have accused the service of joining up with the media organ of a repressive regime.
This year's new funding won't translate into higher wages for staff already stretched after around 15 years of shrinking budgets. A full-time staff of roughly 1,500 is supplemented by over 4,000 freelancers.
"Despite the new money, the situation for employees hasn't changed fundamentally," said Klaus Enderle, chairman of Deutsche Welle's employee council and a representative of the German journalists' association DJV. "Many employees don't know what will happen to their jobs after this year. It has been a tense period of waiting."
Protests and walkouts have disrupted Deutsche Welle's Berlin campus since December. Employees in Bonn are planning a large demonstration next month, Mr. Enderle said. A spokesman for Deutsche Welle said Mr. Limbourg was working to increase the government's long-term commitment to the broadcaster, and that protests were "part of the democratic process."
Deutsche Welle's current crop of broadcasts run in over 30 languages, and commands 100 million viewers and listeners every week around the globe, according to its own statistics. It says its role is to bring a "German perspective" to people around the world. Broadcasting on TV, radio and the Internet, Deutsche Welle offers a mix of economic and political news from Germany as well as local news for local audiences. The weekly TV show Euromaxx features stories on European music and culture.
Deutsche Welle began in 1953 in West Germany in the early days of the Cold War, as the new country was trying to shake off its Nazi past and promote "democratic values" and "free exchange between peoples," according to its public charter. Despite the state funding, the German government has no editorial control over its content, and management is overseen by an independent board.
Mr. Limbourg, who took up Deutsche Welle's top job in 2013, has pushed hard to boost government funding, which has declined since the late 1990s. Last year, he threatened to cut the broadcaster's German, Spanish and Arabic content if funding wasn't increased.
Building the new English-language news service was incompatible with keeping Deutsche Welle's other programming commitments, Mr. Limbourg said. That prompted a public protest by prominent artists, academics, and ex-politicians.
This year's budget infusion is mostly aimed at the English news service, including building a new television studio. But the fate of many of the broadcaster's German-language staff is still up in the air.
"There is no resolution to the possibility that the German language-service might still be drastically cut next year," said Mr. Enderle. Reporters without Borders, a journalist advocacy group, asked Mr. Limbourg to step down from its board of trustees after the television partnership. Mr. Limbourg has defended the move as helping foster "a dialogue" with CCTV, and he said it wouldn't deter Deutsche Welle's role as a "voice of freedom" in China. The German broadcaster's own websites are blocked in China.
Meanwhile, Deutsche Welle hasn't escaped criticism of its earlier tie-up with China.
By Chase Gummer, The Wall Street Journal
Corrections & Amplifications
Deutsche Welle's annual budget is increasing 2% this year. An earlier version of this article said it is climbing 9.3%.