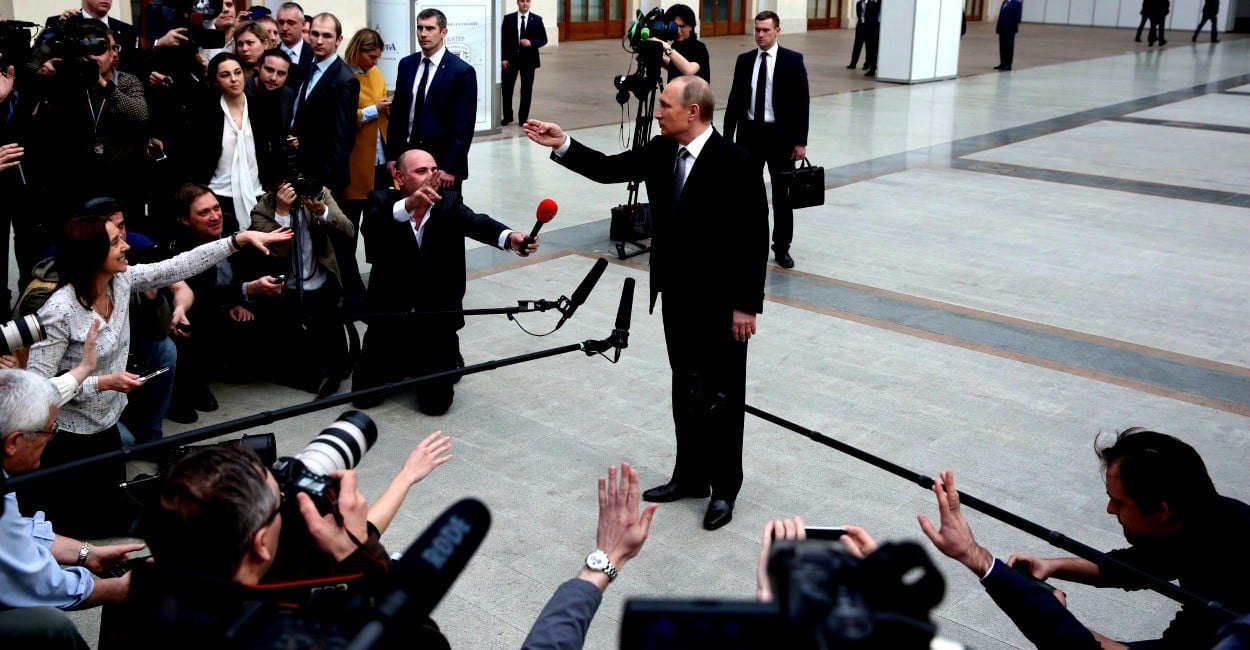 The Russian government's reliance on propaganda to advance its aggressive agenda and control its own population should give the West pause before partnering with Vladimir Putin.
In an April 14 three-hour marathon call-in show on Russian television, for instance, Putin attacked American "imperial ambitions"—hardly an accusation that fits the Obama administration's approach to the world. It is and apt description of Russia under Putin, of course.
In the hands of Russian propagandists, ranging from broadcasters to Internet sites and trolls, the truth is under constant assault and increasingly hard to discern for Russians as well as foreign target audiences, especially in Europe. German Chancellor Angela Merkel has launched an official inquiry into Russian information operations to undermine her political leadership by stoking the refugee crisis.
For the next U.S. administration, a strategy to deal with Russia's weaponization of information (in the context of a comprehensive Russian policy) must be a high priority.
A good guide to Russian propaganda methods is found in the March 27 issue of "Small Wars Journal" by Ukrainian-American journalist Roman Skaskiw. Fundamentally, the message of Russian propaganda can be summarized as: The truth is immaterial and only Russia's interests matter. For Russia, read Putin.
The nine elements identified by Skaskiw are:
Rely in dissenting political groups to deliver your message abroad, far-right is as good as far-left in Europe.
Domestic propaganda is most important to control the Russian population whose living standards are plummeting.
Destroy and ridicule the idea of truth.
Putin is strong. Russia is strong.
Headlines are more important than reality.
Demoralize.
Move the conversation.
Pollute the information space.
Accuse the enemy of doing what you are doing to confuse the conversation.
Many of the elements of current Russian propaganda draw on Soviet disinformation campaigns. Fortunately, the Soviet Union also provides an example of how to defeat the onslaught. The ability to compare their lives with the prosperity and freedom of the West will eventually make Russians sick and tired of being lied to. Helping that process along should be our strategy.
By Helle C. Dale, for The Daily Sygnal
Helle C. Dale is the Heritage Foundation's senior fellow in public diplomacy. Her work focuses on the U.S. government's institutions and programs for strategic outreach to the public of foreign countries, as well as more traditional diplomac