Media stories in English, Russian and German equating crisis in Spain with conflicts in Crimea and Kurdistan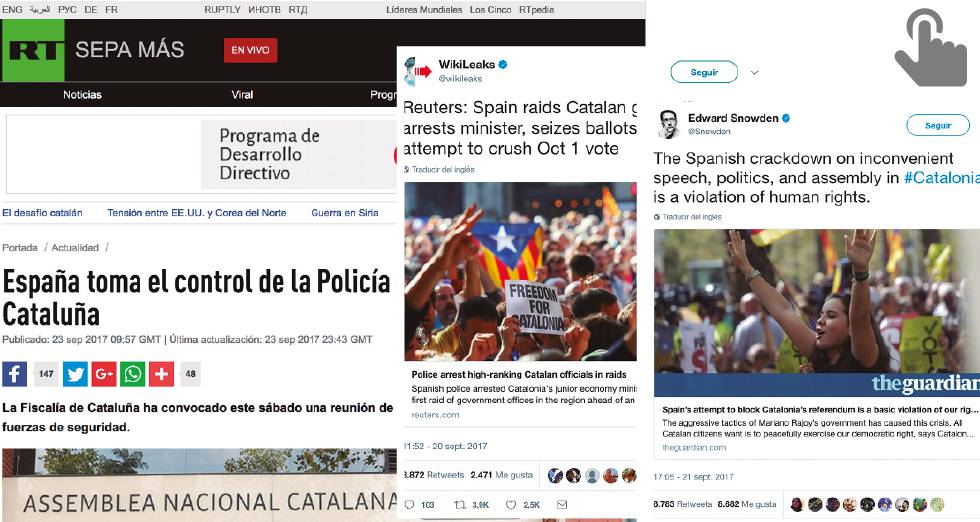 By David Alandete, Madris, for El Pais
In a bid to sow division within the European Union, Russia's online disruption machinery is working at full speed to equate the Catalan crisis to the Crimean or Kurdish conflicts in the eyes of public opinion.
A detailed analysis of pro-Russian media shows that these have multiplied their coverage of Catalonia in Spanish, English, German and Russian, and that all of this output systematically portrays the Spanish government and justice system as guilty of violent repression in the northeastern region. These news organizations claim that Madrid has sent paramilitary troops to Barcelona, and warns that a civil war is imminent as the EU passively stands by.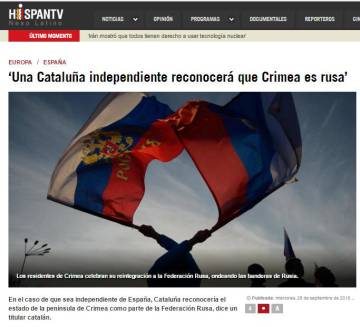 The Russian media compared these events to Russia's 2014 annexation of Crimea and the Kurdish referendum vote that will be held today despite it being deemed illegal by the central government in Baghdad.
One pro-Kremlin news organization, the daily Vzglyad, on Wednesday wrote: "Spain forcibly suppresses the Catalan spring," followed by the assertion that "the Crimean spring has moved to the Pyrenees."
This outlet also notes that "only the intervention of the Russian military was able to uphold the popular right to expression in the peninsula [of Crimea]."
On September 8, the same newspaper wrote that "Catalan politicians are already discussing what they'll do after proclaiming independence. One of them told Vzglyad that Catalonia will seek recognition for Abjasia and South Ossetia," referring to territories that proclaimed their independence from Georgia in the 1990s, and which have only been recognized by Russia, Venezuela, Nicaragua and Nauru, a tiny island in Micronesia.
The source of those statements is Enric Folch, the international secretary for a party called Catalan Solidarity for Independence. In 2015 and 2016, Folch was a delegate at a meeting in Moscow that was organized by the pro-government Anti-globalization Movement of Russia. The conference was partly sponsored with Russian public funds.
Folch is an old source for propagators of pro-Russian fake news. A year ago, several news outlets published a story stating that an independent Catalonia would recognize Crimea as part of Russia – a territorial claim that the Kremlin has been making since 2014. The source of this insider information about the Catalan government's alleged intentions: Enric Folch, a member of a party with no presence whatsoever in the Catalan parliament.
The basic premise of the pro-Russian disruption machinery is to create information that is sometimes real, sometimes fake.
"We're not talking about Soviet propaganda or anything like that. It's not all fake news," says Brett Schaffer, an analyst at the Alliance for Securing Democracy, a project of the German Marshall Fund created in the wake of Russian meddling in the US elections, and whose goal is to "publicly document and expose Vladimir Putin's ongoing efforts to subvert democracy in the United States and Europe."
"This does not mean that Russia wants Catalonia to be independent at any cost. What it fundamentally seeks is to create division, in order to slowly undermine Europe's democracy and institutions," he adds.
The Alliance for Securing Democracy has been tracking Russian influence operations on Twitter, and found that between September 16 and 23, "among trending topics, a thread of pro-secession movements was visible, including support for Kurdistan, Catalonia, and, more subtly, a travel guide for Crimea."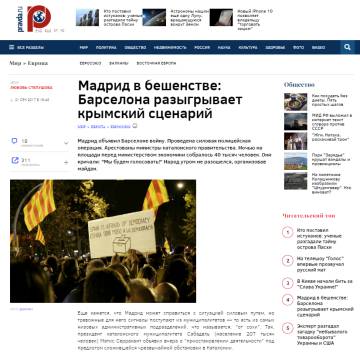 One of the most-shared tweets on September 23 on the German-language channel of the Russian media outlet Sputnik carried the headline: "Searches and arrests in the Catalan government – students demonstrate against the paramilitaries."
And Pravda on Thursday ran a story in Russian claiming that "Barcelona recreates the Crimea scenario." This story was shared on Twitter by two Pravda accounts (@pravda.ru and @pravdaonline) both with a following of 230,000 users. The story clearly says that "if Catalans hold the referendum and unilaterally declare independence, there will be a precedent for the EU similar to Crimea."
One of the Twitter accounts that most aggressively advances the Kremlin's interests is Voice of Europe (@V_of_Europe). In recent days this account has retweeted stories supporting the line that the Catalan conflict is breaking up the EU, such as "Spain BOILS: EU REFUSES to act for Catalonia despite Spain 'violating basic human rights,' or "Spain in CRISIS: Troops sent in as 40,000 protest over 'WAR' on Catalan independence vote."
Russian news organizations with ties to the Kremlin, such as RT and Sputnik, do not publish outright fake news but twist real stories. On Wednesday, RT ran the headline: "State of siege: Catalan officials, including vice-minister of economy, arrested over referendum papers."
RT's Spanish-language Twitter account, with 2.74 million followers, and Facebook account, with 5.1 million followers, are also disseminating messages such as "Catalonia: the dictator Francisco Franco has returned victoriously."
By David Alandete, Madris, for El Pais
English version by Susana Urra