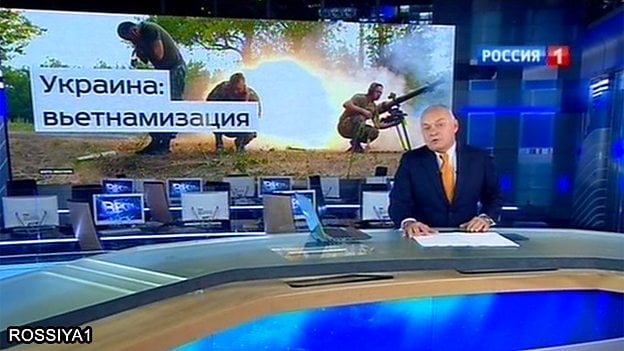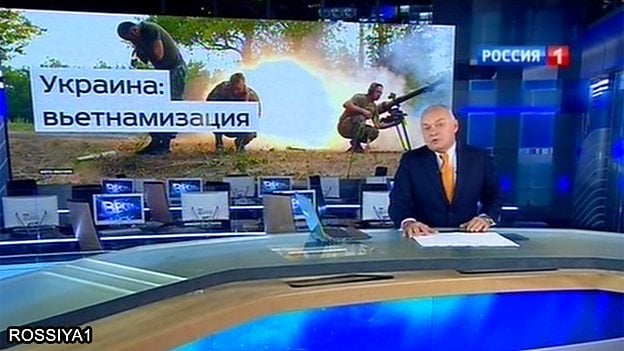 Ever since the start of the Ukraine crisis, Russian state TV has been engaged in what it calls an "information war". Most notably, this has seen a huge surge in anti-Western rhetoric and other inflammatory propaganda designed to demonise those seen as enemies of the Kremlin.
But it has also coincided with other less publicised changes in the behaviour of the main channels and the people who watch them. These have included a huge surge in the amount of news and current affairs programming, the marginalisation of important domestic issues, and an increase in the amount of TV people are consuming.
News surge
The period of the crisis in Ukraine has seen a surge in the amount of news on Russian state TV, especially on the main official channel Rossiya 1, which is second in the overall ratings to state-controlled Channel One.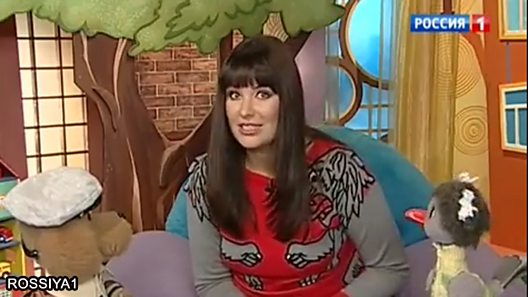 Before the Ukraine crisis, Rossiya 1's main "Vesti" bulletin lasted on average for around 45 minutes. Even now, it is scheduled to run for no more than 50 minutes. But ever since the start of fighting in east Ukraine, it has been regularly running for over an hour. Its average duration at the moment is around 70 to 75 minutes.
But that is not all. The length of its teatime news bulletin has increased from around 20 minutes on the eve of the Ukraine crisis to 75 minutes today, albeit with a 20-minute slot for regional news.
The channel's weekly new roundup "Vesti Nedeli" has also increased its airtime – from around 90 minutes in 2013 to an average of just under 140 minutes today.
Channel One has likewise increased the length of its news bulletins, though not quite so dramatically as Rossiya 1. Its weekly news review "Voskresnoye Vremya" now lasts around 95 minutes, up from 70 minutes a year and a half ago. The length of the main weekday "Vremya" bulletin has risen during the same period from around 30 minutes to 45 minutes.
Talkshow proliferation
The surge in news on Russia's two main channels has been matched by a proliferation of political talkshows.
The most significant change in Channel One's programming over the past year or so has been the introduction of a political talkshow called "Time Will Tell" into its daytime schedules, which until recently had been the preserve of things like food, fashion and celebrity gossip.
"Time Will Tell" currently goes out from Monday to Friday and lasts from 1425 to 1600 local time, with a 15-minute break for news.
Rossiya 1's flagship political talkshow, "Evening With Vladimir Solovyev", used to go out once a week and last a little under two hours. Nowadays, it generally airs twice a week and runs for well over two hours.
Sometimes there are also unscheduled broadcasts of the show. During one week last October, it appeared no fewer than five times. And following President Putin's annual televised "Direct Line" with the Russian people it was shown twice on the same day.
The way these and other political talkshows are managed has evolved during the Ukraine crisis.
In the period around the annexation of Crimea in March 2014, they generally featured only pro-Kremlin speakers. Today, they also include a sprinkling of people voicing pro-Western opinions. But these people are usually outnumbered, are vociferously pilloried by opponents and are often subject to sarcastic and hostile interventions from the presenter. Indeed, they sometimes have the atmosphere of a show trial.
Schedule disruption
The overrunning of news programmes and surprise editions of lengthy talkshows have sometimes played havoc with TV schedules, especially on Rossiya 1.
One of the programmes most affected has been "Goodnight, Little Ones", the channel's bedtime offering for small children.
"Goodnight, Little Ones" is still scheduled to go out at 2050 local time on Rossiya 1, but because of regular news overruns it is rarely (if ever) broadcast there. Instead, fans of the show have to tune in to culture channel Rossiya K or the dedicated children's channel, Karusel.
But even viewers of "Goodnight, Little Ones" are not guaranteed immunity from politics. At the time of the annexation of Crimea in March 2014, the show had one of its furry little characters saying he wanted to join the army to defend Russia's borders. An earlier edition had featured a gentle satire of street protests.
"Manufactured agenda"
Despite the proliferation of news and current affairs programmes, Russian TV news contains very little coverage of key domestic issues, such as the country's economic problems and the state of its public services.
Instead, viewers are distracted from these important matters by what media analyst Vasiliy Gatov has called a "manufactured agenda".
Until recently, this largely centred on Vladimir Putin, with its most glaring examples being the lavish coverage of his staged action-man stunts.
Nowadays, the "manufactured agenda" mainly revolves around highly emotive and lurid propaganda about the war in Ukraine and the Kremlin's confrontation with the West.
A recent EU-funded study found that in March this year Rossiya 1's main news bulletin devoted over 35 per cent of its airtime to Ukraine, but just 1.3 per cent of Russian social issues and healthcare. Channel One's bulletins followed a similar pattern.
As Prof Valeriy Solovey of the Moscow State Institute of International Relations (MGIMO) said in a lecture in April 2014: "If you watch Russian TV, you will see that Russia has no problems other than the adaptation of Crimea. We have no inflation, no decreasing incomes. We don't have any of the typical big-city problems. Russia has none of that. Everything is alright in Russia."
News ratings soar
But Russian TV's obsession with Ukraine appears to going down well with viewers.
According to data from market research company TNS, during the early part of the war in Donbass (February-September 2014), in 22 out of 27 weeks, news programmes topped the ratings.
At the same time, the average audience share of state news channel Rossiya 24 more than tripled to just over 4 per cent.
Since then, Rossiya 24's average audience share has slipped back to 2.5-3 per cent. But that is still more than double what it was before the Ukraine crisis.
Moreover, news and current affairs programmes continue to figure strongly in the ratings. They frequently occupy five or more slots in the weekly top ten, a much stronger showing than two years ago.
The TV ratings also appear to reflect the surge in popularity of President Putin recorded in opinion polls.
His live "Direct Line" in April this year made it into fourth place in the week's ratings, up from 17th the previous year.
The following week a documentary aired on Rossiya 1 to mark the fifteenth anniversary of the start of Putin's first presidential term topped the weekly ratings, being watched by over 11 per cent of the total TV audience. To date, it is the third most popular programme of the year surpassed only by the coverage of the military parade to mark the 70th anniversary of the end of World War II on 9 May and a film about the annexation of Crimea, which also starred Putin.
TV viewing up, revenues falter
For the first time in years, Russians have increased the amount of time they spend in front of the TV screen.
According to business daily Vedomosti, data from TNS shows that in 2014 urban Russians spent on average 244 minutes a day watching TV, up from 238 minutes in 2013, a rise of some 2.5 per cent.
Even more surprisingly, this increase in TV viewing was observed across all age groups, and not just the older sections of society. Previous studies have tended to show that younger Russians were watching less TV.
Despite this, TV channels are seeing their revenues squeezed because of the economic downturn brought on in part by Western sanctions imposed over Russia's intervention in Ukraine.
As Vedomosti reported, TV advertising revenue in the fourth quarter of 2014 was down 2 per cent compared to a year earlier.
By Stephen Ennis, BBC Monitoring