Ukrainian journalist Oleksandr Piddubny demonstrated step by step how to verify quickly the authenticity of information with the help of available instruments.
Case №1
July 14 the famous Ukrainian blogger Denys Kazanskyi published photos on his Facebook page. He stated in a caption that a "tank" (it actually was a self-propelled (SP) gun but in this context it does not matter) overturned while going to the Ukrainian border.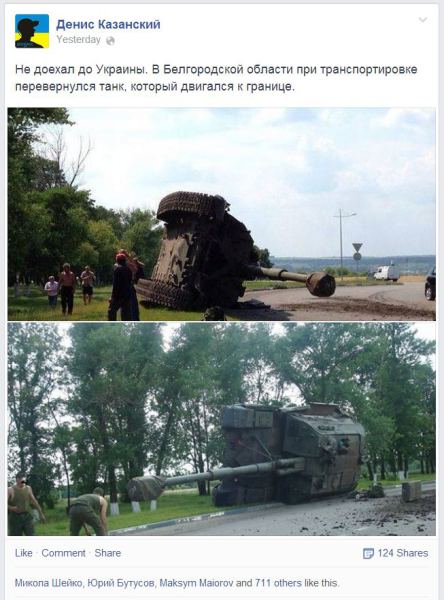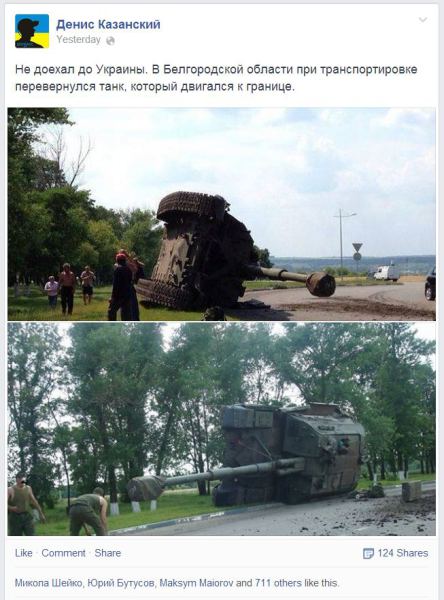 At the time of writing the photo was liked by 714 men and reposted by 124 men. It was after Denys Kazanskyi's post that these photos became full-fledged news about Russia drawing up forces to the Ukrainian border.
For example, such respectable periodical as Dzerkalo Tyzhnia published on its site the news "A tank going to the Ukrainian border overturned in Russia". As you can see from the screenshot below, the periodical refers to Ukrainian TV channel ICTV, in their turn TV men refer to "witnesses of the traffic accident".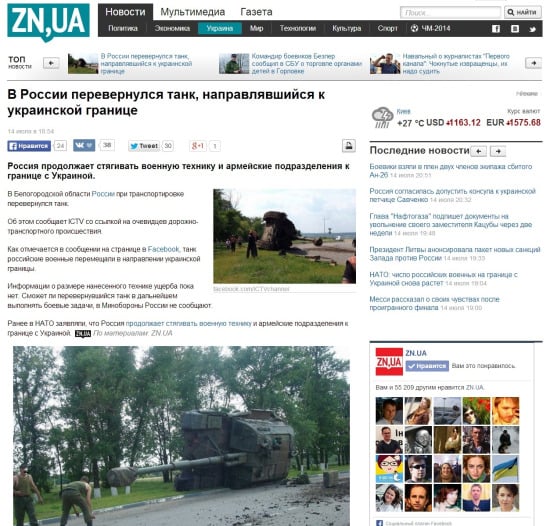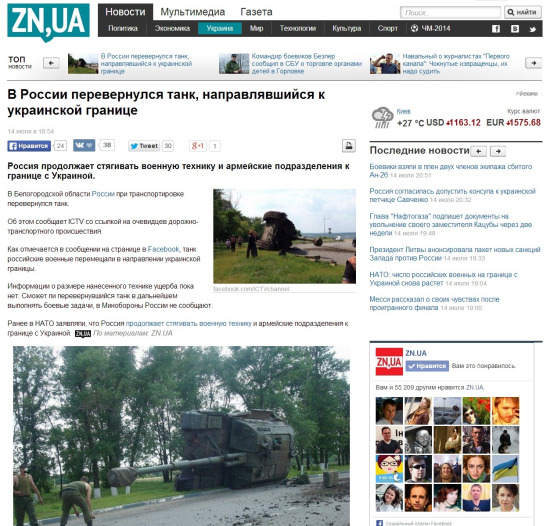 Right after Denys Kazanskyi's post these photos struck me as suspicious. Because of the quality of both photos it was obvious that they were made by different cameras (or smartphones). So I decided to investigate the origin of these photos.
I started from the search by images. An algorithm is simple – download the photo and run it through Google Images.
For example, in such a way I found out that the photo of "Russian tank", allegedly brewed up in Ukraine on June 12 of this year, actually was an edited picture of a tank brewed up in Georgia on August 16, 2008.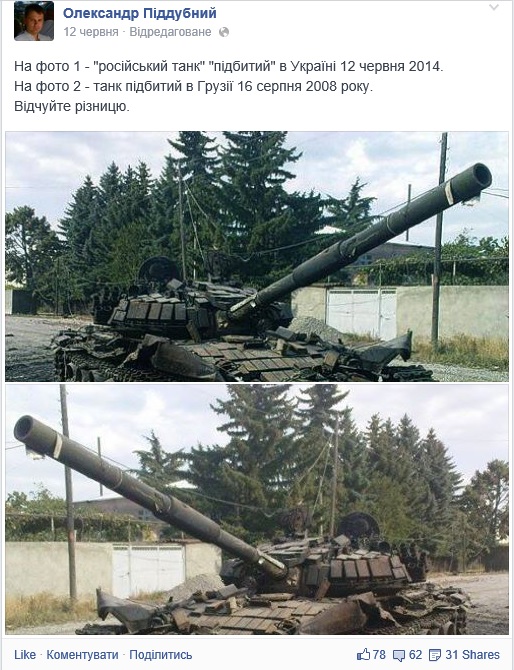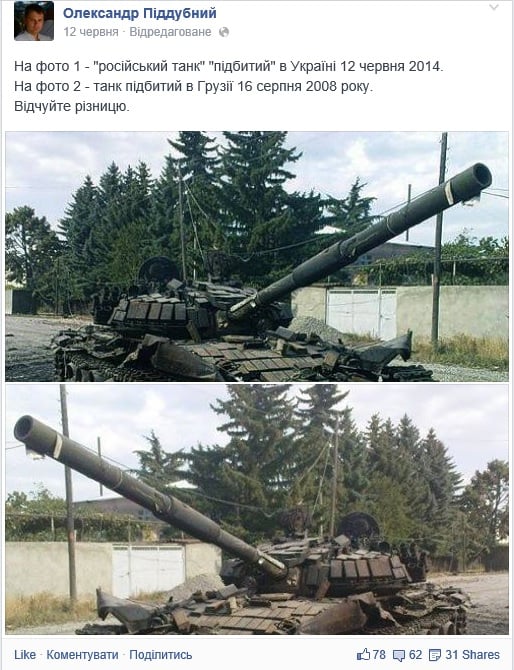 But let's go back to our SP gun. The search by photo produced a great number of references, including those to pages in the Russian social network Vkontakte. As a matter of fact, the photos were published there for the first time.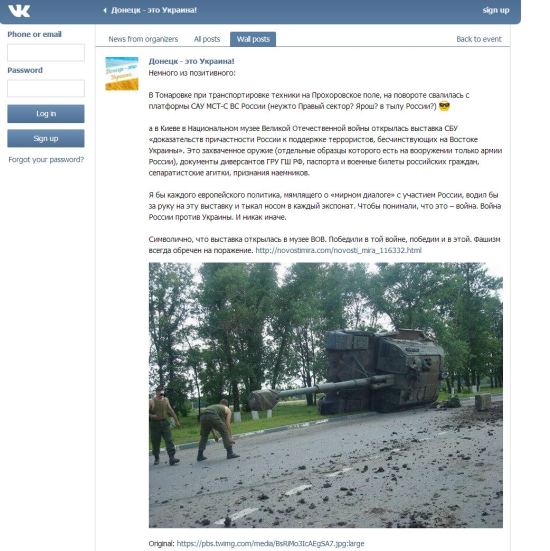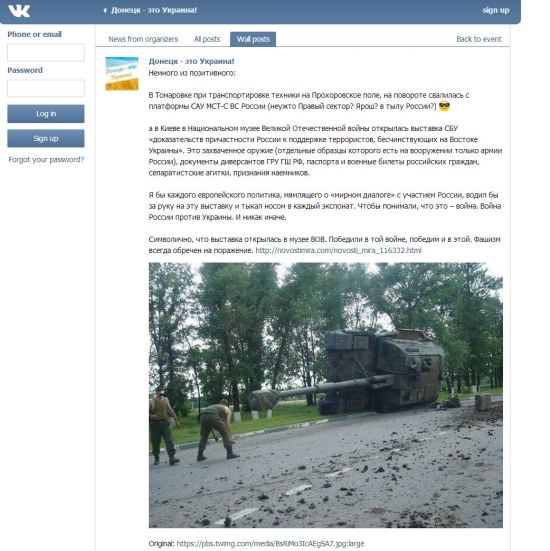 It was written in the Russian social network that the SP gun had overturned "in Tomarovka while military equipment was being conveyed to the Prokhorovskoe Field". Now it is turn of the next Google service – Google Maps. We know that, according to Kazanskyi, the accident happened in Belgorodskaya Oblast and, according to Vkontakte the name of the town is Tomarovka. So, we should enter "Tomarovka" in Google Maps and make sure that this town is in Belgorodskaya Oblast.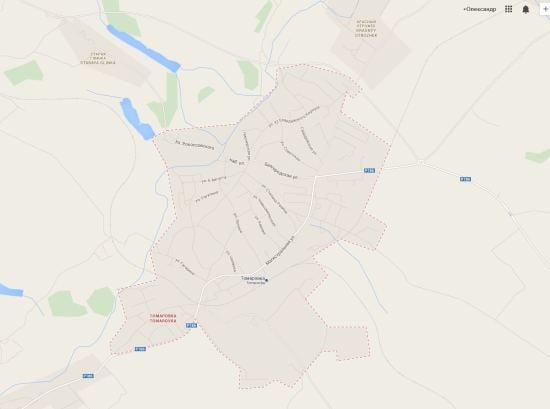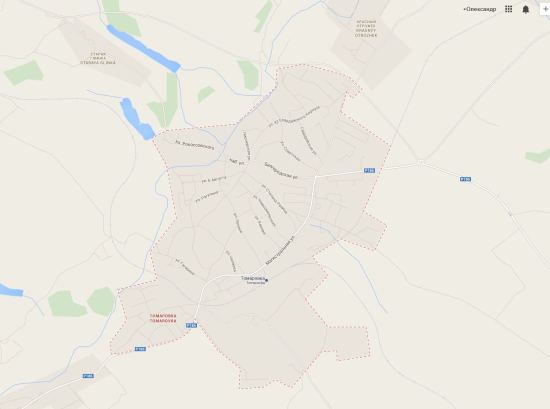 Let's put back the map for a while and go back to the photos. We have to find a place of the accident and clarify if the military vehicle is really going towards Ukraine.
Hear we should turn our attention to details and this is not difficult at all.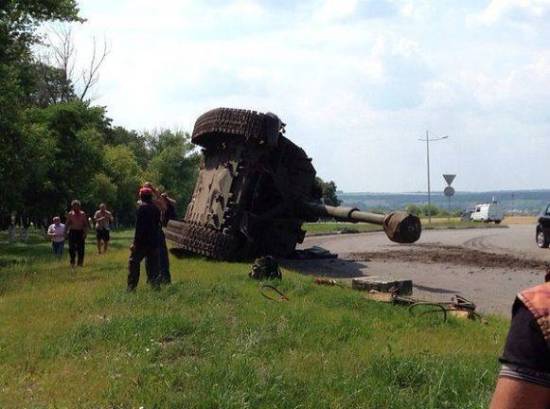 On the first photo we can notice that some town is visible in the distance (let's assume this is Tomarovka). We can see also a smokestack of some plant, and behind it – a broad area of greenery. This gives us a reference point and a direction, something to make a start from. Then let's look more closely. Judging by the twist of the road we could assume that it is a road turn. Let's look closely at a lantern over signs. He has an unusual form and this could also be a clue. Now let's examine the signs. An upside triangle with a round sign. If you are an automobilist, it is easier for you to read these signs. An upside triangle means "Minor road". With a round sign below it usually notifies about circling.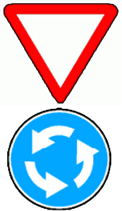 Besides, usually there are no curbs along carriageways in order in a case of accident a car could go off the road and not to catch on obstacles (which is dangerous).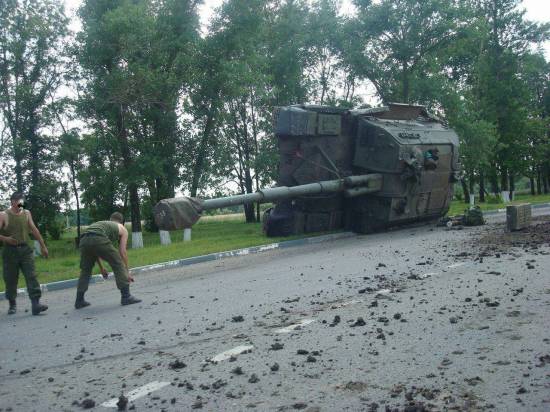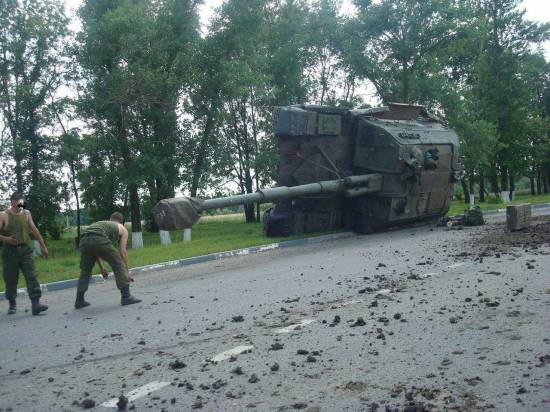 Traffic lane marking is dashed stripe, short and dense. It means two traffic lanes going in one direction. Also an indication of the circle. Take a note of the terrain. This is a thin planting with a field behind it.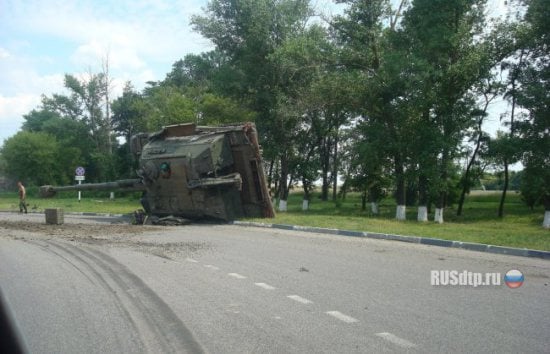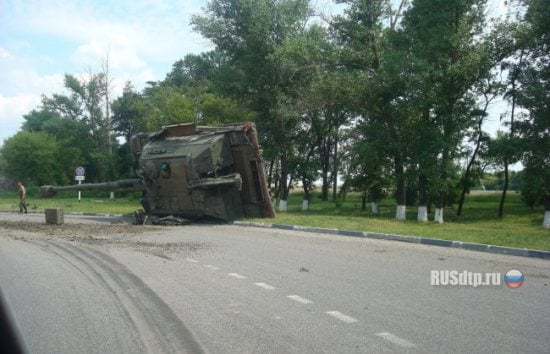 On this photo we can also see a curve, a curb and a few new elements such as trees and a sign "No parking here" with a specified distance of the ban. Let's remember all these elements, go back to the map and look for a circle near Tomarovka.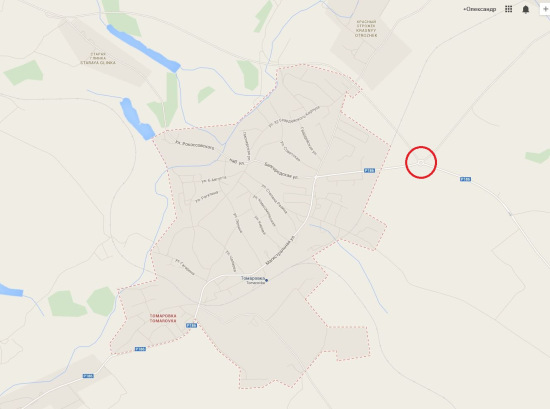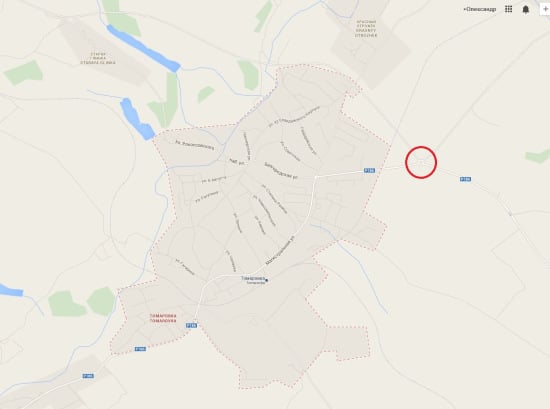 We managed to find only one circle out of five roads, which lead from Tomarovka and are asphalted. I marked it red. It is situated on the east from the town. Right mouse click on the circle and choose "What's here" from the menu.
There is a little picture entitled "Street view" (I marked it red).


Click on this picture and proceed to the virtual view of the terrain. According to it, this part of a road is being repaired and there are no curbs, signs etc. But do not give up. We can see that the circle is being constructed. So, Google pictured the terrain some time ago and something could have been changed. Now let's "walk" and look around. It turns out that the lanterns, which are being installed, are the same as on the picture with SP gun accident. We are on the right way. Now let's look at Tomarovka from this construction area.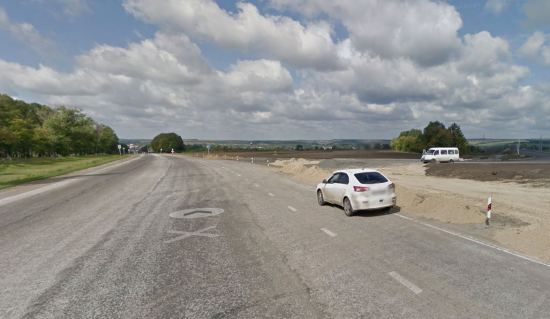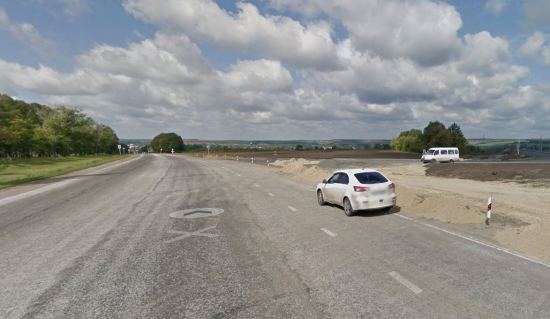 If you magnify the image, you will see the familiar picture: a smokestack (even though repainted) and a broad area of greenery on the background. We are getting closer. Let's turn around. And – bingo – we are here.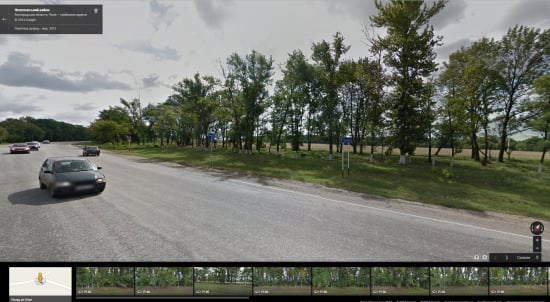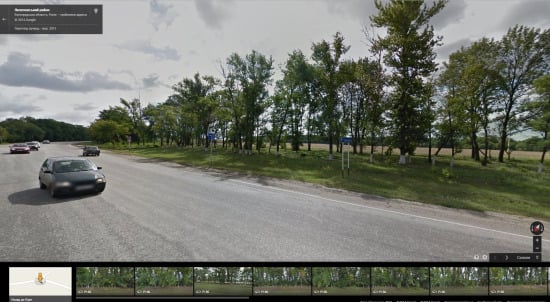 We can see the sign "No parking here" with the banned distance 300 m. Let's look at trees and we will see the site of accident with the Russian SP gun.
Judging by the direction of the SP gun movement, we can see that it went east from Tomarovka.
No reasons to state that the SP gun went to the Ukrainian border.
Case №2
July 15 the informational agency Liga published news "Tanks and three SP guns Gvozdika with Russian flags are spotted in Yenakiieve".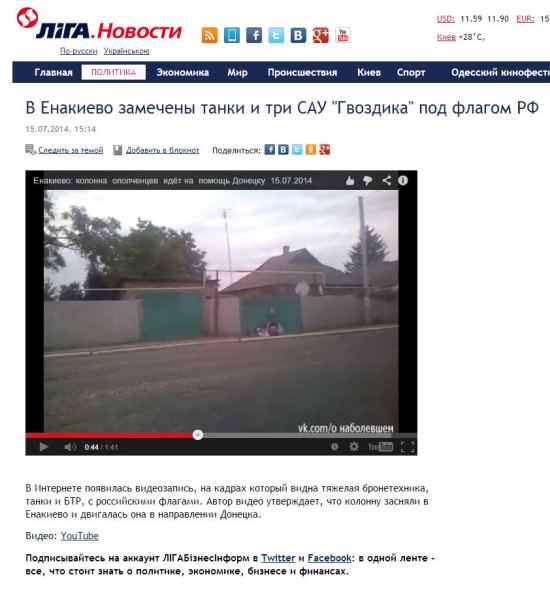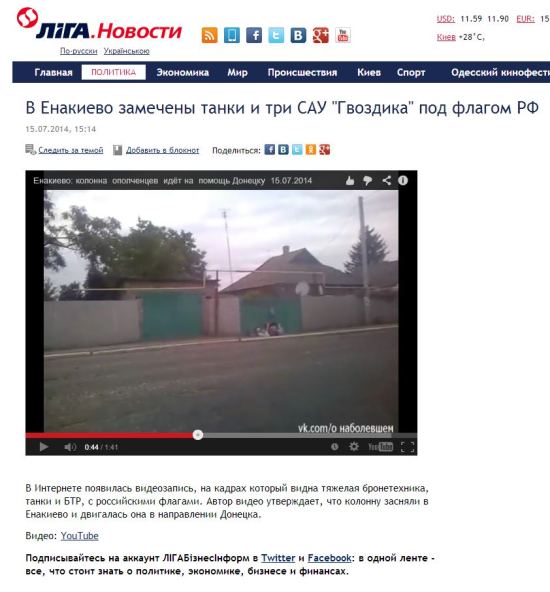 The news is based on an amateur video lasting 1.41 minute. All is filmed from one point. Here we won't be able to catch hold of details, as in previous example. But again the case is not hopeless. Here we turn our attention to the weather. Or rather to the sky.
On the screenshot we can see that the sky is quite cloudy. So let's check the weather in Yenakiieve on the appropriate sites.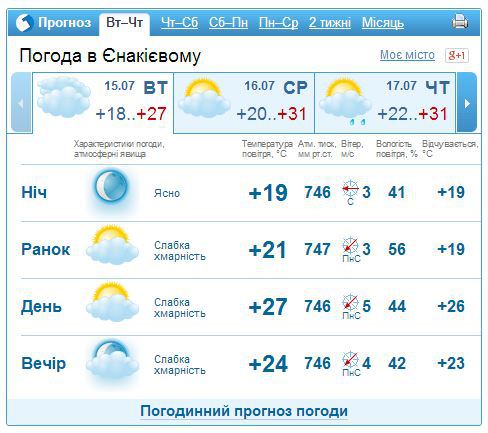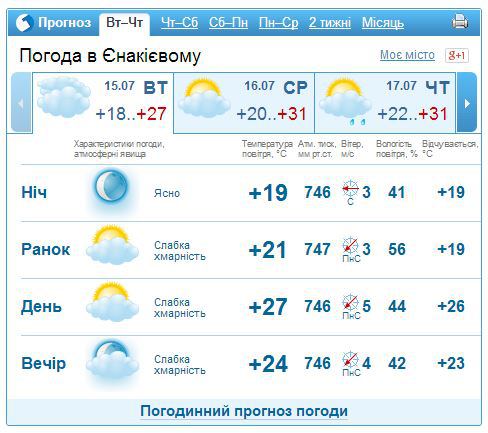 Gismeteo describes the weather in Yenakiieve as "partly cloudy". The sky, which we see on the video, looks more like "mainly cloudy". But this is not confirmed by the new instrument for data verification WolframAlpha as well.
But let's us check it one more time. Let's request from Google "webcamera in Yenakiieve" and we will find the following site. The quality of the picture is quite bad but nevertheless we can see that the sky is far from cloudy.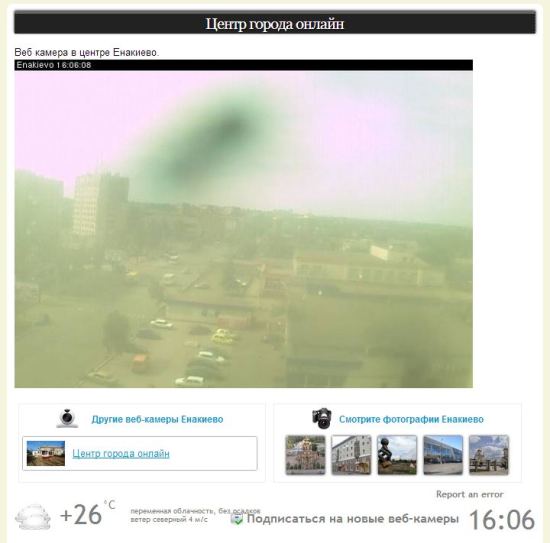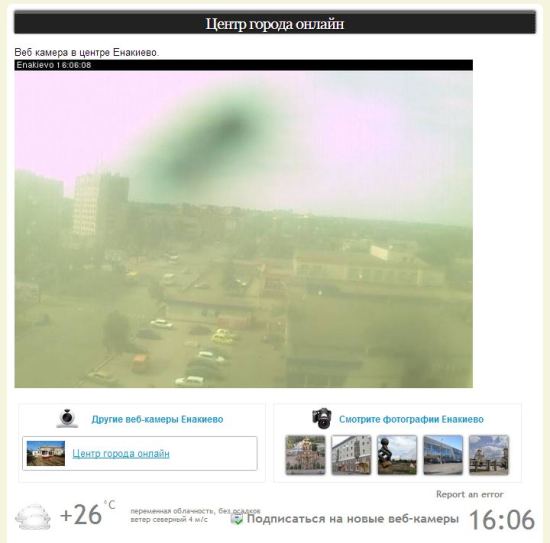 It means that the statement of the information agency Liga.net about Russian tanks in Yenakiieve is doubtful at the very least.
UPDATE
I am told that the east direction of the SP gun is questionable. So, I will explain this with a more detailed scheme: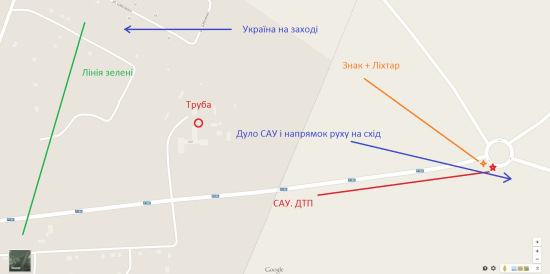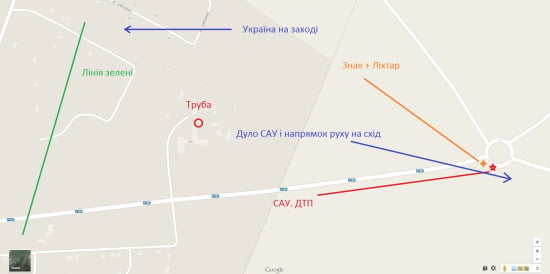 As for the suppositions that the SP gun swerved and started rolling, they are ridiculous. This is not a can, it weights more than 43 ton (the asphalt also would have another look). This ill-fated vehicle was going barrel foremost and fell this way (with its back to Tomarovka). Here is one more photo proof from the image search.