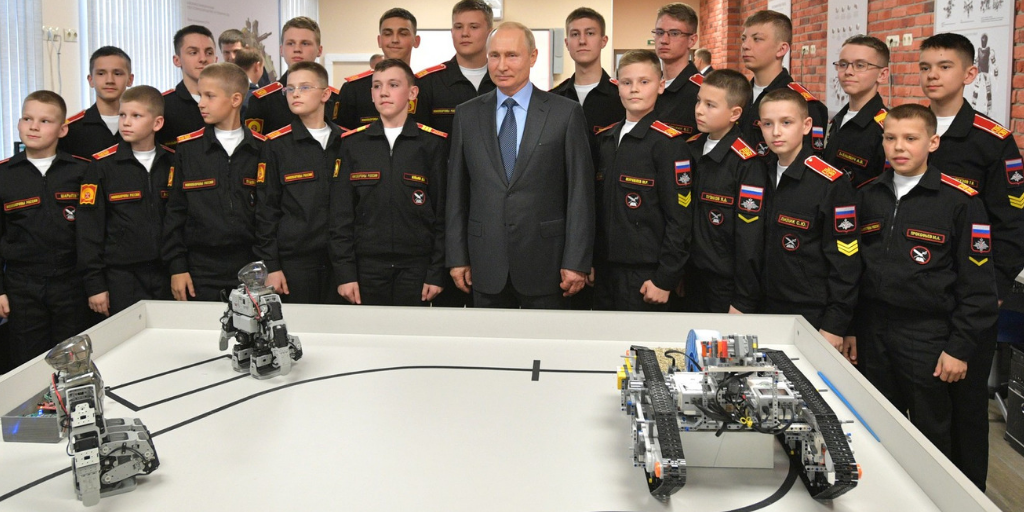 "Russian military robots perform workout exercises in front of Putin," the Russian state news agency RIA Novosti told in a tweet on 23 April.
In its coverage of president Putin's visit to the Suvorov School – a specialised military boarding school for boys in St. Petersburg – RIA Novosti stressed that one of the young pupils had been demonstrating "his own invention."
The problem was, however, that the robot had not been invented at the school; and it wasn't even Russian.
Российские военные роботы показали разминку перед Путиным pic.twitter.com/YkdRVzQkXZ

— Кремлевский пул РИА (@Kremlinpool_RIA) April 23, 2019
The independent news portal Znak was the first to report about RIA Novosti's mistake, quoting Russian social media users who had quickly identified the robot as a Korean-made toy anyone can purchase on Amazon.
High-tech mishaps
It is not the first time Kremlin-controlled media make awkward claims on the topic of robots and other forms of high tech.
In December 2018, state TV Rossiya 24 presented a man in suit as "one of the most advanced robots".
Rossiya 24 has also showed screenshots from a promotional video for a computer game as "irrefutable proof that the US provides cover for ISIS combat troops".
Another state TV channel, Pervyi Kanal, broadcast images of alleged battle scenes from Syria, which turned out to be taken from the computer game "Arma 3".
When Russian state TV showed "Boris, one of the most advanced robots" dancing in front of excited children at an education fair, it turned out to be a man in a costume.
No fact-checking, please!
By the time of writing this article, RIA Novosti had not found it necessary to delete its tweet or make changes to its report.
One can also speculate why the news agency did not fact-check the information about the allegedly Russian robot in the first place.
The explanation is probably very simple: Who will dare to ask too many questions if the president himself has been at the centre of a disinformation story?