Founded by beacons such as Nobel Peace Prize laureate Andrey Sakharov, Memorial has been a constant force to help rehabilitate victims unjustly persecuted and repressed during the Soviet years. Memorial and its branches are also active today in the protection of human rights in some of Russia's most troubled regions, including the North Caucasus. Their work is crucial for countering systematic attempts of historical revisionism and instrumentalisation of history for the purposes of disinformation by the pro-Kremlin media and pundits.
Court rulings
The Russian Supreme Court and the Moscow District Court ruled on 28 and 29 December 2021 in two cases related to Memorial and its branches. Their decision: to dissolve the Memorial International, the Human Rights Society as well as the Memorial Human Rights Centre.
Like in other cases (such as against Alexey Navalny), the charges were technical: failure to adequately declare Memorial a "foreign agent" in all publications; size and place of letters in the announcements etc. But the prosecutor also criticised Memorial's attack on the Soviet Union, and its system of repression, the Gulag. Memorial was accused of "distorting history and painting a false picture of the USSR as a terrorist state".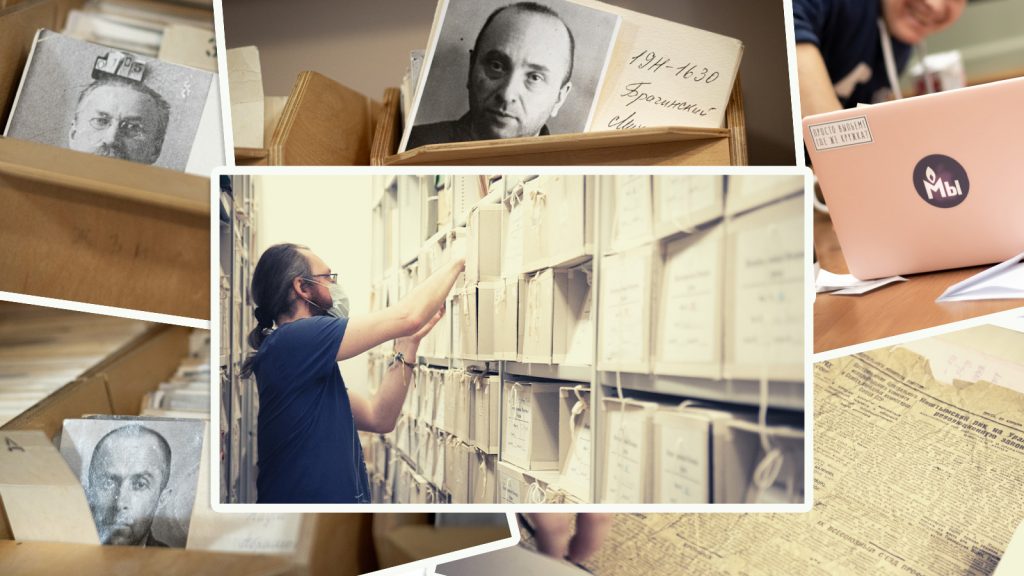 Source: Memorial
Memorial protests this. It is both a tragedy and an irony of history that the original core of Memorial's work, fighting for the legacy and rehabilitation of the victims of a repressive system, the USSR, has now turned the organisation itself into a victim.
The EU together with international partners deplores the decisions of the two Russian courts, calls on Russia to uphold its international human rights obligations and commitments, and continues to condemn the Russian legislation on "foreign agents". See the full statement here.
Memorial's view
EUvsDisinfo interviewed Alexandra Polivanova, member of the Board of International Memorial, after the court ruling. Based in Moscow and managing a line of activities at the main Moscow office, Alexandra is an experienced member of Memorial with first-hand knowledge of the work of the oldest Russian NGO focusing on documenting the repression of the Soviet regime and gross human right violations today. The members of the Memorial team have experienced more than most civil society organisations in terms of pressure from the authorities.
Alexandra Polivanova, how will you describe the recent decisions of the Russian courts regarding Memorial?
We describe the court decision as illegal, unfair, discriminating and political. The official position of Memorial International is here. This is an attempt to put hard pressure on civil society in Russia, to destroy the established institutions of grassroots and self-organisation that have emerged in Russia during the last decades.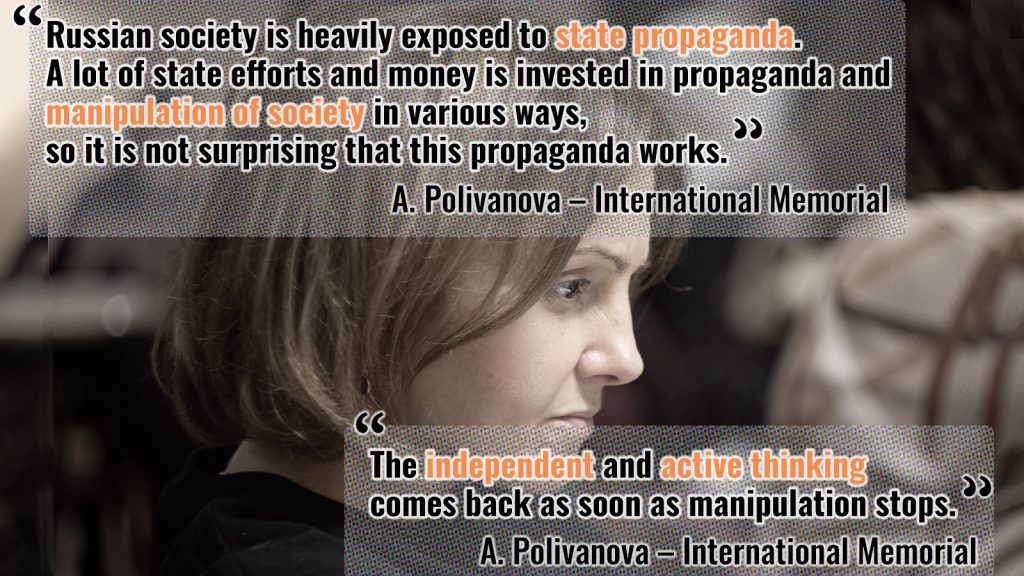 What do you consider is the reason and purpose behind the steps taken by the Russian authorities?
One of the biggest problems for the Russian authorities with Memorial is that it is not controlled by these authorities. Memorial is really an independent organisation based only on a long-term public demand from within Russian society. Memorial is not built into an authoritarian vertical of governance, in which all spheres of public life are somehow subordinated and regulated by the state.
Memorial creates an alternative value narrative compared to that of the state, at the centre of which is not the state but the individual, or human rights as a theoretical base. On the contrary, the state and its attitude towards citizens in the past and present is put under critical reflection.
Do you see examples of blackmail or smear campaigning against Memorial?
Yes, Memorial has constantly been accused of acting in the interests and according to the "instructions" of various foreign states. Russian authorities assume that it is according to "instructions" from foreign states (mainly Europe and the US) that Memorial conducts its work with schoolchildren and students, our research, educational and other kind of work. Another example is that Memorial is accused of imposing "shame of our history among the citizens of Russia", etc.
None of this true. We first design projects that seem relevant to us and which we think are important to parts of Russian society, and only then will we look for funding sources for these projects. And yes, many of the foundations we are getting funding from are somewhere abroad. However, this does not turn us into instruments or agents of others.
How do you assess the Russian general public perception of Memorial?
Russian society is heavily exposed to state propaganda. A lot of state efforts and money is invested in propaganda and manipulation of society in various ways, so it is not surprising that this propaganda works. However, as soon as people have the opportunity to include a little more awareness and their own thinking, it turns out that there are many more people whose values are in tune with ours. Now, it is difficult and it has become even more difficult. However, we know, firstly, that our group of support is really large. A petition in support of Memorial was signed by almost 150,000 people, a petition against the law on foreign agents was signed by almost 300,000, and we constantly receive support from a variety of groups.
Secondly, despite the fact that now Memorial is presented in a very hostile and stigmatised way and that people are wary and afraid of being seen as associated with us, we know that independent and active thinking comes back as soon as manipulation stops. It happens very quickly with most people.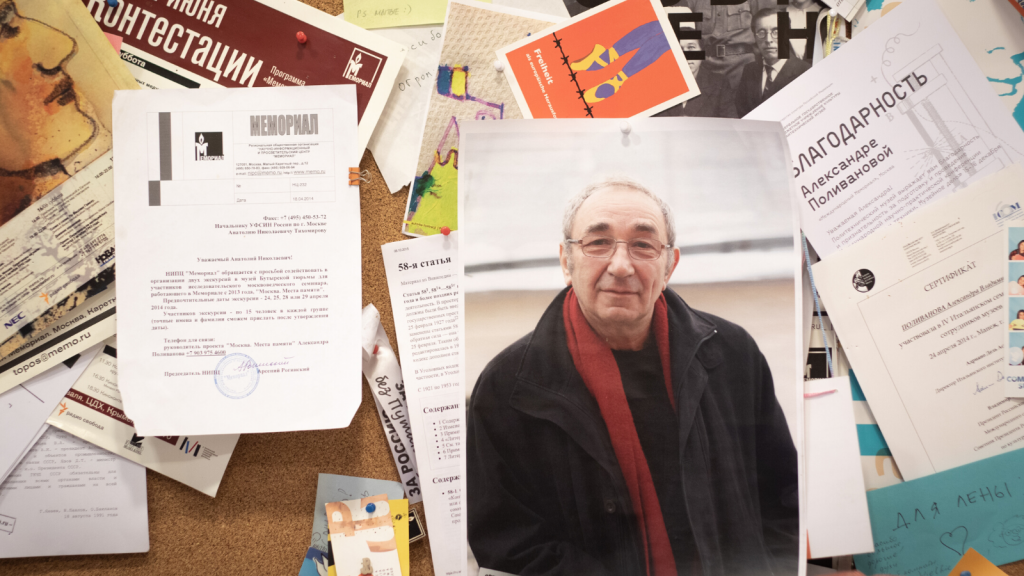 EUvsDisinfo also noted a recent opinion poll in Russia by the respected pollster, the Levada Centre. A third (30 per cent) of Russians know Memorial. Of this group, almost 60 per cent have a positive opinion of the NGO.
Alexandra, how do you see the prospect now for human rights defenders in Russia?
Both Memorial and other human rights organisations will continue their work in Russia. It is obvious that in the near future this work will be difficult, sometimes even dangerous. We will have to look for new forms of work, but this work is in demand and it will continue. It will prevail in the long term.
Yuri Dmitriev – a case in point
As a very real illustration of the difficulties for civil society, EUvsDisinfo noted the sentence handed down on 27 December 2021 against Yuri Dmitriev, Gulag historian and leader of the Memorial office in Petrozavodsk. He received 15 years in prison on what most people consider trumped-up charges. Mr. Dmitriev had been very active and successful in the rehabilitation of local victims of Stalin's repression.
See also our article on the annual 29 October Remembrance Day and Memorial.