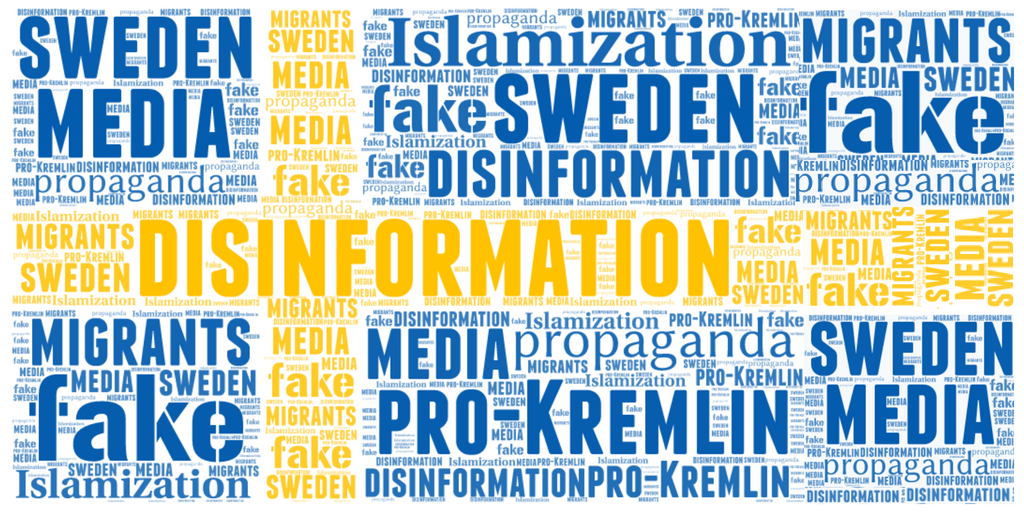 Since Russia illegally annexed Crimea in 2014 – an operation where disinformation, deception and confusion played a major role – Swedish authorities have stepped up their work to protect Sweden from similar hostile influence operations. The government has adopted a new security strategy, Sweden's Security Service (Säpo) have briefed all political parties on the issue and the Swedish Civil Contingencies Agency (MSB) have gathered representatives of mass media and social media for a dialogue on cyber security and the problem of hostile disinformation. The MSB has also set up a special task force focusing on protecting the integrity of the upcoming national election in September and around 9000 actors within the national system for crisis management have been briefed on the challenge.
In our database, pro-Kremlin narratives about Sweden paint the picture of a society on the brink of civil war due to migration, and of a society that is immoral and that has willingly become 'Islamised'. Some particularly interesting examples deserve a closer look.
Curious Cases Involving Russian State Media in Sweden
Contrary to some other parts of the world, Russian state run channel Sputnik didn't survive long in Sweden. After less than a year, Sputnik in Sweden – and in fact in all Nordic countries – shut down.
But the interest in Sweden from Russian state controlled channels did not stop there. One of the main narratives exploited by pro-Kremlin disinformation about Sweden is the issue of migration. Following the logic of exploiting already existing divisions in society this is used in order to describe Sweden as unstable and to create fear.
When Russian state-controlled TV station NTV went to Rinkeby in 2017, a suburb of Stockholm which had seen social unrest at the time, it seems they wanted to see some action. As reported by both Swedish and Danish media, local teenagers were approached by the Russian TV crew and offered money 'to do some action in front of the camera'. As the TV crew had missed the 'real' action a couple of days earlier, they allegedly wanted some footage to match their reporting. A few days later, NTV broadcast a report from the suburb titled "Migrants have turned Stockholm suburb into a zone of extreme danger", where the reason for the unrest was misrepresented as having started with an investigation of rape, while in fact the police was investigating a drug related crime.
Another incident, involving the same channel, took place on the Swedish island of Gotland in 2016. The reportage covered NATO Secretary General Stoltenberg's statement that Russia rehearsed nuclear bombing against Sweden, but also claimed that NATO was threatening Russia through exercises in the Baltic countries and that Gotland had been re-militarized in the context of an aggressive Russia.
To illustrate these claims, NTV went to the County Administrative Board and filmed a civil servant pointing to different locations on a map, while the speaker was claiming that Gotland had been at the centre of all the wars of the 20th century. In fact, the civil servant had been asked by the TV crew to point out the more than 100 nature reserves on the island. There was no mention of war or of the military at all during the discussion.
A similar case was noticed by journalists in Denmark, where NTV misrepresented statements by Danish politicians, again to portray Denmark as Russophobic and warmongering, as we have previously covered. We have also reported on another similar case in France, involving another Russian state TV channel.
Curious Cases Involving Fake Letters in Sweden
Sweden has also seen its fair share of fake letters, presented as if they had been sent by Swedish politicians and high profile persons. All the letters were quite quickly proven fake – both by their poor command of Swedish but also by the targeted persons publicly debunking them.
On 21 February 2015, a letter that looked like it had been signed by Swedish Minister of Defence Peter Hultqvist appeared on social media via a website for local German news. The letter, sent to Magnus Ingesson, CEO of BAE Systems Bofors AB, concerned the sale of weapons to Ukraine, and the Minister supposedly congratulated the company on a shady weapons sale to Ukraine. In fact, the letter was traced to have originated in St Petersburg.
On 2 September 2015, a letter signed by Tora Holst, head of the International Public Prosecution Office in Stockholm, was posted to CNN's website where readers can upload their own stories and later broadcast on Russian state television and pro-Kremlin media. The letter purported to concern an attempt to quash prosecution of a Swedish citizen for war crimes committed in Ukraine.
A third letter, uploaded on an online site where anyone can publish articles by a one-time anonymous user, purported to be from Nada al-Qahtani, an alleged female ISIS leader. The letter was addressed to the Swedish Foreign Minister Margot Wallström, and asked Sweden for support in the name of feminism to send weapons to ISIS via Turkey. The letter was spread in Russian online channels, translated into Russian.
Building Resilience
As a further step towards building resilience, the MSB has also published a Handbook for Communicators, meant as a tool for dealing with disinformation. It is available for free on the website of MSB (link for an English version will follow shortly). But the most important thing in order to create resilience is to build awareness about the threat of hostile foreign influence operations and to improve the capacity for critical thinking among the population, according to MSB.