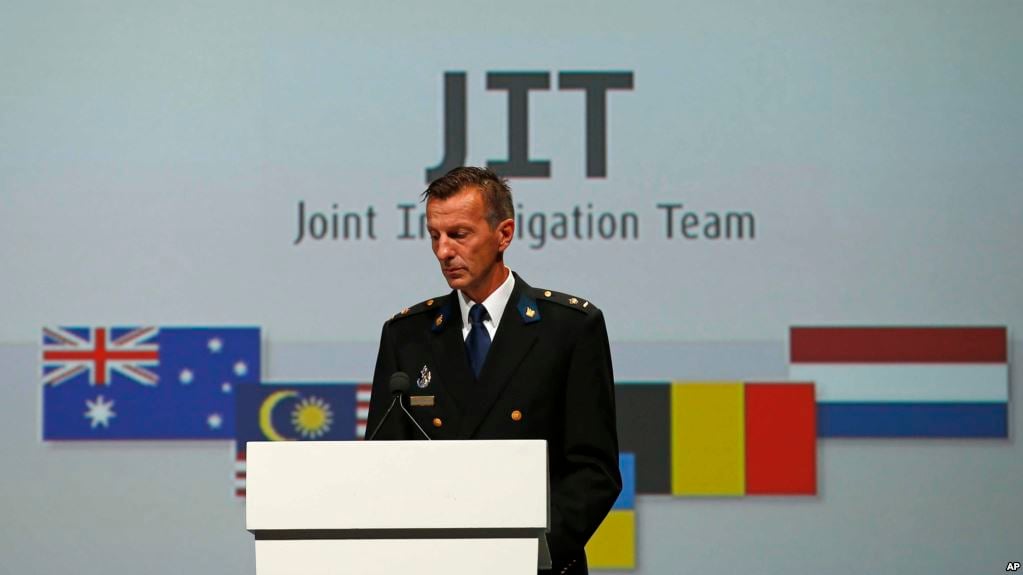 By VOA News
An international team of investigators says it has identified the Russian military brigade responsible for launching a missile that brought down a Malaysia Airlines passenger plane over Ukraine in 2014.
The Joint Investigation Team concluded flight MH-17 was hit by a Buk missile launched by a unit of Russia's 53rd anti-aircraft brigade, according to Wilbert Paulissen of the Dutch National Police. Paulissen made the announcement in Bunnik, The Netherlands during a presentation of preliminary findings of the long-running investigation.
The Kremlin has repeatedly denied any involvement in the downing of the airliner.
The missile, fired from a mobile launcher, struck the Boeing 777 on July 17, 2014 over an area of Ukraine controlled by pro-Russian separatists.
The airliner was flying from Amsterdam to Kuala Lumpur, Malaysia when it was blown out of the sky, killing all 298 on board, most of whom were Dutch.
Chief prosecutor Fred Westerbeke said investigators still have a lot of work to do and were not ready to publicly identify individual suspects. Investigators have to determine whether members of the 53rd Brigade, which is based in Kursk, Russia, were involved in the missile attack.
The Joint Investigative Team, comprised of prosecutors from Australia, Belgium, Malaysia, the Netherlands and Ukraine, are compiling evidence for a criminal prosecution.
A Dutch Safety Board investigation concluded in an October 2015 report the jet was brought down by a Russian-made Buk missile.
By VOA News