<iframe src="https://www.polygraph.info/embed/player/0/30840575.html?type=video" frameborder="0" scrolling="no" width="640" height="360" allowfullscreen></iframe>
By Polygraph
Ayatollah Seyyed Ali Khamenei
Iran's supreme leader
"The cardinal and unforgivable sin of a French magazine in insulting the holy face of the Prophet once again revealed the hatred and hostility of the political and cultural institutions of the Western world against Islam and the Muslim community."
Source: Mehr News Agency, Sept. 8, 2020
MISLEADING
The French satirical weekly Charlie Hebdo republished controversial cartoons of the Prophet Muhammad last week as the trial of 14 suspects in the deadly 2015 terror attack on the outlet began in Paris.
Seventeen people, including 11 employees of the weekly, died in the January 2015 rampage, which the Islamist militants said was in "revenge" for the magazine's publication in 2006 and 2012 of cartoons depicting the Muslim holy figure.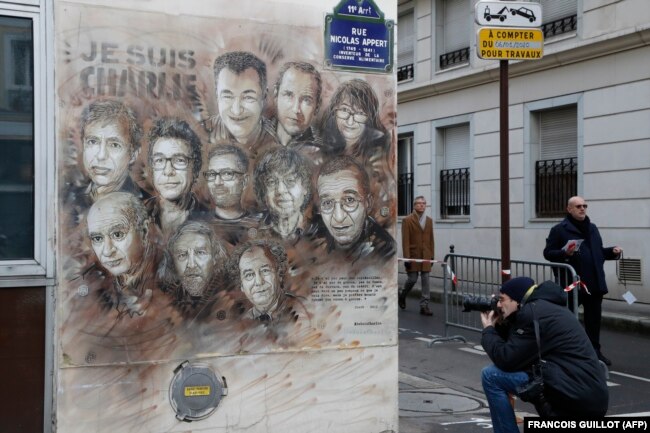 In Iran, protesters responded to the re-publication by burning Israeli and U.S. flags in front of the French Embassy in Tehran on Sept. 9.
A day earlier, Iran's supreme leader, Ayatollah Seyyed Ali Khamenei, addressed the nation, accusing the U.S. and "Zionists" of using Charlie Hebdo to "distract the nations and governments of West Asia" from their "sinister plots."
"The cardinal and unforgivable sin of a French magazine in insulting the holy face of the Prophet once again revealed the hatred and hostility of the political and cultural institutions of the Western world against Islam and the Muslim community," Khamenei said.
That characterization is misleading.
Overlooked by Khamenei: Charlie Hebdo has aimed its satire at other religions, not just Islam. And Western politicians at times have criticized the magazine for going too far.
Charlie Hebdo is a satirical, atheist and far-left publication that regularly targets a broad array of institutions. According to the BBC, the magazine is part of a tradition in French journalism going back to the 18th century that "combines left-wing radicalism with a provocative scurrility that often borders on the obscene."
The magazine's original version, a monthly publication called Hara-Kiri, was established in 1960 and banned twice by the government – in 1961 and 1966. It has operated since 1970 under the name Charlie Hebdo. Over time, the magazine has been accused of anti-Semitism and published cartoons mocking Jesus, the Catholic Church and disaster victims.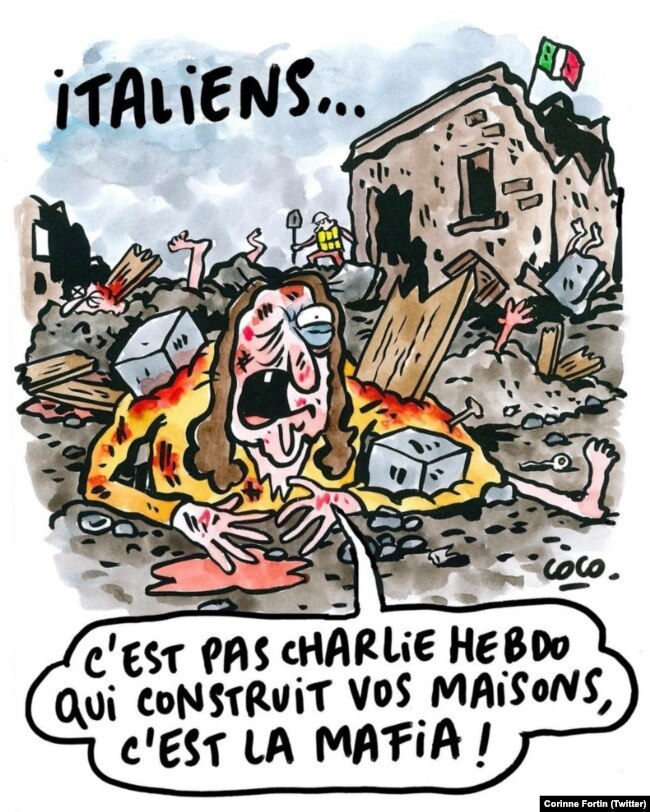 To take just one example of the magazine's in-your-face style, editors in 2016 published a cartoon depicting the corpses from an Italian earthquake as filling in a lasagne. After outraged politicians condemned the insensitivity, the magazine's editors doubled down with another sardonic cartoon, captioned: "Italians, it is not Charlie Hebdo that built your homes, it's the mafia!"
The magazine published cartoons of the Prophet Muhammad in 2006, 2011 and 2012. The 2012 cartoon included a nude depiction that caused the most outrage in the Muslim world. At the time, White House spokesman Jay Carney questioned "the judgment" behind "publishing something like this." The French government tried to persuade Charlie Hebdo from publishing; when that failed, it shut down embassies and schools in 20 countries for fear of reprisals.
France's then-foreign minister, Laurent Fabious, forcefully criticized the magazine, saying the "absurd" cartoons "awakened strong emotions in many Muslim countries" and asking whether it was "really sensible or intelligent to pour oil on the fire?"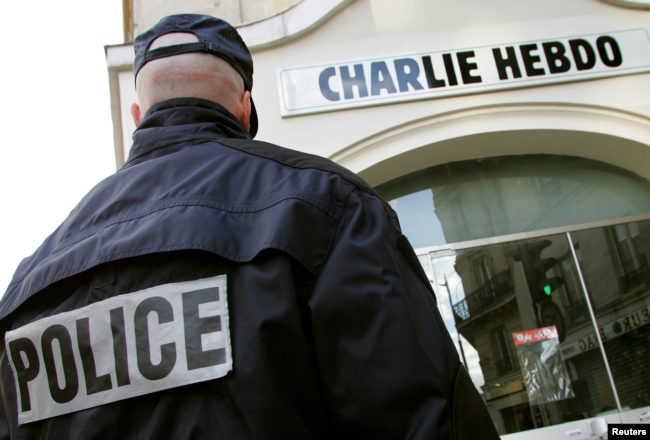 In 2011, Charlie Hebdo's office was fire-bombed and its website hacked after it announced that Muhammad would be "editor-in-chief" of its next issue. The issue carried a cover drawing of the prophet making a sarcastic comment.
The January 2015 terrorist attack put the magazine in the international spotlight, with the violent assassination of its 11 staffers garnering worldwide condemnation. But the magazine's editorial choices have not had universal sympathy.
In April 2015, six prominent Western writers withdrew as guest hosts from the annual gala of PEN America, an anti-censorship group that decided to give the magazine its annual Freedom of Expression Courage Award. The writers said they disagreed with the magazine's promotion of "cultural intolerance."
One of them, Teju Cole, wrote in the New Yorker magazine that although Charlie Hebdo claimed to offend all parties, recently it had "gone specifically for racist and Islamophobic provocations."
In August 2017, Western politicians condemned Charlie Hebdo for publishing a cartoon critical of Islam on its front page after terrorist attacks in Spain killed 15 people and injured more than 100 others.
Stephane Le Foll, a member of France's parliament and former government minister, called the cartoon "extremely dangerous."
"When you're a journalist you need to exercise restraint because making these associations can be used by other people," he said.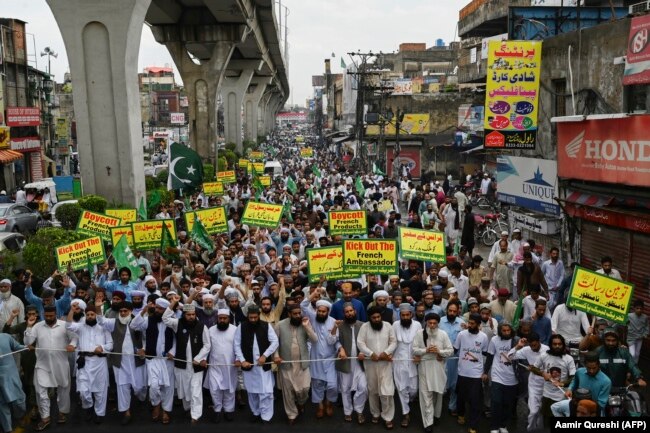 Charlie Hebdo's republication of the Prophet Muhammed cartoons prompted protests in Muslim countries beyond Iran.
In Pakistan, thousands marched and burned French flags. Pakistan's foreign ministry said on Twitter the move was "a deliberate act to offend the sentiments of billions of Muslims" and "cannot be justified as an exercise in press freedom or freedom of expression."
In a harsh condemnation, Turkey's Foreign Minister Hami Aksoy said the republication likewise dismissed a free speech rationale and complained of a "new generation of fascists and racists in France and Europe" acting to "increase anti-Islamism and xenophobia."
In an editorial explaining their decision, Charlie Hebdo's editors wrote: "We have often been asked since January 2015 to print other caricatures of Muhammad. We have always refused to do so, not because it is prohibited – the law allows us to do so – but because there was a need for a good reason to do it, a reason which has meaning and which brings something to the debate."https://www.youtube.com/embed/ZE2g-mddTac?&&&fs=1&enablejsapi=1&rel=0
In the trial that began Sept. 9 in Paris, alleged accomplices in the terrorist attack on Charlie Hebdo's office face various charges that include providing weapons and logistical support for the attacks, which terrorized the French capital for three days. Three defendants are being tried in absentia who are believed to have been killed in Syria while fighting for Islamic State.
Twelve were gunned down in the attack on the magazine's office, including 11 employees and a police officer; a female police officer was killed the following day; and four persons were killed at a kosher supermarket two days later. The three gunmen were killed in a police raid on Jan.9.
By Polygraph