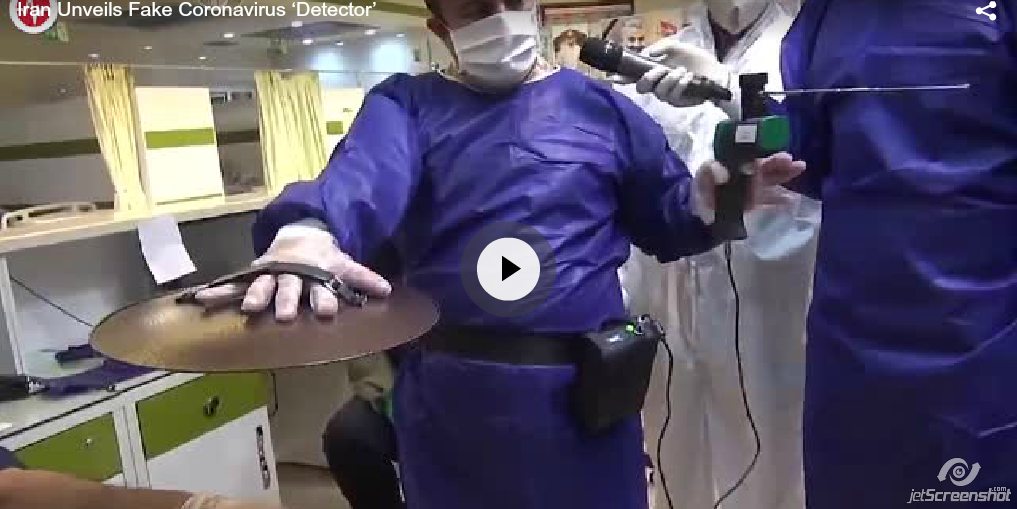 By Polygraph
Brigadier General Ramezan Sharif
Official Spokesman of Iran's Islamic Revolutionary Guard Corps
"The device enables 'momentary' detection of the virus with 70- to 80-percent accuracy and has been tested throughout a 10-day-long period across at least 10 hospitals before being unveiled."
Source: Press TV, April 15, 2020
Likely False
Iran has previously flaunted a fake fighter jet and a phony space suit.
Accurate testing for infection by the novel coronavirus is a crucial part of stopping the spread of COVID-19. But in Iran, one of the hardest-hit countries of the global pandemic, a solution promoted by the Iranian Revolutionary Guard Corps could make things much worse.
On April 15, Islamic Revolutionary Guards Corps spokesman Brigadier General Ramezan Sharif announced that Iran had a new device that could detect COVID-19 coronavirus infections "in real time."
Major General Hossein Soleimani, commander of the IRGC, was present at the unveiling ceremony in Tehran. He explained that the device works by generating a magnetic field and is fitted with an antenna that points in the direction of an infected patient.
IRGC spokesman Sharif explained the device's purported capabilities in more detail.
"The device enables momentary detection of the virus with 70- to 80-percent accuracy and has been tested throughout a 10-day-long period across at least 10 hospitals before being unveiled," Sharif said.
This is likely false.
No sooner was the device announced than Iran-watchers on social media reacted with sarcasm, noting its similarity to a fake "bomb detector" sold by British fraudsters that caused a scandal in Iraq and the U.K. six years ago. The device also closely resembled one bought by the Egyptian military in 2014,which was purported to detect HIV and Hepatitis-C.
Like the purported bomb detector, the Iranian device appears to work like a dowsing rod. Dowsing is an old, pseudoscientific practice used to find things underground, like water. Traditional dowsers use a rod or stick, which was often just a forked tree branch.
More modern dowsing techniques use pendulums or long wire antennas connected to handles. Movement in the antennas signals when the sought-after substance is near.
Dowsing, a practice dating back to the medieval era (if not further), has never been proven to work under scientifically controlled conditions. Despite having been debunked by skeptics such as James Randi, co-founder of the Center for Skeptical Inquiry and the James Randi Educational Foundation, the practice is still so prevalent that the U.S. Geological Survey has a page on its official website warning visitors about the practice.
In a video demonstration of the Iranian device, a piece of antenna on a freely rotating cylinder is attached to a cymbal-shaped dish that is held over the patient. As the operator moves the hand with the antenna, it swings like a dowsing rod.
Accepted COVID-19 coronavirus testing typically involves what is called a nucleic acid amplification test to detect the virus's genetic material in a patient. Other tests look for antibodies that are created when the immune system attacks the virus. The former test is considered more reliable than the antibody test.
Iran quickly became one of the pandemic's epicenters, suffering more than 2,000 deaths by the end of March. Critics blamed the government's initial failure to take the virus seriously. Supreme Leader Ali Khamenei suggested the United States might be responsible for spreading the coronavirus. In February, Iran's health minister downplayed the threat of the virus, publicly denouncing measures such as quarantines as archaic one day before he announced that he had tested positive for coronavirus and would be going into self-quarantine. Given this false start in taking pandemic countermeasures, and the lethal results of that lack of action, Iranian authorities have all the more reason to try and reassure citizens they have the situation under control.
Iran has used phony props before. Previous Polygraph.info posts and other news media have highlighted the purported Qaher-313 "stealth fighter jet" and a "space suit" that was later revealed to be a child's costume.
By Polygraph