Faktograf.hr, a fact-checking portal based in Croatia, became the target of a smear campaign followed by a series of hacking attacks during the month of January. In fact, since the COVID-19 pandemic broke out in early 2020, Faktograf's newsroom staff have also reported over 40 threats to the police – mostly violent threats and several death threats.
However, more was yet to come as the pandemic continued to loom: during the most recent cyber-attack, in mid-December 2021, Faktograf's website registered over 100 million login attempts in less than three days. Servers mostly located in Russia, China, Indonesia, Brazil, and the US drove this distributed denial-of-service (DDoS) attack. Faktograf's staff gathered as much data – and lessons learned – as possible from the attack, and have reached out to the relevant authorities to take the necessary legal actions.
"We tried to collect as much information as possible about the attack, all the while trying to protect our site. All collected information has been forwarded to the police, but we still haven't received any news about the attack", Ana Brakus, Executive Director of Faktograf, told EUvsDisinfo.
Risky business: fighting COVID-19 misinformation
Faktograf is a partner in Meta's third-party fact-checking programme, fact-checking content on the company's main social network – Facebook. This task, especially since the onset of the pandemic, has put fact-checking journalists at severe risk – including receiving death threats and insults.
The threats are, sadly, ongoing. Ana Brakus reported that just recently, Faktograf's editor-in-chief Petar Vidov received a very disturbing text message on his phone:
"I'm personally going to beat you and cut the fingers from both your hands, f*** your mother […]"
This has, of course, once again been reported to the police, Ana Brakus says. "We have no doubt that this violent threat is related to our work as journalists. The amount of pressure that we are constantly under is hard to describe, and we are lucky to have such a great team of journalists who stick together and support each other."
Faktograf started informing and fact-checking reports on COVID-19 as early as February 2020. Since then, the portal has produced over 600 articles that have helped challenge and debunk misinformation narratives related to the pandemic in Croatia and the broader Western Balkans region. Fact-checked topics included alleged vaccination cardiovascular risks and the vaccine causing "massive" deaths abroad, as well as counterering the statements of some of Croatia's most shared anti-vaxxers.
Faktograf also went for a hands-on approach directly answering 400 spontaneous questions and requests from readers about COVID-19, and helped create a larger regional fact-checking network: SEE Check. Established at the height of the global health crisis, SEE Check comprises six fact-checking organisations from five countries in South-Eastern Europe, three from the Western Balkans (Bosnia and Herzegovina, Serbia, Montenegro) and two EU Member States (Croatia and Slovenia) that work together on the promotion of media accountability, the improvement of media literacy, and the fight against media misinformation and disinformation.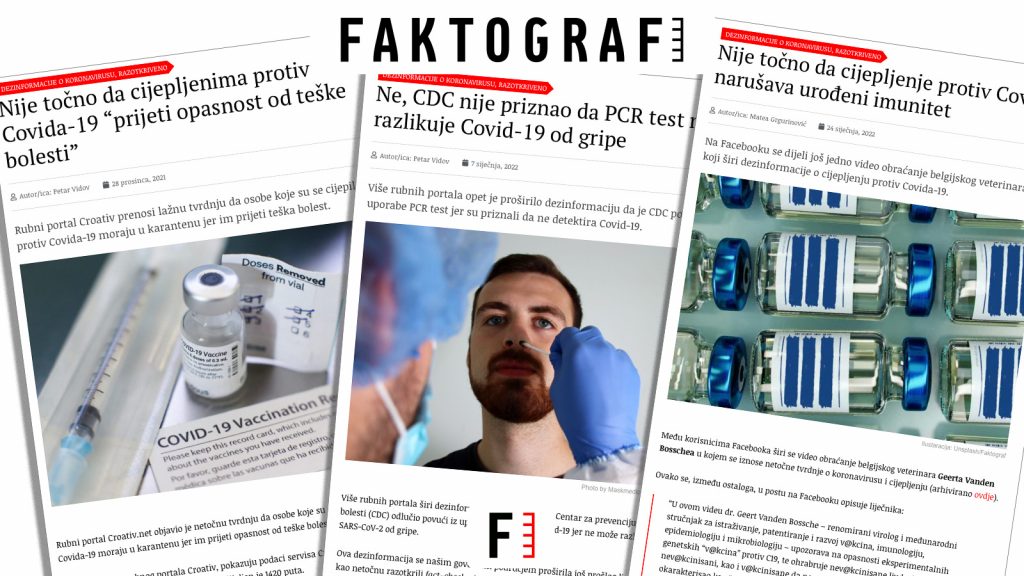 Cyber-attacks, abusive litigation and European support
Whilst – sadly – harassment and threats against journalists are not new in the region, the number and magnitude of the cyber-attacks experienced by Faktograf's website in mid-December 2021 were unheard of.
The public smear campaign against Faktograf reached yet new levels when a local public entrepreneur – a prominent figure in the anti-vaccination and anti-COVID measures movements – posted on several social media platforms a funding campaign to pursue defamation lawsuits against the portal. This publication was immediately followed by a new wave of insulting messages and death threats on social platforms.
"Threats of lawsuits have become a common way of trying to silence journalists. We are not infallible, and apologise and correct ourselves when we get it wrong – which sometimes happens. But we are also not afraid to defend our work when we need to – even in court", the executive director of Faktograf said.
Relying on lengthy and expensive legal actions is not new: these legal actions are usually initiated by those helping to spread misinformation or plainly creating disinformation, are better known as abusive litigation (SLAPP) against journalists and right defenders and have the sole purpose of financially draining and silencing independent or opposing media outlets.
Despite these difficult circumstances, Faktograf's team received encouragement and unwavering support from its readers, all members of the SEE Check platform, as well as regional and global fact-checking partners and associations of journalists such as the European Federation of Journalists (EFJ) and the local Croatian Journalists Association (HND) and the Journalists' Union of Croatia (SNH).
One of the leading fact-checkers in the region working in Bosnia and Herzegovina, co-founder of the SEE Check platform and member of the Advisory Board of the International Fact Checking Network (IFCN), Tijana Cvjetićanin, said that on top of all the tragic consequences it has had, the COVID-19 pandemic has also, "unfortunately, given an opportunity to many to spread dangerous disinformation, exploit fear and uncertainty for their personal gain and, in the process, undermine the very foundations of our shared reality".
"In such circumstances, those whose work is based on establishing facts – scientists, journalists, fact checkers – have, sadly, become targets of various kinds of attacks from radicalised believers in conspiracy theories. Solidarity is, thus, incredibly important in these times when we're all experiencing increased hostility and aggression because of the work we're doing", Tijana Cvjetićanin said.