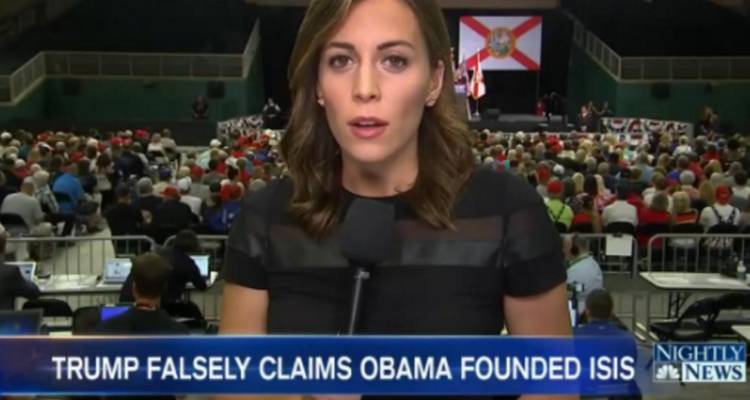 Political reporters are showing that fact-checking isn't just for fact-checkers, Bill Adair wrote for Poynter.
After Donald Trump declared repeatedly last week that President Obama and Hillary Clinton "founded ISIS," an Associated Press news story called the statement "patently false." The first paragraph of an article in The Guardian referred to it as "a false claim." On NBC News, a segment by correspondent Hallie Jackson carried the headline "TRUMP FALSELY CLAIMS OBAMA FOUNDED ISIS."
But despite that encouraging progress, too many news organizations are still repeating candidates' claims without noting when they're false. Some, including The New York Times, published stories that failed to say Trump's claim wasn't true. Online coverage by ABC News didn't note the error, nor did a story in the South Florida Sun-Sentinel.
Around the world, fact-checking is booming. More than 100 outlets now check the statements of politicians, which is up more than 50 percent in the past year. Fact-checkers are posting their work faster than ever, often minutes after a politician makes a claim. CNN has even used the chyron headlines at the bottom of the screen for parenthetical fact-checking.
For the past decade, most of this journalism has been the product of dedicated fact-checkers such as FactCheck.org, The Washington Post Fact-Checker and PolitiFact. But lately the most promising growth has been in routine news stories that now include a sentence or two indicating when a statement is inaccurate.
It's an important trend.
All news organizations should call out falsehoods in everyday coverage of speeches, campaign commercials and political debates. Noting the accuracy of a political claim should be as standard as including someone's hometown or party affiliation.
Editors and news directors have traditionally taken a cautious approach when covering political news and left the verification to the fact-checkers. They've been OK with instant punditry but have left the harder work of verifying claims for later — if they have done it at all.
Yet today, it's easier than ever for reporters to fact-check. Many claims can be confirmed or debunked with some brief research. If journalists don't have enough time, they can cite the work of nonpartisan fact-checkers such as FactCheck.org or PolitiFact.
Jackson's segment on NBC showed fact-checking can be a seamless part of a political news story. Although her network has a partnership with PolitiFact, where I am a contributing editor, this was a reporter calling out the falsehood on her own authority. As she said in a voiceover, "The founder of ISIS is this man, Abu Musab al-Zarqawi — not President Obama."
Sure, there are times when that kind of debunking isn't possible. Many claims haven't been examined by fact-checkers and wording can vary. There also are deadline pressures when there simply isn't time to verify a claim. But with so many fact-checkers examining so many different claims, there is a massive archive to draw from.
Lucas Graves, a journalism professor at the University of Wisconsin and author of "Deciding What's True: The Rise of Political Fact-Checking in American Journalism," says there are important benefits to checking claims immediately. Left alone, falsehoods can simmer and grow.
"It's difficult to dislodge a falsehood once it's taken hold," Graves says. "If you can debunk the claim the moment it's uttered, that's much better."
That also puts pressure on politicians not to repeat the false claims, Graves says.
Fact-checking in news coverage is the best way to intercept a falsehood at the scene of the crime. And it is exactly the kind of reporting that makes daily journalism more valuable. It still gives politicians a chance to have their say, while giving readers and viewers the context they need to evaluate those statements.
Some news consumers may reject those findings and accuse journalists of bias. But if journalists aren't willing to give voters the facts, who will?
By Bill Adair, Poynter
Bill Adair is the Knight Professor for the Practice of Journalism and Public Policy at Duke University and the founder of PolitiFact. The fact-checking site is owned by the Tampa Bay Times, which is owned by Poynter.