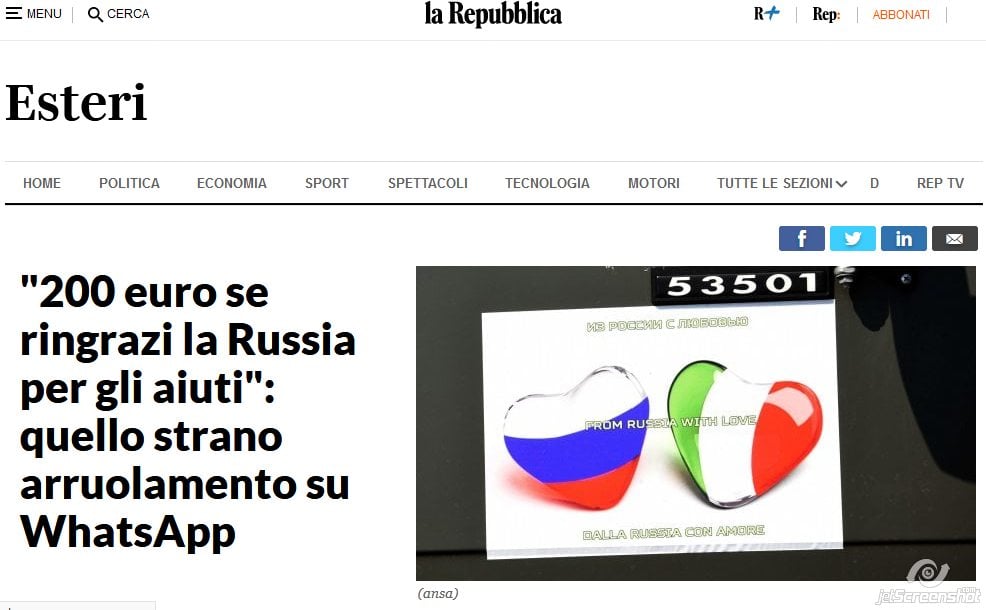 By UNIAN
Italians are being offered EUR 200 for starring in a video to be shot by "Russian media", thanking Russia and its president, Vladimir Putin, for humanitarian assistance.
Such proposals are being spun via WhatsApp messenger, Italy's La Repubblica reports.
"They need 15 Italians who will say something good about Russian humanitarian aid. It better be a video or a post with photos, but they pay 200 euros for the video, giving less for the post," the publication reported, citing the text of the message delivered to one of the country's residents.
Videos with the praise of the Russian authorities are offered to be posted on Twitter, Facebook or Instagram.
As UNIAN reported earlier, some 20,000 died with the coronavirus in Italy.
The "assistance team" that arrived from Russia is supervised by the defense ministry, with part of team members being totally unrelated to medical staff, such as propaganda pundits and troops allegedly representing Russia's Special Operations Forces, according to a U.S. think tank IGTDS.
By UNIAN