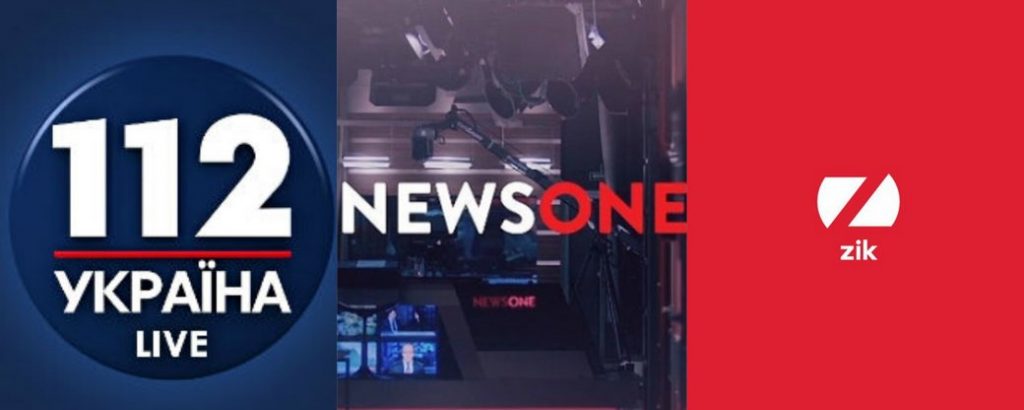 Please read and share the joint statement of Ukraine Crisis Media Center and numerous other Ukrainian NGOs about the sanctioned pro-Russian TV-channels. It explains what it's not an attack on freedom of speech. 112, Zik and Newsone are tools of malign influence operation disseminating Kremlin agenda and should be treated as such.
We, the representatives of Ukrainian civil society and expert community countering disinformation, insist that sanctions imposed on Taras Kozak, legal owner of TV-channels 112, ZIK and Newsone, and legal entities linked to him by the decree of President Volodymyr Zelensky on February 2, 2021 to implement the decision of the National Security and Defense Council of Ukraine, do not constitute an attack on the freedom of speech.
These channels constitute tools of foreign influence operations, and therefore a systemic treat to information security of Ukraine for the following reasons:
According to the Presidential Office of Ukraine, they are funded from the Russian Federation, which has been illegally occupying Crimea and territories of the Donetsk and Luhansk regions for 7 years;
They consistently promote Kremlin disinformation, including but not limited to the false, misleading and manipulative narratives of "fascist post-2014 Ukraine", "Russophobia", "Ukraine as a failed state" and "Ukraine is controlled by the West". The general narrative of these channels is that Ukraine does not have a right to exist as a pro-European independent country;
These channels do not apply the principles of the freedom of speech and journalistic standards in their work (example);
They repeatedly serve as a tool for political PR in favor of its owner's pro-Russian political party;
They frequently employ experts with no relevant education and professional experience to promote the political agenda favored by the channels' owner;
These channels served as a platform for the promotion of the far-right.
Considering all of the above, 112, ZIK and Newsone cannot be considered genuine media intending to provide objective and unbiased information for the good of the public; they behave as tools of malign influence operations aimed to smuggle narratives of Kremlin propaganda under the mask of "domestic" Ukrainian media. Limiting their activities in Ukraine is a step towards enhancing information security of the Ukrainian state, especially vital during the ongoing Russian aggression against it.
SIGNATORIES:
Ukraine Crisis Media Center
International Volunteer Community "InformNapalm"
Detector Media
StopFake
Center for Army, Conversion and Disarmament Studies Security Environment
Research Center «Prometheus»
Foreign Policy Council "Ukrainian Prism"
VoxCheck
Center for Defense Reforms
Euromaidan Press