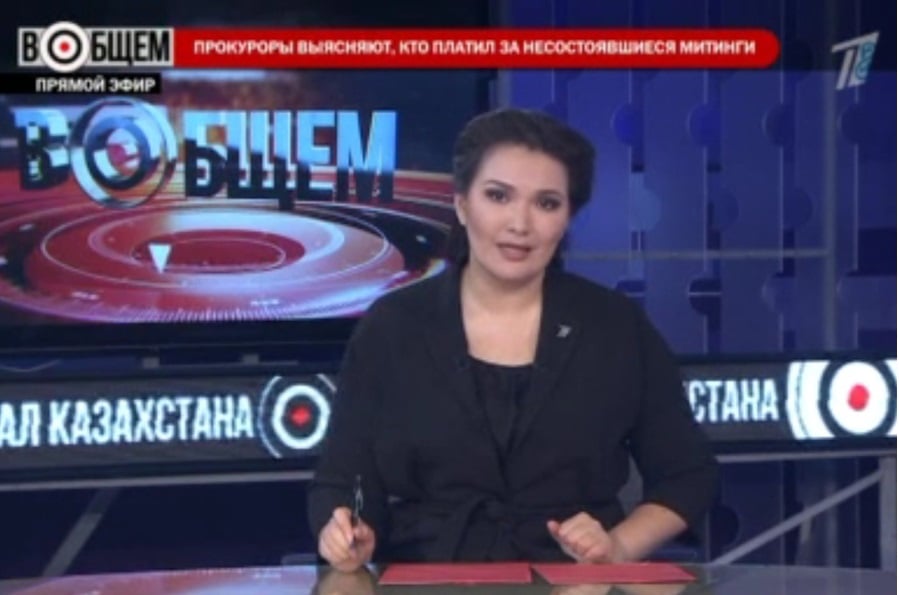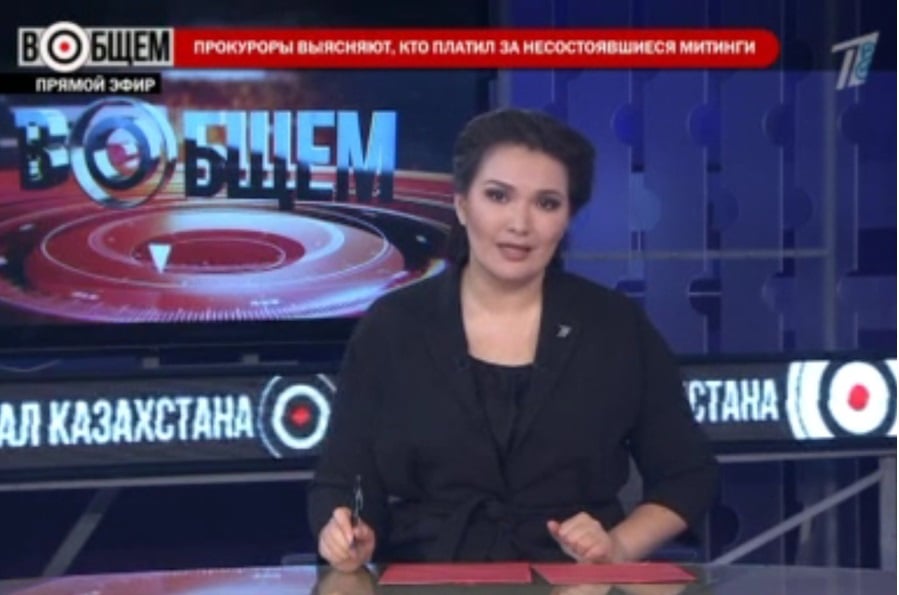 Aimira Shaunkentayeva reads her news bulletins with a stony and ferocious demeanor. But on the turn of a dime, her voice softens as she warns with matronly concern of the threats besieging Kazakhstan.
For many, Shaunkentayeva, a newsreader on First Channel Eurasia – a station jointly owned by the Kazakhstani state and a Russian TV channel – has emerged as the most recognizable face of an increasingly aggressive propaganda assault on the Kazakhstani government's critics.
The pushback of the authorities against a wave of land reform protests is being conducted on two fronts, but with one aim: to smear and discredit. Prosecutors have suggested the demonstrators who came out onto the streets on May 21 were plotting to overthrow the government — a possible prelude to a ratcheting-up of criminal cases against activists. The battle for hearts and minds is being waged by journalists like Shaunkentayeva, who was speaking of outside forces stoking a plot to foment bloodshed weeks before the prosecutor's office claimed that is what it was.
Where First Channel Eurasia led with its innuendo-fueled coverage about a conspiracy by
Western-financed "provocateurs," privately-owned media have followed.
"How, under the guise of land, did they want to weaken the country and hand over its independence?" intoned Artur Platonov, a presenter on the KTK TV channel and recently elected member of parliament, in an hour-long broadcast on the May 21 demonstrations, which culminated in the detention of hundreds of people, including 55 journalists.
"Whose instructions are they carrying out?" he asked sinisterly.
The program prompted civil society campaigner Mukhtar Taizhan to beseech Platonov in the presence of government officials to stop "slinging mud" at the demonstrators.
Borrowing a practice well-honed on Russian television, First Channel Eurasia followed up its claims of a coup conspiracy with a dramatic report alleging Kazakhstan was the victim of a murky plot to foment an Arab Spring-style revolution.
One analyst quoted in that broadcast has accused the channel of twisting his words to serve its own ends. "The information war continues!" Dosym Satpayev wrote on Facebook, warning other political commentators that their remarks could be similarly distorted for "propagandistic reports."
Satpayev was not alone in raising concerns about ethical standards in local media reporting on the protests.
TV channels are airing "mendacious reports" and engaging in "open manipulation of facts and falsification of journalistic material" in a manner that threatens to drive a wedge through society, Guljan Yergaliyeva, a prominent journalist who has run several media outlets that have been closed down, complained in a Facebook post.
"This ideology is emanating out of Akorda," Yergaliyeva said at a news conference in Almaty on May 30, referring to President Nursultan Nazarbayev's administration in Astana.
In one prominent example of distorted reporting, some media outlets on May 21 claimed that Mukhtar Ablyazov, an oligarch and political opponent of Nazarbayev's, had been sprung from jail in France, where he is awaiting the outcome of a bid to extradite him to Russia on embezzlement charges. The reports drew a link to the Kazakhstan rallies on that day, which they claimed Ablyazov was financing, before later issuing a retraction.
Some independent-minded journalists have questioned why reporters at some outlets can publish false reports without apparent repercussions, while others face ruinous defamation suits and find themselves hauled through the courts.
On May 23, a reporter from the now defunct Nakanune.kz website was jailed on the charge of "disseminating false information" in a case unrelated to the land protests. The case has sent a chill through Kazakhstan's journalistic community. Guzyal Baydalinova's imprisonment over reports her website published about a Kazakhstani bank was "an act of intimidation," Tamara Kaleyeva of the Adil Soz (Free Speech) watchdog group told EurasiaNet.org.
She connected the trial to Baydalinova's work as a reporter for Respublika, a muckraking newspaper that was closed in 2012 on charges that its reporting was "extremist," and had played a role in stoking fatal unrest in Zhanaozen in western Kazakhstan in 2011.
"I don't think she was tried for [dissemination of false information] but for the fact that for 15 years… she worked for Respublika, and the Nakanune site collaborated closely with the Respublika site," said Kaleyeva, referring to a Russian-based website run by Kazakhstani emigres that publishes robust criticism of Astana. The site is blocked in Kazakhstan.
Officials have previously claimed Ablyazov engineered the violence in Zhanaozen from abroad in a bid to overthrow Nazarbayev, and that he financially sponsored Respublika. Ablyazov and Respublika's reporters have always denied there is any truth to those claims about funding. Ablyazov has likewise denied plotting to oust the president.
As well as raising questions about media freedoms, Baydalinova's case focused attention on slack journalistic standards in Kazakhstan.
Baydalinova had already been convicted on defamation charges last year over Nakanune.kz's publication of an anonymous letter containing scurrilous allegations about Kazkommertsbank, highlighting how media reporting is sometimes based on unverified information from unidentified sources that seem to have an axe to grind.
In her latest trial for "disseminating false information" (known colloquially as the "rumor spreading" law), a Kazakhstani court heard allegations that businessman Tair Kaldybayev (who was also jailed) shelled out tens of thousands of dollars to place defamatory reporting about Kazkommertsbank on Nakanune.kz and the Respublika site because of a grudge he harbored against the bank.
Baydalinova denied those accusations, but it is an open secret in Kazakhstan that material can be placed in some media outlets – including influential mainstream ones – in exchange for hard cash.
Baydalinova's colleagues closed Nakanune.kz down in April, due to the pressures of operating in an ever-diminishing space for independent reporting. "There's no point, absolutely no point," Oksana Makushina, one former reporter, told EurasiaNet.org. "I don't know how to write in Kazakhstan so as not to end up in the dock."
"Everyone has been given a signal: if you want to destroy or punish or fine a media outlet, you can boldly file a lawsuit and the court will always be on your side," added another journalist, Tatyana Panchenko.
One of the few remaining independent news outlets that offer robust criticism of official policy is currently facing a libel suit that threaten to bankrupt it. Ashyk Alan/Tribuna is currently on the end of a $45,000 libel lawsuit filed by Sultanbek Syzdykov, whom the newspaper labeled "corrupt" because the former Almaty city official was accused of embezzling $70,000 from funds to stage the 2011 Asian Winter Games. A criminal probe was closed after he repaid the sum.
The case – which editor Zhanbolat Mamay told EurasiaNet.org was "another reprisal against an independent newspaper" – highlights the testing times critical voices in the press are facing, as the mainstream media thrives on its diet of sensationalist innuendo over the land reform protests.
By Joanna Lillis, Eurasianet
Joanna Lillis is a freelance writer who specializes in Central Asia.