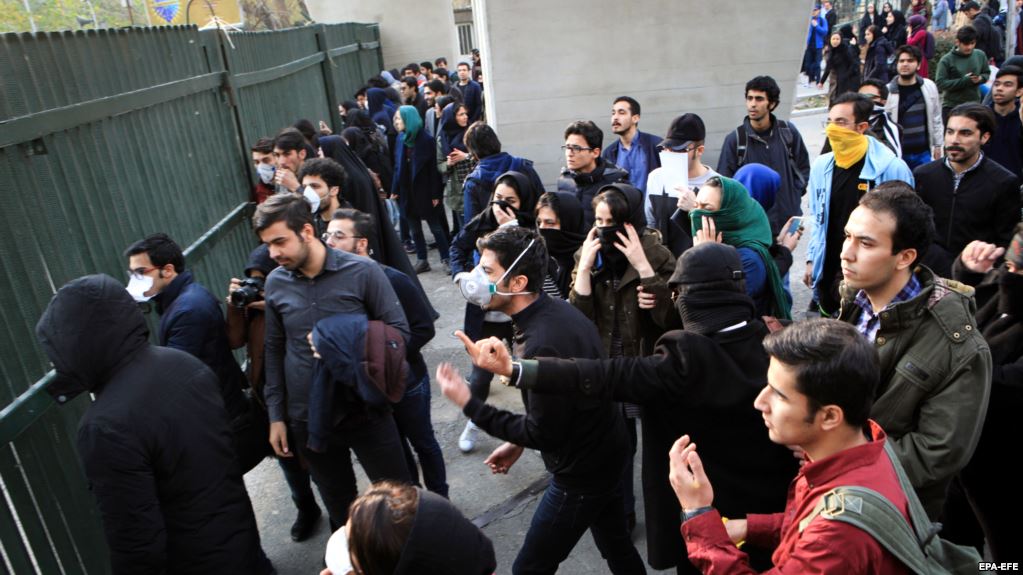 "Russia does not interfere in the domestic affairs of foreign states. Iran is a sovereign state, they have their own legitimate government, and we in such instances act the same way practically everywhere. As I told you, Russia does not interfere in the domestic affairs of sovereign states."
FALSE FOR "NEVER" AND UNCLEAR FOR IRAN

Russia has not only interfered in the affairs of foreign states, but annexed their territory
Until the start of the New Year, Russia was silent about the current unrest in Iran, refraining from making any official statements after the first reports of protests breaking out in Iran hit the media on December 29.
On January 1, Russia's Foreign Ministry broke the silence, issuing a statement that Moscow "condemns any foreign interference in Iran's domestic affairs."
That same day, Andrei Klimov, the deputy chairman of the foreign affairs committee of the Federation Council, the upper house of Russia's parliament, told Radio Business FM that Russia "does not interfere in the domestic affairs of sovereign states," a rule that applies to Iran as a "sovereign state."
Klimov's statement raises two questions. First, is it true that Russia does not interfere in the domestic affairs of other countries? Second, is it true that Russia is not interfering in the situation in Iran?
The answer to the first question is a clear "no": Russia has been accused of — and, in some cases, proven to have been guilty of — interfering in the domestic affairs of a number of countries, sometimes militarily. Among those countries are Georgia, Ukraine (from which Moscow annexed Crimea), Montenegro, France, Spain, Syriaand the United States and Britain.
As for Klimov's claim that Russia is not interfering in the situation in Iran, thus far there is insufficient evidence to rate it as solidly "true" or "false." Our verdict for this claim is "unclear," based on the interesting observations of Russian government-media behavior (which has been repeatedly examined and proven indicative of Kremlin's position), as well as Russia's official statements and Polygraph.info expert opinions.
During the subsequent days, Russian government-backed media reports on the situation in Iran practically mirrored reports by Iranian government media. The Russian media reports were dominated by Russian translations of statements by top Iranian officials alleging that "foreign powers" were behind the protests, that "enemies" were "trying to use any opportunity to harm the Iranian people," "and repeating the claims that the "Revolutionary Guard never caused any harm to the protesters."
"Support for Iranian regime is certainly a primary driver of Russian foreign affairs," Rasool Nafisi, a Middle East expert and professor at Strayer University in Virginia, told Polygraph.info
According to Nafisi, Russia's support for the regime was particularly visible in "recent months," due to cooperation between Tehran and Moscow over Syria.
"If the protest movement takes root and becomes a serious force in Iran," Nafisi said, then the Russian government, "fearing" that Iran might undergo pro-Western changes, "would interfere, if not with obvious intervention like what they did in Ukraine," then by "providing weapons, providing information and certainly to support the present Iranian regime."
By Polygraph
© 2018 POLYGRAPH.info All Rights Reserved.